We're fast approaching that time of year where you strap on your comfy shoes, evaluate the budget and prepare to dive into the chaos during the Black Friday sales – but how do you beat the crowds and ensure you're getting a bargain?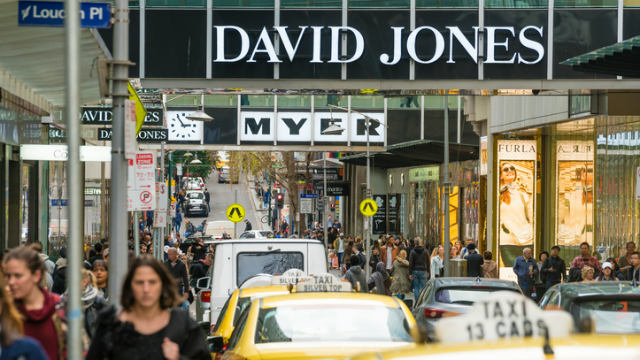 Firstly, what is Black Friday?
The sales bonanza – always held on the first Friday after Thanksgiving – originated in the US as a way for retailers to boost sales. Today Black Friday signifies the kickoff of the retail silly season, continuing through to after Christmas. The name was first coined by police officers in Philadelphia to describe the chaotic traffic conditions created by the sales, but has since been embraced by retailers who aim to put their profits in the black (as opposed to in the red).
This year the sales event will be held around the world on Friday 23 November.
While the day in the US continues to trigger mayhem (and we will await the next instalment of phone-recorded fights over toys, rushing crowds and general madness), Australians have to date taken a more subtle approach, with many retailers offering their deals online to consumers preferring the safety of their couch (or work desks.. shhhh).
Australia Post General Manager Parcel & Express Services/Intermediaries, Ben Franzi said November had become a busy period for Australia Post.
"These sales drive online volumes for merchants by as much as 30%, and we are again seeing strong activity as the sales ramp up this year," Mr Franzi told Canstar.
"Online volumes typically begin to increase in November and continue to increase throughout December where we expect to deliver more than 2 million parcels in a 24-hour period on our busiest day before Christmas."
A Myer spokesperson said their customers were increasingly opting for an online shopping experience, clicking and then collecting their new purchase instore.
"Cyber sales are growing in popularity with the Australian consumer and Myer actively participates with sales events such as our own Cyber Weekend and more recently with Click Frenzy," they told Canstar.
"In July 2017 the Click and Collect option represented 15% of all online orders."
Grabbing yourself a bargain
More and more retailers are jumping on board the Black Friday bandwagon in Australia, including JB Hi-Fi, Kogan, eBay and Harvey Norman. Some retailers, including Amazon, have even started their sales early.
Some retailers offer their sales over a longer period of time, whereas others won't release their discounts on offer until much closer to the day. The types of products most likely to be included in the sales are those that were recently replaced by a newer model, items in a higher-price range that generally require a little more convincing to move into shoppers' hands and items that have been under-performing sales targets.
If you know what items you specifically want, it could be a good idea to do your research prior to the sales to understand the average cost, not just the recommended retail price (which could have been inflated in the lead up to the sale). This way you will be able to identify a good price faster and keep ahead of other sales hunters.
It could also pay to not to be too precious about specific models. For example, if you're looking for a television and the model you had your eye on isn't included in the sale, consider other models with similar specs to get better bang for your buck.
Buying internationally
As overseas retailers gear up for the internationally renowned sales, Australians are looking at their options for taking advantage of the lower prices often available overseas and cheaper-than-usual shipping back to our shores.
Mr Franzi said global sales such as Black Friday put the spotlight on international bargains with a boost in interest in their US-based freight forwarding service ShopMate.
"In the lead up to 2016 Black Friday sales, our ShopMate registrations tripled," Mr Franzi told Canstar.
"Last year, registrations increased by 67% in November compared with the same period in 2016.
"Considering Black Friday and Cyber Monday originated in the US, Shopmate registrations are a good indication of Australians looking to find global bargains during the sale.
"But in recent years, we have seen more and more Australian retailers participate in Black Friday and Cyber Monday, so Australian shoppers can also access heavily discounted items locally as well."
According to Australia Post, Australian retailers account for 70% of all online shopping.
During this year's sales, however, we may see a slight upward shift in this figure considering the current market, with the Australian Government's change in GST threshold for imports, the weaker Australian Dollar and increase of local vendors potentially impacting the sales.
Beware of the hype
But before you rush out buzzing with that shoppers' high in search of your next injection of sweet sweet consumerism, Canstar Blue Editor Simon Downes said it was important to remember you're only going to get a great bargain if you truly need or want the product you're purchasing.
"There is a lot of hype around certain sales periods and Black Friday looks set to become one of the biggest," Mr Downes said.
"It's easy to get caught up in the hype and end up spending money you don't really need to.
"If there is something specific you really need, this could be an opportunity to get a great deal – if not, you're simply spending money for the sake of it."