You're finally at university. Living away from home, or at least considering it. Oh, the joy! The freedom!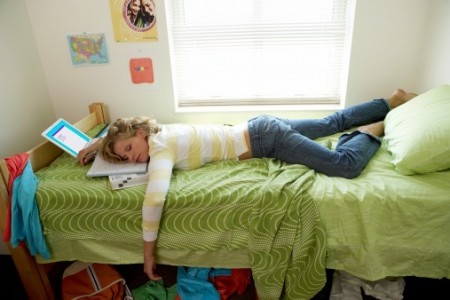 Unfortunately, you?re broke. All the money you earned working part time throughout high school is gone. Yes, they were right – you probably shouldn?t have spent it all on that samurai sword you bought to furnish your bedroom.
Luckily, Canstar is here to help, with some useful tips about living on a student budget.

Youth needs and wants…
How to budget when you have no money
One of the hardest parts of managing your money is balancing your needs and your wants. The choice between fronting up cash for beer money and paying the electricity bill shouldn?t be a tough decision. Sometimes, that will mean that luxuries like the new iPhone will have to wait, but this is preferable to going without food.
The first step to organising your finances is to write a budget for yourself by listing your income and expenses. Once you know what you?re spending your money on, you can determine where you can cut back (for example, a better phone plan, or a cheaper electricity provider) and what you can afford to save.


How teenagers should manage their money…
A good rule of thumb you should endeavour to follow is to save a minimum of 10% of your weekly salary – no matter how small the amount. So long as you stick to this budget, you should only have to reassess it once a semester.
Youth Allowance/Rent Assistance
Youth Allowance is a program run by the federal government that can supplement your income and make your financial situation much simpler…if you fit the criteria. You may be eligible for the grant if you are between the ages of 18 to 24 and studying full time*. Successful applicants can receive up to $400 a month if living out of home. Similarly, Rent Assistance can take the edge off your payments so you can focus on the important part of the next few years – your degree.
| | |
| --- | --- |
| If you are: | The maximum fortnightly payment is: |
| Single with no children, 18 years or older and living at parental home… | $281.00 |
| Single with no children, 18 years or older and required to live away from home… | $426.80* |
| | | | |
| --- | --- | --- | --- |
| Family situation | Maximum payment per fortnight | No payment if your fortnightly rent is less than | Maximum payment if your fortnightly rent is more than |
| Single, no children | $128.40 | $114.00 | $285.20 |
| Single, no children, sharer | $85.60 | $114.00 | $228.13* |
Buy second hand textbooks
Some full time students can expect to pay hundreds of dollars every semester on textbooks alone. Luckily, your university (and many second hand book stores) can save you up to 50% on the final price of your textbooks. If you have to buy textbooks new, be sure to keep them in good condition, ensuring their resale value when you no longer need them.
Get a job through your university
It is indeed ironic that you can pay your education costs with money you earn at university. Universities run programs which can aid your quest to gain employment specific to your area of study. Not only can this provide you with a source of income, but it looks great on a resume that you?ve had prior work experience, which might help you land a job soon after graduating.
Learn to shop and cook your own food
The first few weeks of living out of home are always a shock, particularly when you realise that between you and your roommates, your combined cooking repertoire is a mushroom omelette, nachos, and cheese on toast. All fine cuisine, without a doubt, but learning to cook cheap and easy meals will save you a great deal on fast food and microwave dinners.


7 ways to stop wasting food…
You may find that buying raw ingredients such as meat, fruit and vegetables can be significantly less than constantly purchasing fast food. You may also be able to make significant savings by purchasing items in bulk, or buying home brand staples such as sugar, salt, milk or flour. A well thought out weekly shopping trip – especially when incorporated into your budget – will allow you to keep track of your spending and maximise savings.