There's a good chance your wedding will be the biggest and best party you'll ever throw but, even so, would you be comfortable shelling out $65,000 for the occasion?
According to a survey run by Bride to Be magazine, the average cost of a wedding in Australia is now $65,482. That's a considerable difference from the $36,200 the government's Moneysmart website quotes. This average may have been bumped up because of some of the more outlandish wedding trends in the past few years.
You know the ones – couples tying the knot while parachuting into a perfectly manicured country garden reception setting, couples exchanging vows underwater where the only witness is a tiger shark and, of course, those endlessly popular destination weddings in other countries.
Saving for a wedding? The following table displays a snapshot of savings accounts on Canstar's database with links to providers' websites, sorted by the total interest rate (highest to lowest). The results and Star Ratings shown are based on a regular saver in NSW with $10,000 in current savings.
Wedding enthralls and appalls
Weddings can be as expensive or as inexpensive as you want. It is, after all, the bride and groom's big day. And they can do whatever they like, as was witnessed in last year's nuptials between Salim Mehajer, the deputy mayor of Auburn council in western Sydney, and his bride Aysha. The event attracted worldwide interest because it soared above and beyond normal expectations, even set against Sydney's famously large Lebanese weddings.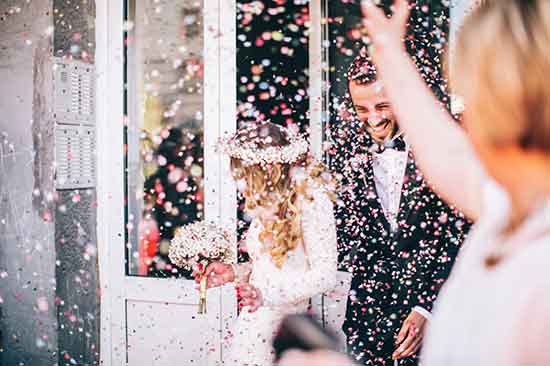 Picture the scene: The sumptuous wedding video of the event opens with a couple getting ready in their respective Sydney harbourside settings, hugging family, sharing laughs, and displaying the same pre-wedding nerves that most people suffer on their big day.
At this point the story diverges a little from even the most flamboyant of wedding narratives: the groom and his best men get into four helicopters, fly across the city, and land next to a red carpet in the middle of a public park. There they transfer to a $50m fleet of luxury sports cars – escorted by a convoy of motorbikes – and travel down a public street, its residents having been warned to remove their cars from the scene or risk being towed.
In addition to the four helicopters, the convoy of motorbikes and the luxury cars, there was a jet flyover and a plane towing a sign of congratulations. Groomsmen drove into the reception room on oversize motorcycles, and pictures of the venue reveal a Kardashian-West-style wall of floral arrangements and an extraordinary seven-tier cake, fireworks and Australian singer Missy Higgins as at least part of the hired entertainment.
Before their big day, the couple also made a painstakingly produced short film about their romance. Another video showed the couple growing old together, "ageing" with the aid of special-effects makeup artists. And there's a whole lot more to this wedding but it's way too lengthy for this story.
Stratoshperic costs
Of course, we can never know the real price tag attached to the lavish proceedings at the Mehajer wedding, which included the aforementioned four helicopters, a fighter jet flyover, sports cars worth about $50 million and a sea plane. What we can say, without too much doubt, is that "Australia's Best Wedding" (as the groom billed it on social media) did not come cheap. A bit more than the new average $65,000, I would hazard a guess! According to Forbes magazine, the stretch limousines, professional film crews, and fleets of motorbikes and luxury cars reportedly brought the price tag above $35 million.
Without any concrete facts to back me up, I have some doubts about this sum of money. Prince William and Kate Middleton's Westminster Abbey wedding in 2011 cost $33 million. How could their "big day" be topped, financially at least, by a non-celebrity property developer from Sydney? I'm guessing you're wondering why I am going on at length about a wedding none of us would even be invited to, let alone put on. The point is that if you want to spend $35 million or $350 on your wedding, that's entirely up to you. And it doesn't make it any the less important or enjoyable.
Back to earth
Looking at the breakup of the average Australian wedding costs that moneysmart.gov.au tell us is the benchmark, venue hire is the highest cost. This also incorporates food and alcohol for the occasion. Wedding dresses and clothing for the bridal party are also up there on the list of costly items. According to moneysmart.gov.au:
Average Australian wedding costs
$18,683 – Food, alcohol & venue.
$4,271 – Wedding clothes and accessories.
$3,983 – Photography.
$2,896 – Entertainment.
$2,896 – Flowers and decorations.
$941 – Ceremony.
$2,534 – Other (cars, hair, makeup, accommodation, stationary)
$36,200 – Total cost.
10 ways to cut wedding costs
Weddings come with their own sets of pressures – mostly from family – so it's important to think about what you would really like your big day to be, then cost it out and make your decisions from there. Also consider what you really want from life after you get married. If buying a home or having a family are priorities for you, why blow more than you can afford on a wedding? And the last piece of financial advice is to avoid paying for your wedding on credit. Interest can add hundreds, even thousands of dollars to your bill, starting your married life off in the red.
1. Don't go overboard on partying before the wedding
As soon as your friends get a whiff of a wedding in the air, they're likely to go mad on organizing pre-wedding parties. Apart from the engagement party, you'll be pressured into having a hen's party, buck's do, bachelor or bachelorette party, pre-wedding brunch, a pre-planned crying ceremony, post-wedding brunch … the list goes on, so does the expense you hadn't budgeted for. Be careful or you could be drained emotionally and financially.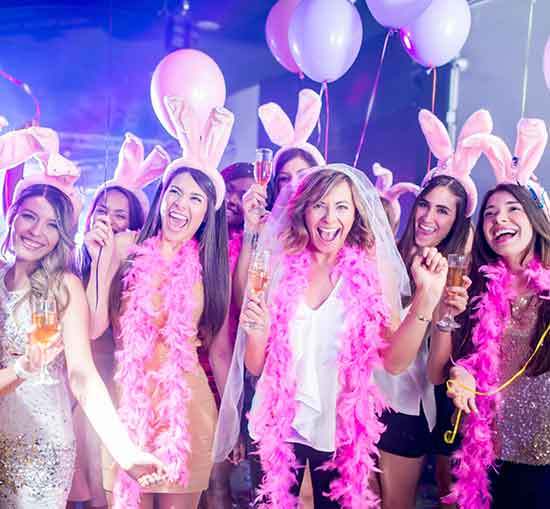 2. Think outside the wedding venue box
There are heaps of savings to be made if you swap expensive wedding venues for alternatives – such as having the function at your home/a friend's harbourside home/parents' country property/favourite pub or restaurant. A place that holds special meaning for you and the type of party that is "you" (a la a backyard barbie) is always lots of fun and guests love the informality. An added advantage is that you can probably invite more friends than you could afford to cater for at a wedding venue.
3. Full bar, full bill hangover
We're not saying you shouldn't provide any beverages at your wedding; we're suggesting you skip the full bar that features every kind of spirit, wine and beer imaginable. Instead, pick one red, one white, a couple of beers, and maybe a signature cocktail or toasting champagne. Or just buy a couple of different spirits and mixers along with the beer and wine and save yourself a few bucks.
4. Start clock-watching: avoid going over-time
If you do decide to use a wedding venue, be mindful that most of these are contracted for a specific amount of time. If you go over that limit, you'll pay an additional fee, usually at a higher rate. This can easily happen if you have a full bar open (see para above) and guests are really getting into the dancing. Keep it going for another hour and it will cost you. This is something you normally don't have to worry about if you have the wedding reception at home or a friend's place.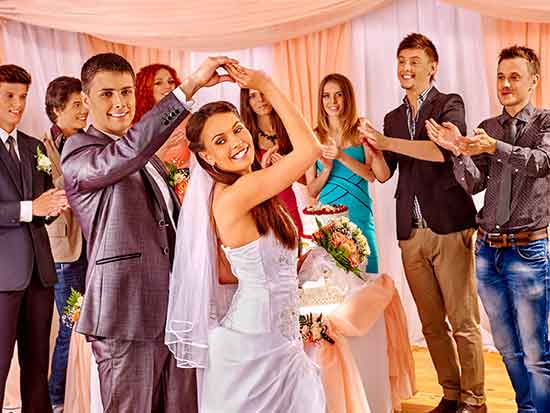 5. Use family and friends' skills
As well as supplying the venue, family and friends may also be able to take care of lots of other necessities. You may know someone who works in the alcohol industry, a florist, cooks/chefs, a fancy cake maker, a talented craft person who can easily whip up the most beautiful invitations, a beautician who can do the makeup thing on the day. Ask around. You'll find that everyone will be only too glad to help in any way they can. And it will save you big bucks.
6. Go online for your wedding dress
I have a friend (yes, male) who says there are only two types of wedding dresses: those in white or off-white and those with or without sequins. Even so, you can still spend a house deposit on a dress you will wear once (and probably spill champagne on). Buying your dress online for a fraction of what it costs here is an alternative lots of ladies are having great success with.
7. Keep your shoe fetish under control
Yes, we love Manolo Blahniks, Louis Vuitton, Jimmy Choo, Christian Louboutin and other crazy-expensive shoes but guess what? Wearing cobalt blue Manolos, a la "Sex and the City" is not a necessity. You'll feel just as special, tall and glamourous in a pair of shoes that didn't cost you $1,000. You will, trust me.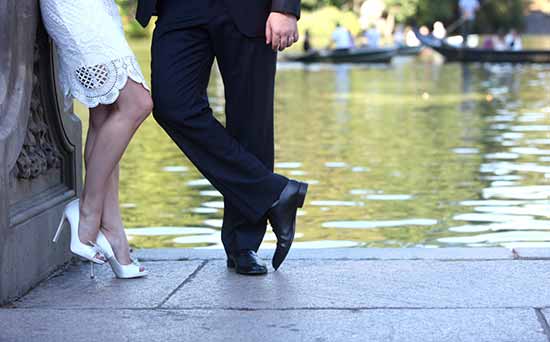 8. Forget the hipster photography sessions
The more offbeat your wedding is, the more you'll have to fork out for photography/videography services to capture the occasion (see Mehajer wedding at beginning of story). These days, people are spending less on photography by taking advantage of cheaper, digital technologies. You may even have a friend who is a photographer and could do the honours. We all like saving money but beware of leaving this job entirely to guests using iPhones. You can sometimes be disappointed with the end results.
9. Programs and menu cards
If you love pretty paper and there is room in your budget, go for it! But there are a few reasons we think these bits of stationery are OK to leave out. First, the order of events at a wedding is pretty standard: Ceremony, cocktail hour, reception. Your guests don't need to have everything spelled out for them. If you need to point people in the right direction, post up one big sign that all guests can refer to. As far as menu cards go, they are useful only if you're serving a family-style meal and it could be hard to know what's in a dish. Otherwise, your guests can ask servers at the buffet or see what's on the plate when it arrives.
10. Limo rental
Travelling from the ceremony to the reception venue is, of course, a necessity, but a hired limo feels just like a normal car ride after about 30 seconds. Ask a friend or relative with a nice car to be in charge of getting you from point A to point B – it will cost you hundreds less.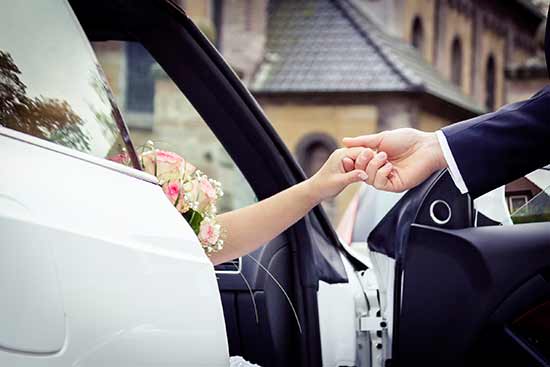 There are stacks of smart ways to configure your wedding budget without going overboard. Small savings here and there add up big time and remember that what you save in one particular area should not necessarily be simply shifted into other parts of the wedding budget.
Good luck with your planning and never lose sight of what you are actually doing – starting a marriage.