Wait, seniors and driving? Turns out there are more seniors continuing to drive in their 80s and 90s than ever before.
The proportion of Australian seniors aged 80 and above who still drive has grown by 10% in the last eight years, but 18-24 year olds today are driving in fewer numbers, the latest research from Roy Morgan shows.
There are more seniors driving
Perhaps reflecting generational change, Australians aged 80+ have recently become far more likely to still be driving than elderly drivers of a decade ago.
In 2015, 69% of the Australian elderly are driving, compared to back in 2007 when Australia had just 59% of seniors driving.
This proportional increase in seniors staying on the road, when combined with population growth, equates to thousands more seniors driving on our roads.
These senior drivers are possibly also more likely to be chauffeuring their Gen Y children or grandchildren, with the proportion of 18-24 year olds who drive falling from 72% in 2007 to just 68% in 2015. Maybe the young'uns are sick of paying expensive insurance premiums?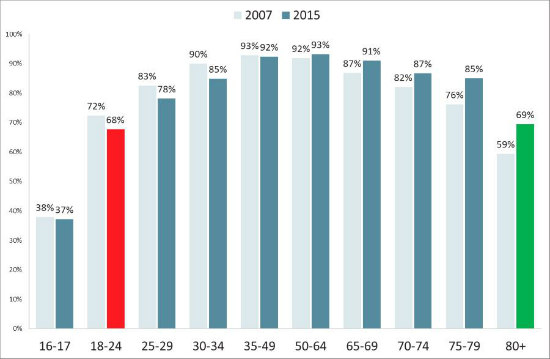 Source: Roy Morgan Single Source: January-December 2007 n = 52,720; January-December 2015 n = 48,961 Australians 16+.
There are now 18.4 million registered vehicles on our roads—an increase of more than 2 million over the past decade since 2003. Meanwhile, the overall proportion of Australians driving in 2013 (81.9%) was up less than 0.1% in the same timeframe.
Senior drivers buy new cars
According to Roy Morgan Research Industry Communications Director Norman Morris, the boost in elderly driving has seen a corresponding boost to the number of senior car-buyers.
"Watching most car commercials, you'd be forgiven for assuming all drivers are in their mid-30s," Morris says.
"But Australians aged 65-plus are today around 50% more likely to intend to buy a new car in the next four years than they were 2007—and there are, in fact, almost as many of these buyers across the country as there are 25-34 year-olds in the market.
"Older buyers are more interested in buying new, small or medium passenger vehicles, with intentions well above the norm to get themselves a new Mercedes-Benz, Kia, or Honda."


Source: Roy Morgan Single Source: January-December 2007 n =6,217 and January-December 2015
n = 5,571 Australians 14+ who intend to buy a new car in the next four years.
Why are so many of the elderly still driving?
Back in 2013, Roy Morgan Research Group Account Director for Automotive, Jordan Pakes, had the following to say about the increasing numbers of seniors driving in Australia.
"Almost the same proportions of Aussies are driving now as 10 years ago. But with the population increasing by around 20% in that time, this means there are also 20% more drivers on our roads," Pakes said.
"According to Roy Morgan's classification system, closer analysis reveals that almost 40% of non-driving 25-34 year olds belong to the Metrotech Community. The vast majority of Metrotechs live in urban areas of capital cities, are well-educated professionals, and are typically renting apartments.
"Conversely, drivers aged 65+ are much more likely to be in the Golden Years Community. This community group is likely to be found in rural areas, or regional cities and towns, and potentially are more likely to be reliant on a vehicle as a means of transport."
The increasing age of drivers is not reflected in the age of their cars. According to the Australian Bureau of Statistics (ABS), the most recent research found the average age of passenger vehicles in Australia was 10.1 years back in 2003, had a slight dip to 9.8 years in 2013, and returned to 10.1 years in both 2015 and 2016.
No matter whether you're a senior driving, or just driving a senior car, great-value motor vehicle insurance is a must. Why not use Canstar's car insurance comparison tool to start your search for the perfect car insurance policy?