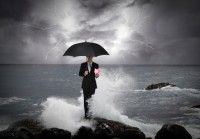 It's great to have personal insurance (Life, TPD, Trauma and Income Protection). If you run a business though, you'll know that replacing your income is just one component of keeping things ticking along. You also need to ensure that your business will be able to pay its bills as well. That's where business overheads insurance can kick in.
The majority of business expenses are fixed – think rent, utilities, wages and machinery maintenance. Unfortunately, these business expenses won't just disappear if you're injured or ill. Making sure you have business expenses insurance can help to keep your business afloat. You need to think about a number of costs, including:
Premises rental or loan payments
Lease costs
Utility bills
Insurance premiums
Salaries
Maintenance of any business machinery
While business expenses insurance is an added cost, the good news is that it is usually tax deductible. Talk to your financial planner for more information.
Considering a life insurance policy?
We can help. Easily compare from 20+ insurers to find a policy that meets your needs.
And – don't underestimate the importance of being financially covered. Business owners can't simply close the doors and walk away if their business gets into financial difficulty. Business expenses insurance helps to safeguard against the financial and corresponding emotional turmoil of unexpected illness. Read more in CANSTAR's Business Life Insurance report.