It's no secret that Aussies love to travel, so Canstar has examined external data, as well as our own, to identify the key trends and insights involving travel money cards for 2017.  
Fee changes in travel money cards
The majority of financial products and services come with numerous fees and charges, and travel money cards are certainly no different. In fact, compared to the other products Canstar rates, travel money cards have a huge number of fees; you can be charged for withdrawing money, reloading the card, using a different currency, and you can even be charged for not using the card at all.
Fees are important to consider when buying a travel money card, and Canstar has compiled information on the fees that each of the 12 providers we rate charge. We will have a look at 3 of these important travel money card fees:
Exchange rates
Cash reload fees
ATM fees
Exchange rates
While not necessarily a 'fee', the thing that gets most people is the exchange rate charged when loading the card with money. Different travel money cards have different exchange rates for each currency, and the rates that travel money cards offer are usually lower than that of the true exchange rate.
The variation in exchange rate of two cards can cause a difference of hundreds of dollars. For example, say you use $5,000 Australian Dollars to buy US Dollars. The card you choose might have an exchange rate of 0.72 USD, which would give you $3,600 USD. However, another card on the market might have an exchange rate of 0.74, which would give you an extra $100 USD.
So, always remember to check the exchange rates of different travel money cards. The best card for you might vary depending on which currency you're after.
Cash reload fees
Another big fee that catches a lot of people out is the cash reload fee. The cash reload fee is charged on some cards when you load extra cash onto the card at a later date, after you've used your set limit. Our 5-Star Rated cards currently don't charge reload fees, but others do, so you'll need to check whether your chosen card has a maximum cap or a flat fee for reloading.
We've compared the current reload fees to what they were a year ago in the table below, looking at the minimum, maximum, and average fees. As you can see, reload fees haven't changed much.
BPAY reload fees – 2016 vs 2017

 
2016 reload fee
2017 reload fee
% change
Min
0%
0%
No change
Max
1.10%
1.10%
No change
Average
0.65%
0.51%
-0.14%
Source: canstar.com.au. Data accurate as of 15/6/17
ATM fees
When you withdraw from an ATM overseas that isn't connected to your network, you will be charged a nominal flat fee in that respective currency. Comparing average travel money card ATM fees today against those 1 year ago, we can see the following:
ATM withdrawal fees on travel money cards

Currency
Average – June 2016
Average – June 2017
Canadian Dollars
CAD 1.36
CAD  2.21
Euro
EUR 1.22
EUR 1.66
Great British Pound
GBP 1.04
GBP 1.38
Hong Kong Dollar
HKD 8.82
HKD 13.59
Japanese Yen
JPY 109.09
JPY 177.69
New Zealand Dollar
NZD 1.88
NZD 2.53
Singapore Dollar
SGD 1.83
SGD 2.51
Thai Baht
THB 41.36
THB 64.00
US Dollar
USD 1.34
USD  1.82
Source: Canstar.com.au. Data accurate as of 15/6/17
If you want to see how travel money cards stack up against travel credit cards and travel debit cards, read our comparison article here.
Here's a snapshot of travel money card products currently on the market for persons travelling to Bali, please note this products have been sorted by our star ratings (highest to lowest).
Features to look for in travel money cards
What do Aussie travellers look for in a travel money card when they're planning for their next holiday? Last year Canstar published this article on the most sought after features people look for in a travel money card. Using our own research, the 5 most popular features of travel money cards based on activity on our website were:
The ability to use the card at ATMs
Exchange rate locking
Same day reload
SMS alert for low funds
Multiple currencies
Have people's preferences changed since then? Canstar's data from June 2016 to the present day suggests that yes, they have.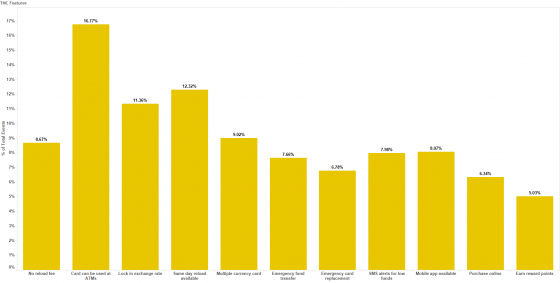 As you can see in the table above, the first 3 features – ATM access, exchange rate locking, and same day reload availability – are still the most sought after from visitors to our website. Just over 27% of people seeking a travel money card want the ability to use them at ATMs above all else, while 16% want the stability of a locked-in exchange rate. All cards that Canstar researches and rates offer these 2 features.
However, we can see a slight change in preferences when it comes to 4 and 5. Over the last 12 months, the fourth most preferred feature people want in a travel money card is an SMS alert when they are running low on funds.
The fifth most sought-after feature is a multiple currency card; every travel card Canstar rates offered at least four currencies. The next highly desired feature in a travel money card is the availability of a mobile app. With technology becoming more and more crucial in all aspects of travel and banking, it comes as no surprise that people want to be able to manage their foreign currencies on the go.
The latest features in the market
There hasn't been too much change in terms of features, with the market remaining relatively stagnant. However, one cool new feature on offer is Boingo Hotspots, from Travelex's new travel money card.
The Boingo Hotspots feature gives you free global Wi-Fi access as a part of your Travelex money card. Boingo is an award-winning Wi-Fi service, connecting you to more than 1 million hotspots all over the world. Once you verify your Travelex card on the Boingo website using your card number, you can download the app and register up to 4 devices. This app will then inform you of the nearest Wi-Fi hotspots, giving you many more options to send emails, snapchats, and photos, without worrying about roaming fees.
Here's a snapshot of travel money card products currently on the market for persons travelling to Bali, please note this products have been sorted by the reload cap fee ( lowest to highest) and features cards that can be used at ATMS.
What currencies do travel money cards offer?
In our 2017-Star Ratings report, Canstar researched and rated 12 travel money cards available for Aussie travellers. We have compared:
ANZ Travel Card
Australia Post Cash Passport
Commonwealth Bank Travel Money Card
MasterCard Cash Passport
NAB Traveller Card
Qantas Cash
George Bank Global Currency Card
Suncorp Bank Cash Passport
Travel Money Oz Key To The World
Travelex Money Card
Velocity Global Wallet
Westpac Global Currency Card
Here's a snapshot of travel money card products currently on the market for persons travelling to Bali, please note this products have been sorted by maximum balance loaded ( lowest to highest).
One of the most in-demand features of a good travel money card is an extensive number of currencies. While you won't find every global currency on there, most cards offer the currencies of the world's biggest tourist attractions.
Based on the table below, the 12 travel money cards we rate offer the following global currencies. If you aren't sure what each currency code is for, we've prepared an article to help you out – Currency Codes Around The World:
AUD = Australian Dollars
GBP = Great British Pound
CAD = Canadian Dollars
CNY = Chinese Yuan
AED = Emirati Dirham
EUR – Euros
HKD = Hong Kong Dollar
JPY = Japanese Yen
NZD = New Zealand Dollar
SGD = Singapore Dollar
ZAR = South African Rand
THB = Thai Baht
USD = US Dollars
VND = Vietnamese Dollar
| | | | | | | | | | | | | | | | |
| --- | --- | --- | --- | --- | --- | --- | --- | --- | --- | --- | --- | --- | --- | --- | --- |
| Company | Product |  AUD | GBP | CAD | CNY | AED | EUR | HKD | JPY | NZD | SGD | ZAR | THB | USD | VND |
| ANZ | Travel Card | Yes | Yes | Yes | No | No | Yes | Yes | Yes | Yes | Yes | No | Yes | Yes | No |
| Australia Post | Cash Passport | Yes | Yes | Yes | No | No | Yes | Yes | Yes | Yes | Yes | No | Yes | Yes | No |
| Australia Post | Load&Go Travel Card | Yes | Yes | No | No | No | Yes | No | No | Yes | No | No | No | Yes | No |
| Commonwealth Bank | Travel Money Card | Yes | Yes | Yes | Yes | Yes | Yes | Yes | Yes | Yes | Yes | Yes | Yes | Yes | Yes |
| MasterCard | Cash Passport | Yes | Yes | Yes | No | No | Yes | Yes | Yes | Yes | Yes | No | Yes | Yes | No |
| NAB | Traveller Card | Yes | Yes | Yes | No | No | Yes | Yes | Yes | Yes | Yes | No | Yes | Yes | No |
| Qantas | Qantas Cash | Yes | Yes | Yes | No | Yes | Yes | Yes | Yes | Yes | Yes | No | Yes | Yes | No |
| St.George Bank | Global Currency Card | Yes | Yes | Yes | No | No | Yes | Yes | Yes | Yes | Yes | Yes | Yes | Yes | No |
| Suncorp Bank | Cash Passport | Yes | Yes | Yes | No | No | Yes | Yes | Yes | Yes | Yes | No | Yes | Yes | No |
| Travel Money Oz | Key To The World | Yes | Yes | Yes | No | No | Yes | Yes | Yes | Yes | Yes | No | Yes | Yes | No |
| Travelex | Travel Money Card | Yes | Yes | Yes | No | No | Yes | Yes | Yes | Yes | Yes | No | Yes | Yes | No |
| Velocity Frequent Flyer | Velocity Global Wallet | Yes | Yes | Yes | No | No | Yes | Yes | Yes | Yes | Yes | Yes | Yes | Yes | No |
| Westpac | Global Currency Card | Yes | Yes | Yes | No | No | Yes | Yes | Yes | Yes | Yes | Yes | Yes | Yes | No |
Where Australians are travelling – 2016 /17
A better question would be to ask where aren't Australians travelling? According to the Australian Bureau of Statistics, 823,000 of us travelled overseas in March this year alone.
A total of 9,221,000 people travelled overseas from 2015 to 2016, and this number has increased slightly since. According to statistics published in an April 2017 report by AFTA (Australian Federation of Travel Agents), February 2016 to February 2017 saw nearly 10 million Aussies go abroad short-term – 9,935,700 to be exact.
This figure is for all countries Australians travelled to. The numbers for the top 10 most popular destinations for Aussie travellers looked like this:
Short-term departures – 2016/17

Country
Number of departures
New Zealand
1,324,000
UK
592,000
USA
1,059,500
Indonesia
1,236,000
China
456,000
Fiji
345,000
Thailand
528,700
Singapore
390,300
Hong Kong
216,300
Malaysia
256,000
Source: AFTA
Japan – while not on this list, remains an emerging destination of choice for Australians, according to AFTA. Japan's performance has been encouraging, increasing by an average of 10% over the past 2 years.
Compare International Money Transfers with Canstar
Canstar also collects data of our own on where Australians like to travel. Based on the people who click on our travel money cards comparison tool, Canstar customers were looking to travel to the following destinations: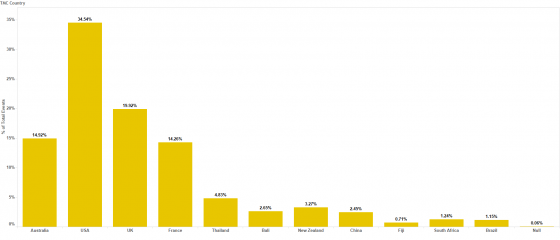 The graph above shows that from June 2016 to June 2017, the USA was easily the most preferred destination among Canstar visitors, followed closely by the UK and France; the latter of which isn't one of the top 10 destinations according to AFTA and the ABS. The likes of Indonesia, Thailand, and New Zealand remain popular choices too.
If you want to compare travel money cards for your next overseas trip, you can do so with Canstar.
Destinations on the rise
While there is plenty of data available on where we travel to most, you might also be interested to learn about some niche holiday spots overseas. According to Trip Advisor, here are the top 10 destinations on the rise all over the world:
San Jose del Cabo, Mexico
Complete with eighteenth century Spanish architecture, 200 bird species, gorgeous beaches, and an even more gorgeous coral reef, San Jose del Cabo is one of Mexico's best hideaway locations.
Whistler, British Columbia
Only a short way away from Vancouver, Whistler is one of the world's premiere winter sport destinations, complete with stunning views and endless outdoor activities.
Jericoacoara, Brazil
The mouthful Jericoacoara is a 'mega-resort', isolated on the Brazilian coastline. Kitesurfing, windsurfing, or just plain old lounging on the beach; Jericoacoara has it all.
Kihei, Hawaii
Kihei is a resort on Maui's western shore, and has an impressive selection of hotels and restaurants, making it a great choice for someone who enjoys the finer things in life.
Baku, Azerbaijan
Azerbaijan might not be at the top of most people's bucket lists, but there are some wonderful sights to see there; Baku is no exception. Formerly a Persian capital city and once occupied by the Soviets, this World Heritage Site is rich with history.
El Nido, Philippines
Often called the last frontier of the Philippines, El Nido is a group of large island resorts that offers rich, beautiful landscapes and a plethora of activities, such as windsurfing, snorkelling, and various other water sports.
Eilat, Israel
One of Israel's largest and most popular resorts, Eilat is found at the very northern tip of the Red Sea. Its beaches are renowned for their calm waters that are abundant with aquatic mammals and fish-filled reefs.
Las Palmas de Gran Canaria, Spain
Another mouthful of a destination, Las Palmas de Gran Canaria is the capital city of Gran Canaria, one of Spain's Canary Islands. The city is well known for duty-free shopping, music, dancing, costumed performers, and large cruise ships, due to the fact that it is a major shipping port.
Tbilisi, Georgia
Like Azerbaijan, Georgia isn't the kind of country you'd expect to see on a list like this, but the Georgian Capital is an underrated gem. Located in a deep valley, Tbilisi has a thriving arts and culture scene and extraordinary seventeenth-century architecture.
Jodhpur, India
Jodhpur is surrounded by huge fortress walls and bastions, due to it being a fort during the fifteenth century. It is known as the Blue City because of the sheer number of blue colours that decorate many of the local houses and buildings.
Source: Trip Advisor

Travel money cards vs travel credit cards vs travel debit cards
There is more than one method of paying for things overseas. While travel money cards are favoured by many, there are some who prefer to use travel credit and debit cards.
Each method has its merits, and Canstar has written a comparison article on them here, discussing the various pros and cons of each.
Compare Travel based Credit & Debit cards
If you haven't already, check out which travel money cards came out on top of our 2017-Star Ratings report.