Looking for a travel money card? Using our sophisticated ratings methodology, Canstar has found the Travelex Money Card, Qantas Cash, and Velocity Global Wallet to all offer outstanding value to consumers, with each achieving a 5-Star Rating.
Canstar has just released our latest research on travel money cards available to Australians looking to head overseas. By comparing the price and features of each respective card, our research team has found the following travel money cards to have achieved a 5-Star Rating:
Travelex Money Card
Qantas Cash
Velocity Global Wallet
The aim of Canstar's Travel Money Card Star Ratings research is to give recognition to the institutions that provide a travel money card that offers outstanding value. Canstar is pleased to announce Travelex, Qantas, and Velocity as 5-Star providers, and we congratulate them on their success.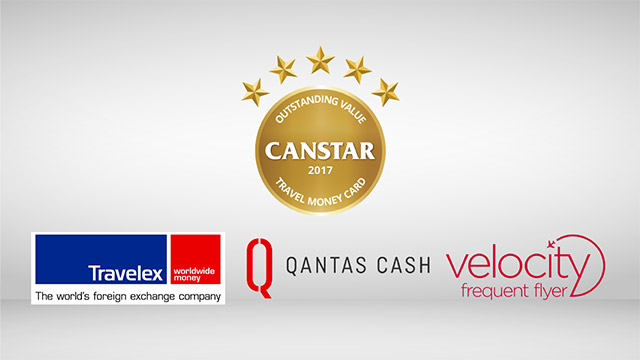 Continue reading to learn more about how these brands achieved this success.
How does Canstar rate travel money cards?
Canstar compares both price and features across the different cards on the market to find those that offer outstanding value to consumers. The title of 'Outstanding Value' is awarded to institutions that obtain a 5-Star Rating.
What is a travel money card?
Travel money cards are specially designed debit cards that allow you to load foreign currencies and spend overseas. They are a popular and convenient way to spend money overseas in stores and at ATMs, and their exchange rate locking feature allows you to load foreign currencies at a time when the exchange rate is most favourable to you.
In terms of features, strong performing travel money cards tend to have the following:
Favourable and transparent terms and conditions
A lack of fees
A good number of currencies available
Dispute resolution methods
Card security to protect you and your cash
A high number of distribution outlets and ATMs
A reload facility
For a better idea of how Canstar rates travel money cards, you can read both the Star Ratings research and our ratings methodology. You can also compare travel money cards on our website, based on your destination and budget.
Here's a snapshot of Travelex, Qantas and Velocity travel money card products currently on the market for persons travelling to New Zealand . To compare other travel money card policies, click here.
Travelex Money Card

Who is Travelex?
Travelex is a foreign exchange company headquartered in London, founded in 1976. As one of the world's premier foreign exchange companies, Travelex now operates in over 27 countries with a workforce of more than 6,500 employees. One of these countries is Australia.
One of Travelex's core values is to 'set the gold standard' in currency exchange services. Due to its personalised and customer-friendly approach, Travelex is trusted by over 37 million travellers around the world. As well as offering travel money cards, Travelex provides flexible exchange rates for currency trading, analysis tools, and useful guides and tips on all things travel.
Why Travelex offers outstanding value
Last year, Travelex won Canstar's Outstanding Value award for its Cash Passport product. With the introduction of a new product – the Travelex Money Card – Travelex has managed to hold on to its 5-Star Rating, maintaining its price and feature offerings compared to other products on the market.
In terms of price, Travelex offers a competitive exchange rate. According to Canstar's data, Travelex holds 10 currencies on its card, and during the survey period it offered a higher US Dollar exchange rate than the market average. Travelex also doesn't charge a lot of common travel money card fees, such as the $10 cash-over-counter charge, the initial loading cost, and the reload cost.
In terms of features, the Travelex Money Card has a lot to offer. Its 5-Star Rating was mainly due to the accessibility of purchasing with and reloading the card in branches, outlets, and third-party networks. Cardholders can use the Travelex Money Card at millions of outlets worldwide, and are granted access to free Wi-Fi at many of these, giving users on-the-go connection without being charged roaming fees.
Compare Travel Money Cards with Canstar
Qantas Cash

What is Qantas Frequent Flyer?
Qantas (initially known as the Queensland and Northern Territory Aerial Services Ltd.), is one of the leading long-distance airlines, not just in Australia but in the world. Since being founded in 1920, Qantas now employs over 30,000 people, with 93% of them based in Australia.
Qantas is a leading innovator in civil aviation, recently launching its 787 Dreamliner aircraft that will fly direct from Perth to London. Qantas also plays an active role in helping the local communities it operates in.
Qantas Frequent Flyer cards allow you to turn your everyday spending into points that you can redeem for travel privileges. Things like renting a car, booking a hotel, dining out, and flying itself can earn you points that you can spend on flights and other Qantas benefits, such as joining the Qantas club, buying Qantas insurance, and shopping in the Qantas store.
The Qantas Foundation empowers change in the community by giving positive experiences and opportunities for the underprivileged. Qantas also sponsors some well-known charity and health organisations, such as the Make-A-Wish Foundation and Beyond Blue, which seeks to tackle mental illness in Australians. Other key initiatives sponsored by Qantas include Women of the Future, UNICEF, and Royal Far West.
Why Qantas offers outstanding value
Qantas Cash has a number of features and benefits that make it a worthwhile purchase, but where it truly excels is in the prices it offers. Qantas Cash offers outstanding value due to the inclusion of the Qantas Frequent Flyer program. Since Qantas Cash also functions as a Frequent Flyer card, users can earn Qantas Points on all eligible purchases made while travelling with this card, which includes:
1.5 Qantas Points for every $1 spent on foreign currency
1 Qantas Points for every $4 of eligible spend in Australian dollars
Qantas Cash also offers solid exchanges, maintaining competitive rates during Canstar's survey period in the major currencies considered – US Dollars, Great British Pounds, Euros, New Zealand Dollars, Thai Baht, and Japanese Yen.
In terms of fees, there are:
No domestic ATM fees, low ATM withdrawal fees in foreign currencies
No ongoing or inactivity fees
No fees for loading currencies by BPAY or Bank transfer, although a 1% fee applies for instant loading by Visa or Mastercard debit
No monthly fees
No load-up fees in some cases
No fees on purchases made in-store overseas, as long as the currency in question is pre-loaded on the card
Qantas Cash can be used at millions of locations worldwide, as can all Mastercards.
Velocity Global Wallet

Who is Velocity?
The third 5-Star Rated product is the Velocity Global Wallet. Velocity Frequent Flyer is the award-winning frequent flyer program offered by Virgin Australia, giving Australians superb everyday rewards both at home and overseas.
With Velocity, cardholders can earn benefits when they fly with Virgin Australia, or when buying from its network of global partners. Points can be redeemed on a variety of products and services, such as fuel, car hire, hotels, sport, holidays, travel, supermarkets, and much more.
Why Velocity offers outstanding value
Accepted at over 30 million locations around the world, the Velocity Global Wallet won Canstar's 5-Star Rating on the back of its rewards points offerings and above average exchange rates. The Global Wallet allows users to earn 1 Velocity Point for every $1 AUD spent overseas and 0.5 Velocity Points for every $1 spent on domestic shores; while the 10 different foreign currencies it offers gave strong rates during the survey period.
In terms of fees, the Velocity Global Wallet card offers you the following benefits:
No loading or reloading fees
No fee for replacement cards
No cash-over-counter fees
No fees for negative balance or insufficient funds
Here's a snapshot of Travelex, Qantas and Velocity travel money card products currently on the market for persons travelling to New Zealand . To compare other travel money card policies, click here.