Heading overseas to get some gnarly powder, dude? Then you might want to include ski insurance under your
travel policy
.
Skiing is – in this author's humble opinion – one of the most fun things you can do on an overseas holiday in the winter. That is, if you don't mind heights or falling over a lot.
While skiing and snowboarding can be exhilarating, it can also be dangerous if you don't take precautions, and even then your safety isn't guaranteed. By including snow sports cover in your travel insurance policy, you can be protected financially if not physically.
What is ski insurance?
Ski and snowboarding insurance – also referred to as snow sports insurance – is a travel insurance inclusion that covers you for insured events that have occurred while on the slopes. Regular travel insurance policies often don't cut it when it comes to snow sports, and if you suffer an injury on the mountain or face adverse weather then they may leave you high and dry.
And according to World2Cover, 89% of skiers in Japan that require rescuing on ski fields are Australian, while Travel Insurance Direct claim that we now make nearly 200 snow-related claims a year – how embarrassing! Unless you want to have to fork out hundreds to several thousands of dollars in medical bills or other expenses, including snow sports cover is a good idea.
If you're looking for a travel insurance policy for your ski trip, then the table below displays a snapshot of policies on Canstar's database that offer snow sports cover as an optional extra, sorted by Star Rating (highest to lowest), with links to providers' websites. These results are based on a single traveller (aged under 70) travelling to Japan.
What ski insurance covers
Ski and snowboarding insurance policies can provide cover for the following things:
Medical treatment as a result of ski injury
Emergency rescue on the slopes
Ski equipment hire
Adverse weather closing the slopes
Unused ski-lessons or passes
Each of these is dependent on the terms and conditions laid out by your provider, so ensure that you read it before taking out a policy and then again before you start skiing.
Medical treatment as a result of ski injury
The most common claim on ski insurance policies is for medical treatment; head, knee, shoulder and leg injuries are always a looming threat for even the most experienced skiers. Even the most minor of injuries can end your ski dreams on the first day as well as leave a burning (freezing?) hole in your wallet, but most policies offer a level of cover for such injuries.
Emergency rescue
Some of the injuries you can sustain while skiing can cost you more than just the surgery – you might need to be airlifted off the mountain, which in Europe can cost as much as $15,000! Luckily most insurers will at least cover you for the cost of transport to the nearest hospital, while more advanced ones can even reimburse you for travel back home.
Ski/snowboarding equipment
While you'll have to pay for the hiring of your gear yourself, most insurers with ski policies will cover you up to a certain level if your ski and snowboarding equipment is lost, stolen or destroyed. How much you'll be covered for depends on the provider. For example, some don't cover equipment that is damaged while in use.
Adverse weather closing the slopes
If you're forced to cancel your trip due to extreme weather conditions such as blizzards or snowstorms, then your provider may reimburse you for a percentage of your expenses. Likewise, if there is an avalanche at your ski resort and some slopes are closed, you can potentially claim the cost of that day's skiing on your policy.
Unused lessons
If you get sick, injured or have your lessons paid for due to bad weather or your instructor doesn't show, then you can potentially get your money back (or at least a portion of it). The same goes for the money spent on ski passes; if you are unable to use them, then your insurer might cover you.
Note that this won't apply if you just decide that you don't want to use them. There has to be a valid reason.
What ski insurance doesn't cover
Ski insurance policies aren't perfect, however, and there are still a range of events and behaviours that can end in your claim being rejected, like:
Cancellation of your holiday due to snow
Skiing off the marked track
Anything that occurs while under the influence of drugs or alcohol
Leaving your belongings unattended
Cancellation of your holiday due to no snow
Unfortunately, the risk of no snow is just something that any prospective traveller has to take into account when they book their holiday. The upside is that a ski holiday with no snow is still a holiday – just a rather expensive one.
Some policies will provide a limited dollar value of compensation for complete closure of runs as a minor inconvenience payment, however you should definitely check that this is included on any policy you're looking at; don't take it for granted.
Skiing off-track (off-piste skiing)
Whether you're a beginner or expert skier, heading off the marked runs is a probable no-no. You'll probably be invalidating your travel insurance unless you've specifically taken out a policy that covers off-piste skiing, which tend to be pricier.
The main thing to consider is your own safety; the designated runs are chosen due to being the safest to ski on, with little to no obstacles or hazards. If you head off the marked track, you could end up hitting a tree or rock and damaging yourself, which in turn could see you footing the bill for medical evacuation and care.
Anything under the influence of drugs or alcohol
It doesn't have to be something that happened while you were skiing – any injuries or damage to property that you sustain while drunk, or otherwise under the influence, will definitely not be covered under your travel insurance policy if that drunkenness was a contributing factor. That's thanks to a common clause excluding claims arising from excessive influence of alcohol, or reckless or unlawful behaviour.
So if you're partial to more than a few drinks while you're on holiday, it might be worth showing a bit of restraint just in case something does happen. If you break a leg while sober you're covered, but after a few drinks? Your insurer will try their hardest to avoid having to pay your claim.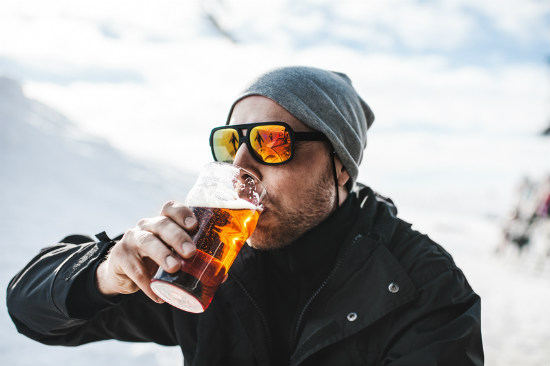 Leaving your belongings unattended
If someone swipes your skis and poles they may not be covered! Chances are they won't get swiped – but it's definitely something to keep in mind, especially when you consider the financial ramifications of stolen gear. Leaving belongings unattended is always a big no-no under travel insurance policies; if you left it unattended, you'll have little chance of being reimbursed for your loss.
Read more about travel insurance for: