The Australian dollar has had a sobering fall from grace, currently at its lowest level in almost seven years (since March 2009) against the US dollar. It's not all that long ago that the Australian dollar was trading at parity with the greenback, but now it's only trading at US69 cents. For the uninitiated, this raises many questions. Let's address these.
Why is the Aussie dollar falling?
Throughout the global financial crisis (GFC) and its fallout years, international investors had a higher demand for the Aussie dollar relative to other currencies because of our comparatively safer economic climate and higher interest rates than the rest of the world. They saw Australia as a safer place to invest their money, so more people were demanding Australian dollars so that they could put their funds in assets and bank accounts here. As we know, a higher demand for a product usually results in an increase in price – hence why the Aussie dollar was quite high over those years.
Recently the US had its first interest rate rise in nearly a decade, with its economy deemed to be showing signs of economic recovery. Meanwhile, with the sudden slowdown of growth in China – Australia's biggest trading partner (a huge source of our revenue) and the resulting end to our mining boom, there is increased uncertainty in Australia?s economy and its own growth prospects. According to the Australian Bureau of Statistics (ABS), Australia's GDP growth over the 12 months to October 2015 was just 2.50%. Inflation is just 1.50% and our cash rate is at a historical low of 2.00%.
With that, there has been decreasing demand for the Aussie dollar over the past year and a half with fewer foreign investors feeling the need to keep their money here. Thus, the value of the dollar is falling.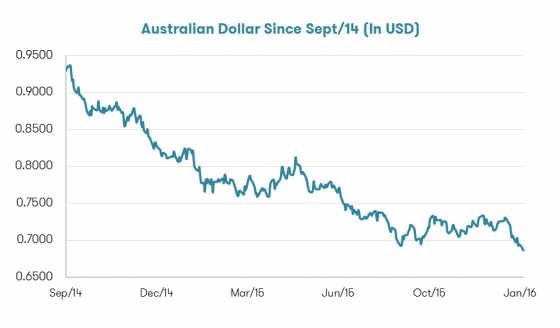 Source: Reserve Bank of Australia (RBA)
What does a low Aussie dollar mean for our economy?
While it can be the sign of a faltering economy, a falling Aussie dollar generally boosts our GDP because it makes our exports cheaper, therefore more competitive in a global market. Overseas buyers will be more attracted to our goods and services because their foreign currency is able to buy more. The main sectors in our economy that benefit from a lower dollar are our manufacturers, tourism operators and educational institutions.
Our manufacturers are better off because they can sell more of their goods domestically and overseas. Domestically, locally manufactured goods are more competitive because overseas imports become more expensive as the dollar falls. So, Australian consumers will feel more inclined to buy Aussie-made. Australian manufacturers can sell more of their products overseas (exports) because their goods seem cheaper to overseas buyers (importers).
Tourism operators can expect an increase in visitors to Australia as our dollar falls, as foreign tourists feel that their currency can go further in this country. They can afford more on their holidays and can pick up more cash at the exchange counter. Also, Australians will be deterred from travelling overseas and will seek out domestic holidays instead – another boost for the local tourism industry
Likewise, a falling dollar can result in an influx of overseas students at our educational institutions. This can have knock-on benefits for other sectors of our economy including property, retail and leisure as the overseas students make the use of our facilities during their time here.
Of course, a falling Australian dollar can have negative impacts on certain consumers and businesses in Australia. As mentioned above, overseas goods become more expensive to buy, so Australian businesses and consumers needing to pay for international products/services will be hurt. Also, Australians making trips overseas will have less spending capacity for their dollar.
So a lower dollar can have contrasting impacts depending on your situation but on the whole, even though its fall may be the result of reduced confidence and deteriorating economic performance, it actually presents our economy with a timely boost, particularly for our manufacturing, agricultural, tourism and education sectors.
What is the forecast for future exchange rates?
With the dramatic slowdown in China's growth, the demand for Australia's resources has dropped significantly which is pushing down the value of our dollar. With this continued slowdown and the increased uncertainty regarding how Australia's economy will cope after the mining boom, the dollar could fall even further. Last year, some experts predicted the Australian dollar to plunge to as low as 60 US cents in 2016. If the US continues its recovery, this value is likely.