Australia's
superannuation
watchdog has turned up the heat on underperforming MySuper products, by today launching its much-anticipated "MySuper heatmap". Funds that ignore the ratings it gives them will do so at their own peril. Here's what it is all about.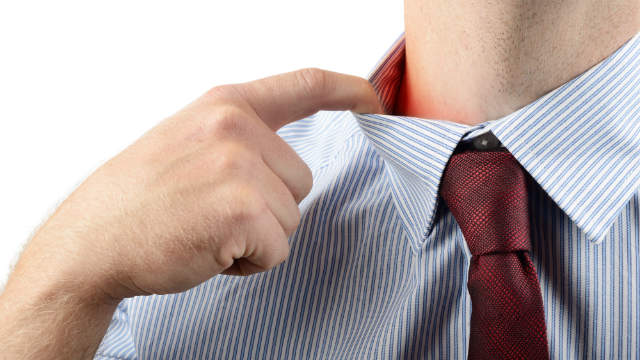 The Australian Prudential Regulatory Authority (APRA), which regulates the $2.9 trillion dollar superannuation industry, has released its live version of a "traffic light" system ranking MySuper products, the default account for many working Australians. APRA statistics show that there are $762.3 billion worth of assets in MySuper funds as on 30 June 2019, about 40% of the value of all APRA-regulated funds.
Deputy Chair Helen Rowell said APRA intends to use the "powerful tool" of public exposure to name and shame, effectively burning MySuper funds that are deemed to be underperforming according to APRA's intense analysis.
And woe betide any fund that ignores APRA's heatmap – they will cop the full brunt of the authority's wrath, she said.
"Supported by stronger powers, better quality data and a new willingness to publicly call out underperformers, APRA intends to turn up the heat on trustees that aren't serving their members' best interests – either by forcing them to lift the outcomes they deliver or forcing them out," she said.
"There is a potentially vast gap between the net returns achieved by members of the top performing MySuper products versus those at the bottom, and also in the fees that are paid by members in different MySuper products."
While the new tool was not designed for the general public, Ms Rowell said the colour-coded system would clearly indicate to superannuation trustees what APRA thought of their performance standards. She said it would "send a clear and strong" message that would be "hard to ignore" by colour-coding underperformance:
white – performing above APRA's predetermined benchmark
pale yellow to dark red – a sliding scale indicating which products do not meet APRA's benchmark, with the darkest red indicating the worst performers.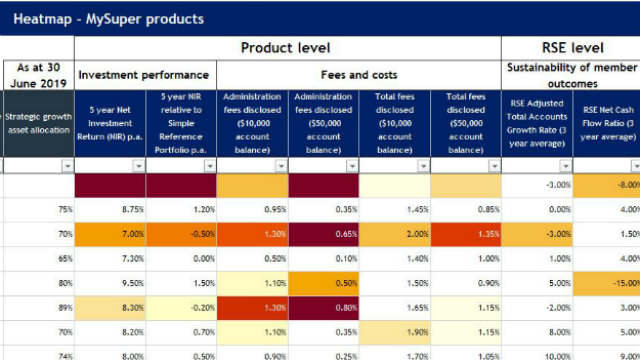 "To reinforce this, the heatmap will inform APRA's supervision priorities: trustees can expect APRA's supervision intensity to reflect the intensity of the colour shading on the heatmap," Ms Rowell said.
"If trustees don't fix these issues within a timeframe that is acceptable to APRA, we will be requiring them to consider other options, including a merger or exit from the industry in some cases."
MySuper funds are colour-coded across three categories – investment performance, fees and costs, and sustainability of member outcomes – with further subcategories provided for those wishing to know more. APRA had consulted colour experts and tested "dozens" of different colour ranges to create a system that "clearly tells a story", Ms Rowell said.
Canstar finance expert Effie Zahos said even though the heatmap was not designed for consumers, there would likely still be a few valuable insights on offer.
"APRA is hoping that the heatmap will shine a light on the duds, and that they will change their ways," Ms Zahos said.
"But consumers are a curious lot, and we are naturally going to have a look at it. This is just another layer of information that is available. Consumers will still have to do their research and compare apples with apples when it comes to choosing their super funds. And it's important to remember that this only applies to MySuper accounts."
She said consumers could find their fund on the heatmap, note the colours, and then decide if they needed to contact their super fund to ask what they planned to do about it.
"As consumers, we need to engage with our super fund," she said.
Ms Rowell said the differing performance of MySuper funds, which were brought in seven years ago after Federal Government reforms, could have a "significant impact" on a person's return come retirement, and underperforming funds could increase reliance on the age pension "and hence the taxpayer support required".
However, she said, overall, Australia's superannuation system was considered among the world's best, with 78% of the population having at least a small safety net via their super. She said on average, funds had been returning 6.5% per year for 15 years, and that average balances were about 3.5 times higher than they were in 2004.
The heatmap can be downloaded from APRA's website.