Read on to find out which provider won this year's Small Business Award, and how they did it.
The coronavirus pandemic continues to have a significant impact on many Australian small companies, affecting revenue, logistics and other aspects of running a business day-to-day.
The significant challenges facing a great number of businesses are reflected by recent statistics from the Australian Bureau of Statistics (ABS) which show the number of people who are unemployed in Australia increased by 69,300 between May and June 2020.
However, some parts of the economy have seen signs of recovery. For example, according to the ABS, retail turnover increased by 2.4% between May and June 2020.
Whether your small business is still facing challenges or is looking towards recovery and future growth, the value you're getting from your bank could play an important role, across a variety of products and services.
This is why, in addition to our Star Ratings for individual business products, every year Canstar names a winner of the Bank of the Year – Small Business Award. This Award assesses financial institutions based on the following three pillars:
Small Business Banking Products
Business Banking Services
Customer Satisfaction
The award recognises the bank found to offer the best cumulative performance across the metrics assessed.
For this year's Small Business Award, Canstar Research assessed the business product offerings of the eight eligible providers from our database, including 28 business deposit accounts, 50 business loans, and 25 business credit cards.
How were providers assessed?
The eight financial institutions included in this year's Small Business Award were assessed using a methodology which took into account:
Products – A provider's product score was calculated based on their performance in our Star Ratings for business loans, credit cards, transaction and savings accounts, as well as an Award-specific assessment of providers' term deposit products available to businesses. Other product aspects such as equipment finance options and business insurance were also considered. A provider's products accounted for 50% of its overall score.
Business Banking Services – Services provided to small businesses, including branch and ATM access, online banking, merchant services (e.g. payment terminals and software provided by banks to businesses), specialist advisors, and disaster relief/support accounted for 30% of each provider's overall score.
Customer Satisfaction – The remaining 20% of each provider's score was based on a Canstar survey of small business owners regarding their overall satisfaction with their financial institution, as well as their satisfaction with specific aspects of their relationship with their provider, including value for money, customer service, problem resolution, communication, and fees and charges.
The financial institution with the highest overall score across these three categories was recognised with the Bank of the Year – Small Business Award for 2020.
2020 Bank of the Year – Small Business: ANZ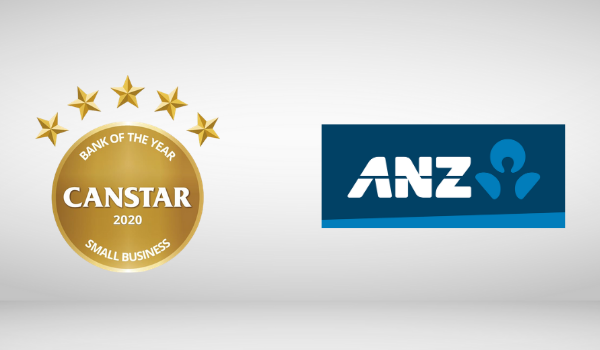 ANZ has won Canstar's Bank of the Year – Small Business Award for a third consecutive year. Its win in 2020 was driven by a strong product performance, especially when it came to its business loans and overdrafts.
Over the last year, several of ANZ's business products have picked up 5-Star Ratings in various categories, including its:
Business Black credit card

Business Advantage transaction account

Business Overdraft – Commercially Secured

Business Overdraft – Unsecured
When it comes to services for small business owners, ANZ offers staff management solutions and support with international trade, as well as educational resources for starting, running or growing a business.
For more information on how the Small Business Award results were calculated, you can read the methodology.