Canstar has revealed which merchant services provider had the most satisfied business customers in 2019.
If you own or run a business, you may well have a bank or other merchant services provider who helps to facilitate and manage customer payments, for example through payment terminals in-store or online services like BPAY. But are you satisfied with your current provider?
A recent Canstar survey found that almost three quarters of businesses have always used the same merchant services provider, but over 60% feel they could probably get a better deal by shopping around. Additionally, nearly two thirds of business customers surveyed said the majority of their customers' spending is done through EFTPOS facilities, so making sure you're with the right merchant services provider for your business can be crucial.
Canstar surveyed 628 businesses to figure out which merchant services provider has the most satisfied customers in 2019. The survey gauged customers' overall satisfaction with their provider, along with six specific aspects of the service they receive.
Which merchant services provider won the Most Satisfied Customers Award?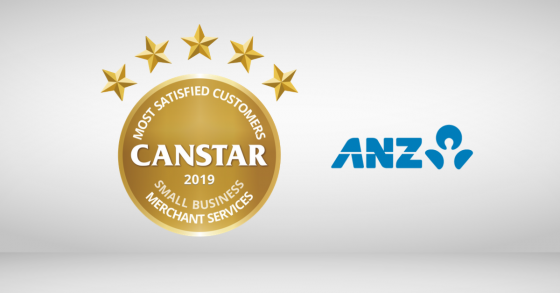 ANZ has won Canstar's 2019 Most Satisfied Customers – Merchant Services Award.
Canstar Research noted that ANZ's win was driven by a strong overall satisfaction performance, while it also performed well in areas including customer service, reliability and speed of service/transaction.
What drives customer satisfaction for merchant services providers?
As well as rating their overall satisfaction, survey respondents were asked to score their merchant services provider against the following criteria:
Customer service

Online reporting

Device functionality

Reliability

Fees and charges

Speed of service/transaction
Analysis revealed the variables that were most important in determining a customers' overall satisfaction with their provider. Customer service (23%), speed of service/transaction (23%), fees/charges (22%) proved to be the main factors.
What kinds of businesses were surveyed?
Respondents represented a vast array of business types. Employee counts ranged from 1 to 200, businesses were from both metropolitan and regional areas, and while some respondents represented larger commercial firms and standalone stores, others worked from home offices or farms.
Average satisfaction scores varied by business kind, location and size, potentially demonstrating that a provider's product may work well for one business but not for another, or that different businesses place varying amounts of value on the criteria assessed.
Satisfaction was relatively low across the board when it came to fees and charges, with even the top-performing providers scoring lower in this area than for any of the other criteria. In fact, 54% of businesses said they view the amount they spend on merchant fees as a concern.
The average monthly amount spent by businesses nationwide on merchant service fees was $349, and the average monthly spend generally increased in line with a firm's size. It also varied by state, with businesses in Western Australia spending an average of $144 per month on fees and charges, and businesses in New South Wales spending $509 a month.
It was perhaps because of this concern around fees that around half of the businesses surveyed said they have a minimum spend amount for customer EFTPOS transactions.
For more information about Canstar's Most Satisfied Customers Awards and how they are calculated, take a look at the Award methodology.