Ensuring your money is within a competitive
savings account
or term deposit could help you on your way to achieving your savings goal, including purchasing a car, holiday or even your first home. So, are you getting bang for your buck when it comes to your savings?
Canstar
has announced two award-winning providers of savings products in this year's Savings Award.
After analysing 194 savings accounts and 88 term deposits from 27 banks and 44 customer-owned institutions, Canstar has announced the institutions that offer outstanding value savings accounts and term deposits.
To determine the winners, Canstar Research considered a wide range of consumer profiles with different saving behaviours. Further recognition was given to institutions that armed customers with savings tools to assist with budgeting and reaching savings goals.
The recipients of our 2018 Savings Awards are listed below.
Bank of the Year – Savings: UBank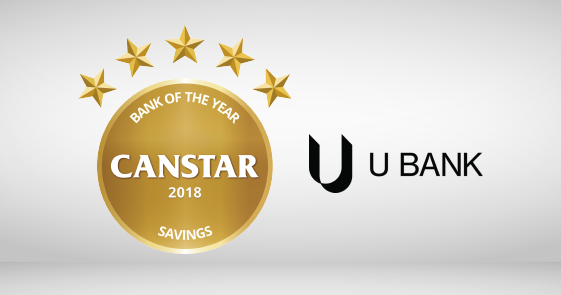 UBank has won the Bank of the Year – Savings Award for a fourth year running after it impressed the Canstar Research team with its standout banking products and useful savings tools for customers.
UBank's USaver savings account bundled with the fee-free USaver Ultra transaction account was found to offer outstanding value.
When customers added a USaver Ultra account to their USaver savings account and met the minimum deposit requirements, they had the opportunity to receive an interest rate of 2.87%. At the time of writing, this was the highest ongoing interest rate available in the market that didn't penalise customers for making account withdrawals.
For consumers wanting to lock in their savings, the bank also offered a range of term deposits with competitive interest rates up to 2.75%. Customers who rolled over their term deposit for another term were rewarded with a loyalty bonus of 0.10% on top of the current standard interest rate.
When it came to savings tools, UBank excelled at helping its customers save with its "sweep" technology which automatically moves customers' money between their linked transaction and savings accounts.
This function has the ability to help maximise how much interest customers could earn on their savings. It does this by allowing customers to set the amount of money they would like to have in their transaction account, and when it falls below that amount UBank automatically 'sweeps' the top-up funds from your savings account.
This means that rather than holding excessive funds in a transaction account, customers could keep more money earning interest for longer. It also works the other way too – if customers go over a set transaction account limit, UBank will 'sweep' the excess into the savings account at the end of the day.
Customer-Owned Institution of the Year – Savings: CUA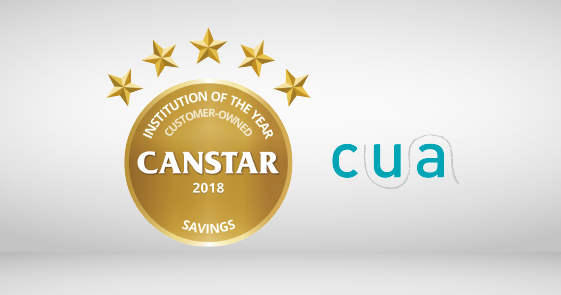 CUA's consistent performance across a range of its savings products, as well as being the market leader for its term deposits offering, saw Australia's largest credit union take out this award.
Canstar Research found CUA's eSaver Reward and eSaver Boost savings accounts had competitive total interest rates compared to the market, currently offering rates of up to 2.70% and 2.75% respectively.
Customers were able to earn conditional bonus interest by meeting certain conditions. For instance, the eSaver Reward account at the time of writing offers bonus interest to customers who deposit at least $1,000 each month into their accompanying CUA everyday transaction account, and the eSaver Boost account involves a bonus interest when you deposit $250 a month into the account and make no withdrawals.
According to Canstar Research, this withdrawal limit could be suited to consumers who required a bit more incentive to save, while the eSaver Reward account offered consumers a little more flexibility with their savings, given there were no penalties for adding or withdrawing.
For more information about the 2018 Savings Awards and how they are calculated, please view the ratings methodology.