Whether you're just starting out with your first bank account, or you've been saving and investing for a while, a savings account is one of the most important financial assets you can have.
But if you just look for the highest interest rate, you may miss one of the key factors that can slowly eat up your hard-won savings – the account fees. If you want your savings to grow instead of withering away, read on.
What fees are charged on a savings account?
Saving account costs are different depending on the account you open, and also the provider you decide to go with. Some common fees to look out for on various savings accounts are:
Fee Type
Minimum
Average
Maximum
Monthly account-keeping fees
$0.00
$0.30
$10.00
Eftpos fees
$0.00
$0.63
$3.00
Electronic transaction fees
$0.00
$0.12
$3.00
ATM withdrawal fees, from your own bank and other banks*
$0.00
$0.03
$3.00
Branch deposit fees
$0.00
$0.57
$25.00
Over-the-counter transaction fees
$0.00
$2.37
$25.00
Source: www.canstar.com.au

Fees correct as at 1 March 2017.

*ATM withdrawal fees does not include fees charged by the ATM owner (i.e. direct ATM charge), which varies from ATM to ATM.

Fees for all savings accounts in the Canstar Savings and Transaction Account Star Rating in both the Flexible Saver and Regular Saver profiles have been considered.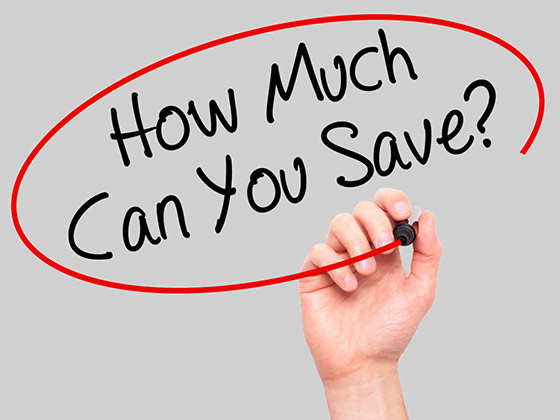 How to avoid the fees on savings accounts
Monthly account-keeping fees: You can usually have your lender waive the monthly account-keeping fee simply by depositing a certain amount each month.
Transactions such as EFTPOS, electronic payments, ATM withdrawal: Savings accounts are not designed for making transactions, and therefore most savings accounts will charge fees for transactions such as EFTPOS, electronic payments, ATM withdrawals, and over-the-counter transactions. Many savings accounts will also not have access to some (or all) of these facilities. Use your transaction account for these transactions to avoid the transaction fees on your savings account.
Electronic transfer fees: The good news is that most savings accounts don't charge fees for electronic transfers. So you can usually send money from your savings account to your transaction account without being charged a fee.
Branch deposit fees: Organise for the payments you receive to be paid directly into your account electronically, so you don't have to visit a branch to deposit cash into your savings account.
Compare savings accounts: Before you just sign up for a savings account with the bank you've always been with, or the bank your dad trusts, or the bank you've seen advertising on TV lately, compare your options. There's a wide range of savings accounts available on the market in Australia, and some accounts have lower fees than others.
Do you have a savings account?
Are you satisfied with the rate of interest you are earning? Are you paying fees to save? We want to hear from you!
Have your say in our 30 second survey below.
To the extent that any CANSTAR data, ratings or commentary constitutes general advice, this advice has been prepared by CANSTAR Research Pty Ltd ABN 29 114 422 909 AFSL and ACL 437917("CANSTAR") and does not take into account your individual investment objectives, financial circumstances or needs. Information provided on and available in this document does not constitute financial, taxation or other professional advice and should not be relied upon as such. CANSTAR recommends that, before you make any financial decision, you seek professional advice from a suitably qualified adviser. See CANSTAR's Financial Services Guide and Credit Guide at http://www.canstar.com.au/canstar-research-fsg/