Pet Insurance: The Basics
Value & Exclusions
Pet Insurance Costs
What does Pet Insurance cover?
Compare Pet Insurance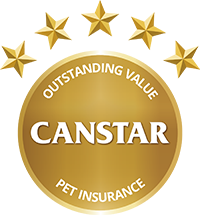 Pet insurance pays for part or the full cost of vet bills for your dog or cat (or horse, bird or any other pet) if they get sick or injured. There are different levels of cover. Comparing pet insurance will allow you to choose the correct cover for your pet.
Accident Only policies will cover the cost to visit a vet after accidental harm or injury such as car accidents, scratches from fighting with other animals, or snake bites.
Accident and Illness policies cover accidents plus the cost of seeing a vet for illnesses such as cancer, infection, hereditary conditions, and more.
Comprehensive policies should include all of the above plus cover for the cost of routine care treatments such as vaccinations, worming treatments, de-sexing, dental care, and behavioural training. Some policies will even pay you if your pet should die or be lost or stolen.
---

As Canstar's Editor-in-Chief, Nina heads up a team of talented journalists committed to helping empower consumers to take greater control of their finances. Nina has a Bachelor of Journalism and a Bachelor of Arts with a double major in English Literature from the University of Queensland. She's also an experienced presenter, and has hosted numerous events and YouTube series.
You can follow her on Instagram or Twitter, or Canstar on Facebook.
You can also read more about Canstar's editorial team and our robust fact-checking process.
---