Pet Insurance Australia has released details of common pet surgeries and the costs of those surgeries.
According to Pet Insurance Australia, the cost of veterinary care has increased ahead of inflation over the past few decades. With many pet owners thinking of their cats and/or dogs as surrogate family members, it is a cost that can cause financial stress for families.
"For many an emergency trip to the veterinarian can cause an immense amount of stress for pet owners," said Nadia Crighton from Pet Insurance Australia.
"To be faced with the cost of helping a beloved animal can not only add to the stress of injury, for some it can mean extreme financial hardship, or the possibility of euthanasia."
Pet insurance Australia advised that in 2015 their maximum claim amounts per condition were as follows: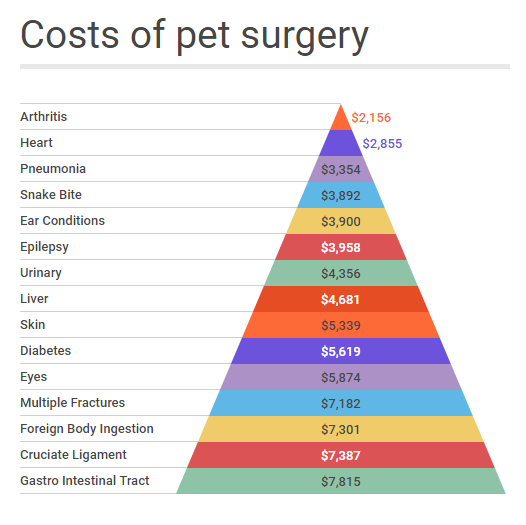 Source: Pet Insurance Australia, 2015 claims data.
"The above were claimed amounts rather than actual claim payouts," Crighton said.
"So it is paramount that people read their Product Disclosure Statements to check what they are actually covered for and how much they will get back from their insurance company."
Canstar research has found that average costs of an Accident and Illness pet insurance policy differ depending on the breed and age of pet owned. The average annual premiums in the table below are calculated as dollars of premium paid per $1,000 of annual benefit limit.
"We are constantly being told by our customers how having pet insurance gave them peace of mind when dealing with a sick or injured animal," Crighton says. "There is no doubt that having pet insurance has saved countless lives and Australian families from financial hardship during such a stressful time."
The cost of vet care also varies from clinic to clinic, and because the industry is not subsidised by the government the entire cost of the operation, treatment, or procedure will land solely on the pet owner.
"It is not uncommon for some emergency procedures to leave pet owners with bills into the thousands," Crighton says. "Pet insurance is an affordable option; Pet Insurance Australia also offers two months' free insurance to help Australians get a head-start on protecting their pets."