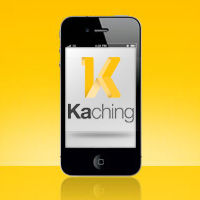 Planning a holiday with your friends and need a simple method of pooling accommodation funds? Or perhaps you just need to quickly gift $20 to your little cousin for his birthday. A couple of years ago, there wasn't an avenue for carrying out these tasks – short of passing around a hat full of cash. Now, however, the landscape of internet banking is rapidly expanding; and social media is being incorporated into its web. The prime example of this leap forward is Commonwealth Bank's Kaching.
Working from your smartphone or tablet, CommBank Kaching gives you a simple way to transfer funds via SMS message, email, or even Facebook – no BSB or account numbers necessary. On top of that, this smartphone app works in tandem with near field communication (NFC) devices if you need to make contactless payments via MasterCard paywave.
You can also pay bills with BPAY using a QR reader (simply scan a code on your bill and the payment is processed), change your card PIN on the fly, plus all the functionality of a standard internet banking platform. More interesting still, Kaching is available on Facebook as an app. This means you have all the functionality of an internet banking platform tied in with existing Kaching features.
The Pros and Cons of Banking on Facebook
So what does the average user need to consider when multitasking bill-paying with the everyday trawl of their Facebook news feed? Like any new technology, there are advantages and disadvantages.
Convenience: Incorporating internet banking functionality into Facebook means you can stay connected to your friends, whilst keeping a closer eye on your finances than ever before. Perhaps the easy reach of an internet banking platform will encourage the average Facebook-surfer to take greater control of their finances?
Security: CBA has given a 100% security guarantee to customers using the Kaching Facebook app. On top of this, users need to log into their Netbank account with their existing internet banking password. This way, your finances are secure even in the event your Facebook account gets hacked.
Fulfils the role of an emerging technology: Mobile banking is innovative for several reasons. Firstly, it doesn?t require a steep learning curve to figure out how to use it. In fact, it functions similarly, if not more easily, than existing online banking platforms. Secondly, this useability doesn?t come at the expense of features. On the contrary, you now have the added benefit of Facebook, mobile and SMS funds transfers – potentially invaluable tools in your everyday banking arsenal.
Only available to CBA customers: If you?re interested in banking on Facebook, you currently need to be a Commonwealth Bank customer to utilise the Kaching apps. Will other institutions follow CBA?s lead? Only time will tell.
Device restricted: While Kaching is available on desktop, iOS (Apple) and Android operating systems, future iterations of this technology from other financial institutions may not be so accommodating.
Reliance on Facebook: While Facebook?s place among the World Wide Web?s elite is unlikely to be upset in the near future, there is still a chance that one day Facebook won?t be as relied upon by the general public. Still, where one platform falls down, another will take its place and banks will be sure to accommodate the change.
Viruses and malware threats: There?s a chance some insidious individual could make a look-a-like Facebook banking app to trick users into downloading a virus onto their computer … or worse, divulge sensitive information. Never login through any page other than the official Facebook banking app page (check the URL), and see our article on Cyber Security for more details on how you can stay safe when you bank online.