NAB Traveller Card
NAB is a provider of travel money cards, travel insurance, banking and investment products, home loans and personal loans, life insurance, home and contents insurance, car insurance, loan repayment insurance, and superannuation funds.
"More give, less take."
What is the NAB Traveller Card?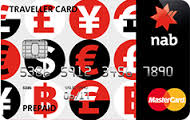 The NAB Traveller Card is a pre-paid, debit MasterCard form of travel money card, and uses your own money for your spending. It can be used to pay for goods and services and to make withdrawals at ATMs.
Travellers should note that although the "Credit" button is used when making a purchase or a withdrawal at an ATM, this card is not a line of credit. The card must not go into a negative balance.
You can load up to 10 foreign currencies on the NAB Traveller Card – AUD, CAD, EUR, GBP, HKD, JPY, NZD, SGD, THB, and USD. The My Account internet banking portal allows you to check your balance, switch money from one currency to another on your card, and review your transaction history. If you do not have internet services, Card Services is available 24/7, worldwide to answer phone call queries.
You do not need to be an existing NAB customer in order to order a NAB Traveller Card. You must be a permanent Australian resident in order to apply for the card.
As a MasterCard product, NAB Traveller Card may currently not be used in the following countries due to economic or trade sanctions imposed by the USA:
Cuba
Iran
North Korea
Syria
Sudan
Australia imposes its own sanctions from time to time; please check the Department of Foreign Affairs and Trade (DFAT) for details on the countries you intend to visit.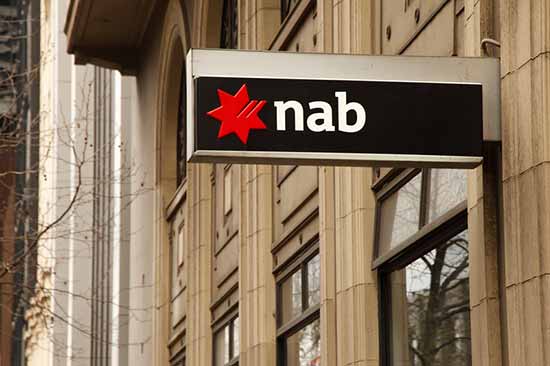 Winner of 2016 Canstar Award for Outstanding Value
Canstar congratulates NAB on winning the 2016 Award for Outstanding Value Travel Money Cards with the NAB Traveller Card.
They had a very strong price offering this year, and their exchange rates have seen a full overhaul since we last rated them in 2015. They have also changed their fee structure for the better, removing all reload fees and leaving their Traveller Card with just one fee: their currency conversion fee.

"Our Research Analysts say the competition really ramped up in the travel money cards arena after NAB entered the market a few years ago."
– Mitchell Watson, Group Executive for Ratings and Financial Services
Features of NAB Traveller Card
Please note these features are current at the time of writing. You should check the product provider's website and product information at the current time.
Available currencies: 10:

US Dollar – USD
British Pound – GBP
Euro – EUR
Canadian Dollar – CAD
New Zealand Dollar – NZD
Japanese Yen – JPY
Singaporean Dollar – SGD
Hong Kong Dollar – HKD
Thai Baht – THB
Australian Dollar – AUD

Priority of currencies: If you are making a transaction in a currency you have run out of, the card will use the next available currency in the following order: AUD, USD, GBP, EUR, CAD, NZD, JPY, SGD, HKD, and THB.
Global use: Use the card wherever MasterCard is accepted at over 38 million locations worldwide. Withdraw cash from over 2 million ATMs around the world displaying the MasterCard logo.
Backup card: A free second card attached to your travel money card account is available for you to keep somewhere safe in case your primary card is lost or stolen. This second card is not a supplementary card for your partner or children to use; they will need to purchase their own travel money card.
Online shopping: Shop online at foreign retailers with the card (if you have loaded the currency the trade in onto your card). NAB Traveller Card may be used with PayPal (foreign exchange rate and NAB Foreign Currency Conversion Fee will apply if card does not have sufficient funds for a transaction).
24/7 support:

Call NAB's global emergency assistance Card Services team from anywhere in the world, 24/7.
A free replacement card can be sent at no cost to you.
Emergency cash funds in the local currency can usually be sent to you within 20 minutes, depending on your location (Japan can take up to 24 hours), while you're waiting for a replacement card.

Security: Chip and PIN protected.
Travel again later: Keep the card account open and transfer your leftover funds into your normal bank account in order to use the card again for your next trip.
Exchange rates on the NAB Traveller Card
Foreign currency exchange rates vary from time to time and are set by MasterCard (for transactions and merchant fees) and NAB (for converting currency on card into another currency).
Cardholders benefit from locked in rates that apply when you make a transaction or incur a fee in a currency loaded on your card.
Current live rates apply when:
You use the card to make a transaction (ATM, point of sale, online shopping, or phone) using a currency not loaded on the card.
A merchant charges a fee to the card in a currency not loaded on the card.
Funds on the card are exchanged from one currency to another.
How to get and use the NAB Traveller Card
Order: In-store at a branch.
Register: Register your card online upon receiving it, using the My Account internet banking portal.
Load: Load your card for the first time via internet banking (online banking or mobile banking), BPAY, or in-store at a branch.
Reload convenience: Use the NAB mobile banking app (available on Apple, Android, and Windows smart devices) to manage, check, transfer, and reload the travel money card 24/7. You can also do these things through internet banking, BPAY, or in-store at a branch.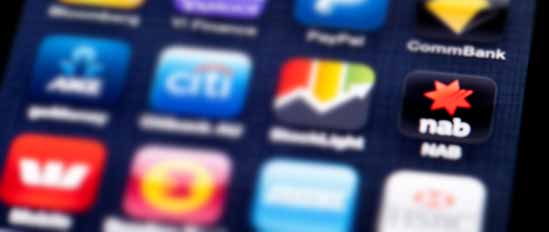 Loading, reloading, and spending limits:

Minimum load or reload: $50 AUD (or currency equivalent)
Maximum load or reload (branch or internet banking): $45,000 AUD (or currency equivalent)
Maximum load or reload (BPAY): $25,000 AUD (or currency equivalent)
Maximum card balance over 12 months: $45,000 AUD (or currency equivalent)
Maximum value of spending transactions over 24 hours: $7,000 AUD (or currency equivalent)
Maximum ATM withdrawals over 24 hours: $3,000 AUD (or currency equivalent) (Note: Local ATM operators may set lower maximum ATM withdrawal limits.)
Rates and Fees of NAB Traveller Card
Initial load fee: $0 (No fee)
Reload fee: $0 (No fee)
Transaction fee for purchases: $0 charged by NAB, but some merchants may charge their own fee.
ATM fee (overseas): $0 (No fee) overseas
ATM fee (Australia): $3.95 AUD fee for ATM withdrawals made within Australia
Balance enquiry fee: $0 (No fee)
Currency conversion fee: 4% of transaction value. Fee applies when:

You use the card to make a transaction (ATM, point of sale, online shopping, or phone) using a currency not loaded on the card.
A merchant charges a fee to the card in a currency not loaded on the card.

Secondary card fee: $0 (No fee)
Replacement card fee: $0 (No fee)
Monthly inactivity fee: $0 (No fee)
NAB Global Emergency Assistance fee: $0 (No fee)
Pre-authorisations: Where a merchant requires a pre-authorisation of a bill (e.g. for hotels or rental car hires), the estimated amount of the bill will be made unavailable on the card. It may take 30 days for this pre-authorised amount to be made available on the card again. Not all businesses accept NAB Traveller Card as a means of pre-authorising payment.
Service charge or tipping: Where a merchant adds a pre-authorised service charge or tip (e.g. at bars or restaurants), it may take 3 days for the difference between the pre-authorised tip and the actual tip to become available on the card again.
Canstar is an information provider and in giving you product information Canstar is not making any suggestion or recommendation about a particular credit product. If you decided to apply for a credit card you will deal directly with a financial institution, and not with Canstar. Rates and product information should be confirmed with the relevant financial institution. Please ensure that you read the product disclosure statement to determine all the current options and inclusions for the product you are considering. For more information, read our detailed disclosure, important notes, and additional information.
About NAB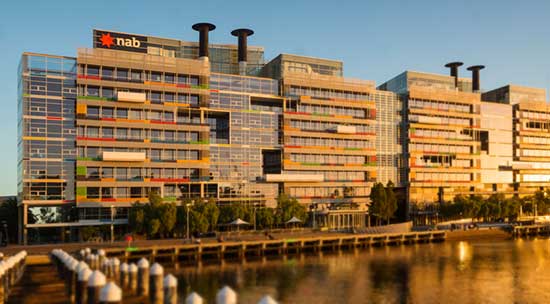 NAB was founded in 1981 and is one of the big four banks in Australia. They serve over 12.7 million customers worldwide, and employ over 42,000 people.
As well as travel money cards, NAB also offers travel insurance, travel loans, travel credit cards, and foreign currency cash. Their foreign exchange calculator lets you see what NAB's up-to-date exchange rates are for the currency of the country you are travelling to.
NAB recently teamed up with Expedia to create the online game "Pass Like A Local"; the competition has now ended, but you can still play to find out whether you could pass for a local in Europe. You can also read travel tips from fellow travellers on the "Travel Like A Local" page.
How NAB supports the travelling community
Volunteering to change the world: Thinking of going on a volunteering adventure holiday? NAB gives their employees 2 days per year to spend volunteering for the cause they care about. In 2015, NAB employees gave 1 million volunteer hours.
Aiding differently abled travel: NAB's Card Services team is accessible through the National Relay Service so that Deaf people can access the same global emergency assistance and travel with confidence. In fact, NAB works hard in many areas to improve the customer experience for the 1 in 5 Aussies who have a disability, as well as recruiting people with a disability and supporting community initiatives that promote a full life.
Promoting mental health: We know that travelling helps your mental health, among other things. The MLC Community Foundation owned by NAB's parent company has invested $7.8 million in not-for-profit mental health organisations since 2008, for vital causes including Lifeline Australia, RUOK?, and Suicide Prevention Australia.
Helping end poverty: No matter where you travel, you'll see poverty and wonder what can be done to help people in this situation. NAB has been working with microfinance product providers to give disadvantaged people in our own country a hand up, not a hand out, since 2003, such as Good Shepherd Microfinance, the Federal Government, and over 400 community organisations. NAB also donates $2 million worth of community grants per year to community and charitable organisations that make a difference.
How NAB protects the environment
NAB was Australia's first carbon neutral bank, and they have investing $1.8 billion over the last 8 years into renewable energy sources and protecting natural resources.
Waste has been reduced at NAB, with 75% less going to landfill now than in 2013.
NAB conserves water and other scarce resources.
To promote a sustainable supply chain, NAB gives annual awards to suppliers who are doing the right thing.
And don't forget the ways that you can make your own travel more sustainable!
Written by: TJ Ryan