Want to know the best way to spend your tax refund? Here are my top five tips.
We are pretty much at the half-way point of tax time 2020 for anyone completing their own tax return which has to be submitted by 31 October. But many Aussies have already rushed in. On 16 July the Australian Taxation Office (ATO) reported it had already received more than 1.7 million individual 2020 returns, an increase of 12% for the same period last year.
No doubt those 1.7 million Aussies were expecting a refund or they probably wouldn't have been in such a hurry to lodge their tax return. Last year from 1 July 2019 to 30 June 2020 the ATO issued 10.8 million 2019 individual refunds and the average refund amount was $2,892.
I don't know many people who wouldn't be happy with having nearly $3000 hit their bank account. Of course, as an ATO spokesperson noted, there is a lot that is different this year. "For some people, their income levels and income types have changed and for others, what they are entitled to claim is different. Some may be able to claim more and some may be able to claim less," the spokesperson told Canstar.
No matter the amount, if you are likely to get a tax refund this year you will need to make a decision about how to best spend it. I have crunched the numbers on five different examples to show you how much bang you could get for your refund buck – you could potentially even double your money.
Here are my top five ways to spend that tax return. Of course you need to be mindful that these are based on hypothetical scenarios but it hopefully gives you some food for thought.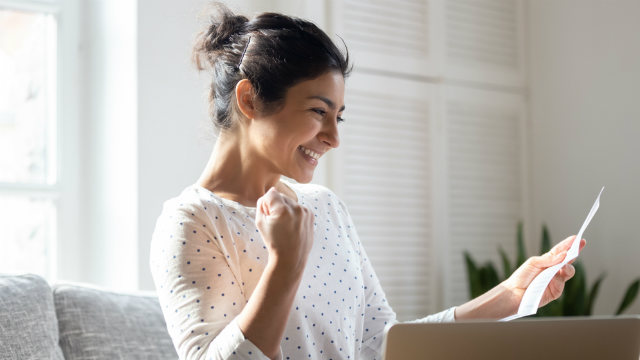 1. Put the money into your super fund
Nearly $32 billion has been withdrawn from super funds as part of the government's COVID-19 Superannuation Early Release Scheme, with the average payment sitting at $7,686 according to statistics from Australian Prudential Regulation Authority (APRA) as at 24 August. If you're one of the 3 million-plus Aussies who has taken money out from their super adding in your tax refund could go some way towards closing the gap early access may have on your super balance at retirement.
But even if you haven't taken money out of your super fund there can still be a financial benefit in adding your tax refund to your super. I asked Canstar to crunch the numbers and they show that a 40-year-old who currently has $51,740 in their super and adds a $2,892 refund to their fund could have $8,543 more in their super at retirement. Of course adding the money into your super will mean that you can't access it until you retire.
Impact of Putting the Average 2018-19 Tax Refund of $2,892 Into Your Super
No Extra Contribution
Extra Contribution
Starting Age
40
Retirement Age
67
Average Starting Balance
$51,740
Extra One-off Non-Concessional Contribution
–
$2,892
Account Balance at Retirement
$542,433
$550,976
Difference in Retirement Balance
–
$8,543
Source: www.canstar.com.au – 26/08/2020. Based on a 40 year old with a starting balance of $51,740 per APRA Annual Superannuation Bulletin, starting gross annual income of $89,123, growing 2.1% annually, per ABS Average Weekly Earnings and Wage Price Index, retiring at age 67. Employer contributions are presumed taxed at 15%, and the SG contribution amounts are based on the Government announced rates. Investment returns assumed to be 7.90% p.a. per APRA Annual Superannuation Bulletin average 10-year annualised rate of return. Net performance deducts average fees of 1.12% p.a. based on products in Canstar's database for a 40 year old, with a balance of $60,000. Average life insurance premium of $189 (increasing with inflation each year) is assumed charged at the end of each year based on products in Canstar's database for an average balance of $80k and age of 45 years old. End balance at retirement is shown in "today's dollars", i.e. it has been adjusted for inflation. Please note all information on income, annual superannuations fees and performance returns are used for illustrations purposes only. Actual returns and the value of your investment may fall as well as rise from year to year; this example does not take such variation into account. Past performance is not a reliable indicator of future performance.
2. Add the refund to your mortgage
Another option to consider is adding the refund into your home loan either using a redraw facility or offset account. This is a great way to save interest on your loan and you can still access the money if you need it. As the table below, compiled by Canstar, shows adding $2,892 into a $400,000 home loan you could potentially save $3,876 on a 25-year loan.
Impact of Putting the Average 2018-19 Tax Refund of $2,892 Into Your Home Loan Offset Account / Redraw Facility
Offset Amount / Extra Repayment at Start of Loan
Total Interest Paid
None
$195,612
$2,892
$191,736
Difference
$3,876
Source: www.canstar.com.au – 26/08/2020. Based on the average owner occupier variable rate available for a loan amount of $400,000, 80% LVR and principal & interest repayments; excluding introductory and first home buyer only loans. Calculations assume a total loan term of 25 years, and that the balance in the offset account is held constant at the specified amount for the entire loan term or that the extra lump sum repayment of the specified amount is made at the start of the loan term.
3. Pay off your credit card
Credit card debt can be one of the most expensive types of debts. The average purchase rate based on personal, unsecured credit cards on Canstar's database is 16.97%pa. Let's say you have an outstanding credit card debt of $1,693 but are only making the minimum payments – it would take you 14 years and five months to clear your debt and you'd have paid $2,343 in interest. Whack the $2,892 refund onto your credit card and you'd not only save on the interest cost but you'd still have $1,199 left to play with.
Paying Off the Average Credit Card Debt – Only Making Minimum Repayments
Average Credit Card Debt
$1,693
Average Credit Card Rate
16.97%
Total Repayments
$4,036
Total Interest Paid
$2,343
Time to Repay
14 years 5 months
Source: www.canstar.com.au – 26/08/2020. Average credit card debt per RBA Credit Card Statistics (June-2020; original terms), average purchase rate based on personal, unsecured credit cards on Canstar's database. Calculations assume you are making the median minimum repayments of 2% or $20 (whichever is greater).
4. Invest in an Australian shares ETF
One option to consider is using your tax refund to start investing using an Exchange Traded Fund (ETF) which is a pooled investment option that can be traded on the sharemarket. ETFs tend to be low-cost and most are designed to move in line with an index. This may be the riskiest option though as the money is subject to the volatility of the sharemarket.
Australian shares have returned about 7%pa over the past 10 years, so I used the compound interest calculator on MoneySmart to find out how a $2,892 tax refund could potentially grow over various periods. As the table shows you could have almost doubled your money in 10 years.
Investing $2,892 in an ETF returning 7%pa
Period
Balance
5 years
$4,056
7 years
$4,644
10 years
$5,689
15 years
$7,979
Source: MoneySmart compound interest calculator
5. Spend it!
It's probably not something I would normally recommend but given the impact of COVID-19 our economy could do with a cash injection. Based on last year's figures if everyone spent their tax refund it would have added about $31 billion back into the economy. There are some caveats – I'd only do this if you have no debt and can afford to spend the money. If you take this route try to spend it locally or buy Australian-made products.
Main image source: CreativeFireStock (Shutterstock)
---
Canstar's Editor-at-Large, Effie Zahos, has more than two decades of experience helping Aussies make the most of their money. Prior to joining Canstar, Effie was the editor of Money Magazine, having helped establish it in 1999. She is an author and one of Australia's leading personal finance commentators, appearing regularly on TV and radio.
---
Thanks for visiting Canstar, Australia's biggest financial comparison site*