Single people wishing to buy their first house are snapping up places in a scheme designed to help people step onto the property ladder sooner. More than 60% of applications so far for a place on the First Home Loan Deposit Scheme have come from solo buyers, with one finance expert saying the Federal Government program could help bridge the 'savings-power gap' for single-wage households.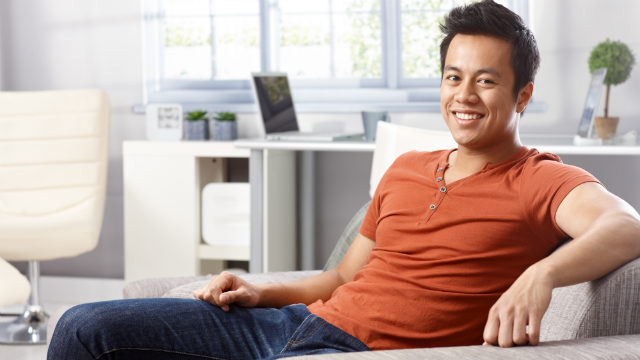 The First Home Loan Deposit Scheme (FHLDS) is designed to help people with a deposit of as little as 5% buy their first house without paying Lender's Mortgage Insurance. This could potentially save buyers thousands of dollars on this loan set-up fee. The scheme is open to 10,000 applicants who meet certain criteria, such as income requirements, and who plan to buy a property under a set value cap, which varies according to location. The applicants must also pass their lending institution's loan approval process. (For more information about the scheme, and how to apply, see Canstar's FHLDS hub page.)
Canstar money expert Effie Zahos said government figures released this week suggested the scheme could be a boon for single buyers, who could often be left behind their partnered peers when it came to saving up for a deposit. Statistics released included that 61% of scheme applications so far have been made under just one name.
"For single people, it's like they are buying with a partner, but their partner is the Federal Government," Ms Zahos said.
"People are getting together as couples later in life these days, and so I can understand that some single people could see this as a way to jump into the property market regardless of their relationship status."
Ms Zahos said it was often easier for a couple to save for a deposit due to the combined might of a double income paying for living expenses, which a single person has to pay on their own. The government figures show that the average salary of single applicants is $67,000, even though the scheme's income cap is $125,000. The average combined wage of couple applicants is $111,500, even though the combined income cap under the scheme is $200,000.
"The scheme allows a single person to have an income of up to $125,000 a year, which means they have probably got a great job but perhaps just haven't been able to manage saving for a big deposit. They could be choosing to bite the bullet and jump in now that they don't feel they have to wait years until they've saved up to buy a home."
More than 6,000 qualifying buyers have had a spot reserved for them on the scheme since it was launched on 1 January, government figures show. Ms Zahos said it was still early days, but she believed the government would be "very pleased" with the number of first home buyers willing to sign up.
"However, there are so many conditions attached to the FHLDS that for those lucky enough to get through the process and buy a home with no LMI and a low deposit, it could feel like winning a 'golden ticket'."
She said it was important for first home buyers to consider their purchase decision carefully, and not be caught up in the hype surrounding the scheme. Buyers still have to pay the full amount of the loan, and there is no cash coming from the government under this scheme – it is only acting as guarantor for the loan. The common sense rules of home buying should come into play, Ms Zahos said, such as looking at location in terms of convenience as well as future price growth potential, the property's suitability in terms of lifestyle needs, and if the amount that has to be borrowed can be repaid on time, even in times of hardship or when interest rates rise.
"Buyers need to ensure that whatever house they choose ticks all the boxes," Ms Zahos said.
"After all, you will need to live in the property for some time.
"There has been a really unexpected turnaround in prices of late in some areas, which is something to watch, too. If I were in that position, I might look at the wider market and weigh up the risk carefully. I would ask: Would it be better for me to buy a property that has better capital growth potential, even though it wouldn't qualify for the scheme as the purchase price is above the set price cap for the area? Would it work out better, in that case, to wait, save up a bit more of a deposit and possibly pay LMI for a property I really want?
"Don't rush in and think 'I've got to get a place because the government is helping me with the deposit'. There are still plenty of places left, and there are 10,000 more coming on 1 July. It might pay to get some good, professional advice before making any decisions."
Are there still spots available on the First Home Loan Deposit Scheme?
Over a third of FHLDS places are still vacant, as the government's figures show:
Places on hold: The first stop for hopeful FHLDS applicants is a participating lender, where applicants are assessed to see if they qualify. If so, the lender will reserve a place in the scheme for the buyer. So far, there are 5,726 "places on hold".
Certificates issued: When scheme applicants find a house under a location price cap and enter into a contract, they are then issued a scheme "certificate", while they wait for the contract to settle. There have been 730 "certificates issued" so far.
Places available: That means, of the original 10,000 places released in this round of the scheme, there are more than 3,500 places still up for grabs. This figure could increase if applicants who have scored a reserved spot run into trouble during their buying and settlement process, which would knock them out of scheme contention.
Lenders with available spots: However, the government's figures show that all 5,000 spots on offer via the two participating major lenders – Commonwealth Bank (CBA) and National Australia Bank (NAB) – have been snapped up. The remaining 5,000 places were for loans made through the scheme's list of non-major lenders, which had reserved just 753 places for applicants at the time of the data release. The majors had a month's head start on the non-majors, which only opened applications on 1 February.
The figures suggest that some savvy scheme applicants are shopping around for a better loan deal. The scheme allows applicants to ask one participating bank to reserve a spot for them and then visit another participating bank and apply for a loan there, too (successful applicants are only allocated one spot but it's transportable to any lender participating in the scheme). There are 314 more loan applications than buyers, the figures show. Many of the banks chosen by the government to participate in the scheme have released special loan rates, which in some cases are lower than what's on offer to non-scheme buyers, including rates as low as 2.79%. Scheme rules state that banks must offer rates and conditions similar to those they would offer to similar non-scheme applicants.
What properties are people on the First Home Loan Deposit scheme buying, and where are they buying them?
Most people are buying properties for between about 75% and 85% of the value caps placed on various locations by the scheme's rules, government figures show. Of the 730 people who have been issued certificates, most are buying a house (70%), as opposed to a unit or townhouse.
So far, just 42 scheme participants have reached the "confirmed settlement" stage – have actually taken ownership of a home – since spots were first made available on 1 January.
Where do FHLDS applicants hope to buy a home?
This graph, supplied by the government, shows where scheme applicants intend to buy a home.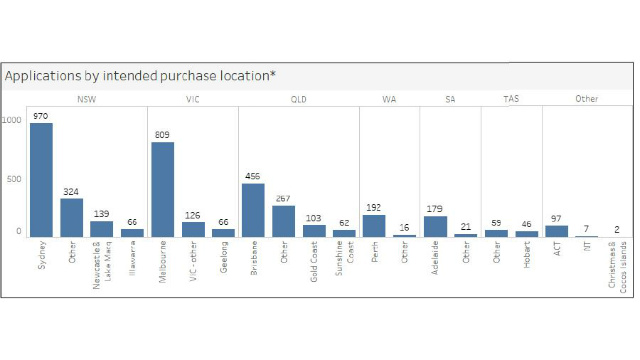 So far, the largest group of applicants want to live in the Sydney area, followed by Melbourne, and Brisbane. Only a quarter of applicants want to buy a home in a capital city (excluding the ACT, NT and Christmas & Cocos Islands).
The scheme limits how much participants can spend on a home. These "value caps" differ between locations, such as between capital city areas and regional centres. For example, buyers purchasing property under the scheme in the Sydney, Newcastle, Lake Macquarie and Illawarra areas can spend up to $700,000. For areas in the state outside those zones (marked as "other" in the graph above), the cap is $450,000.
Property website Domain released analysis today that shows, on a series of interactive maps, scheme buyers would have to head to the fringes of capital cities if they wanted to buy a free-standing house under the prescribed value caps.
"I think the price caps seem pretty reasonable – when you look at all the capitals, you can buy around 30 to 40% of all properties put up for sale in the second half of last year," Domain economist Trent Wiltshire Wiltshire said.
"It's pretty obvious that it's going to be hard to buy a house in the inner city."
Domain's also reports that capital city real estate agents were experiencing an upswing in demand from first home buyers in those fringe areas, or in places where units fit under the value caps.
How old are the first home buyers applying for the scheme?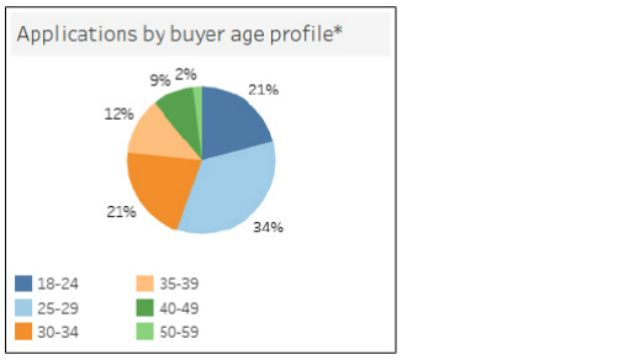 While more than three quarters of all applicants (76%) were younger than 35, the government's figures show that older Australians who had never before owned a house were also applying. A third of applicants were aged 30-39 and 11% were 40-59. Just 2% of applicants were aged 50-59.
The government's figures were a snapshot of the scheme taken on 14 February, 2020.
Buying your first home? These stories may also be of interest: