If you're expecting a baby, your doctor will most likely refer you for several routine ultrasounds during your pregnancy. Here's some information on what ultrasounds are and how much they are likely to cost you.
What is an ultrasound?
An ultrasound scan creates internal images of the body using high-frequency sound waves. This generally involves a healthcare professional applying gel to the skin and then moving a hand-held transducer device on the skin, above the part of the body that is being examined. As the Australian Diagnostic Imaging Association explains, the device transmits sound waves into the body, which then reflect off different tissues and generate images that are shown on a monitor.
Ultrasounds are commonly used during pregnancy, as well as to examine specific parts of the body such as the abdominal and pelvic region, and musculoskeletal and vascular systems.
According to the Better Health Channel, pregnant women will typically be referred for routine ultrasounds during the first, second and third trimesters of their pregnancy. These procedures will check the baby's development and help to spot any abnormalities. They can also often determine the baby's sex, should the parents wish to know.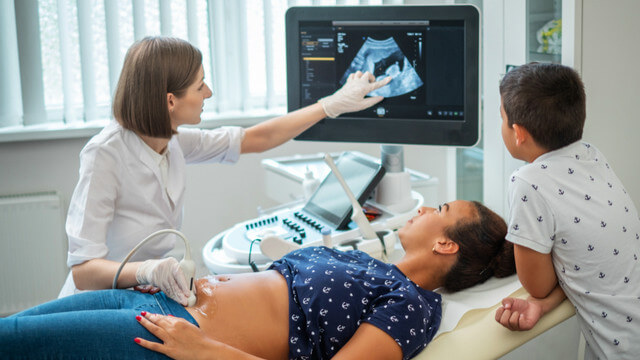 Does Medicare cover ultrasounds?
Medicare can help cover the cost of some routine ultrasounds. The Medicare Benefits Schedule (MBS) lists all the medical services that are subsidised by the Federal Government. This includes certain ultrasound services, and specifically includes obstetric and gynaecological ultrasounds, as well as general, cardiac, vascular, urological and musculoskeletal ones.
Medicare will pay you a benefit on these services if you are eligible. For example, to get a rebate, you may require a valid referral from your doctor for the ultrasound.
The rebate will be a percentage of the listed MBS fee. For out-of-hospital services, Medicare usually pays 85% of the schedule fee.
The government has also announced that from 1 July, 2020, it will start to index Medicare rebates for ultrasound services. This means the rebates for most types of ultrasounds will be increased, which the government says will reduce patients' out-of-pocket expenses.
Does private health insurance cover ultrasounds?
According to the Department of Health, by law, private health insurance does not offer cover for out-of-hospital medical services. This includes diagnostic imaging and tests, such as ultrasounds.
However, if you are planning to become pregnant, private health insurance can potentially help to cover some related costs. For example, insurers may pay benefits towards private obstetrics and private hospital accommodation. Bear in mind that all health funds have a 12-month waiting period for obstetric services. This waiting period must be served before you are admitted to hospital. This means you'll need to take out insurance at least three months before you plan to get pregnant.
How much does an ultrasound cost?
The cost of an ultrasound will largely depend on the type of scan you're getting, whether you have a Medicare card and where you go to get it done. For obstetric ultrasounds, the cost will also be influenced by how many weeks along you are.
As previously mentioned, the MBS includes fees for each listed service (including certain ultrasounds) and bases the rebates Medicare offers on these fees. However, providers are entitled to set their own fees, so the actual cost of an ultrasound may differ.
To give you an idea, specialist ultrasound practice City Imaging Ultrasound for Women lists the following fees on its website for a single foetus at the time of writing:
| No. of weeks | Fee | Medicare rebate | Out-of-pocket |
| --- | --- | --- | --- |
| Less than 12 weeks | $240 | $51 | $189 |
| 12-16 weeks | $320 | $59.50 | $260.50 |
| 17-22 weeks | $350 | $85 | $265 |
| More than 22 weeks | $340 | $85 | $255 |
Costs will vary, so before having an ultrasound, check the cost and whether you will be eligible for a Medicare rebate with your doctor or treating healthcare professional. If your provider chooses to bulk bill you, you won't have to pay anything out-of-pocket.
Main image source: Natalia Deriabina (Shutterstock)