Your smile is often one of the first things a person notices about you, which can make your teeth a real asset, but also a source of insecurity. It's perhaps why cosmetic dental procedures such as teeth whitening are now so commonly available. But how much does it cost to get done?
When carried out successfully, teeth whitening can help remove staining and give you a brighter smile (though usually not as bright as Ross' in "The One With Ross' Teeth" episode of Friends). With a wide variety of over-the-counter whiteners and professional whitening services now available in Australia, we've shone a light on what's usually involved and how much the various options could cost you.
What is professional teeth whitening?
Professional whitening is a commonly available but typically cosmetic dental treatment that lightens the colour of your teeth to produce a whiter smile, according to government-funded website healthdirect. If you're interested in teeth whitening, healthdirect recommends speaking to your dentist about it, to help ensure you obtain the "safest, most effective treatment." The law in Australia also limits the strength of teeth-whitening treatments that can be sold over the counter or performed by non-dentists.
According to healthdirect, the treatment involves a bleach solution which soaks through the top layer of enamel on your teeth (their tough outer shell) and into the dentine (the main supporting bony structure of your teeth). The solution reacts to the coloured molecules that have been causing the discolouration of your teeth. The dentine then becomes lighter, causing your teeth to look whiter. That's the theory anyway.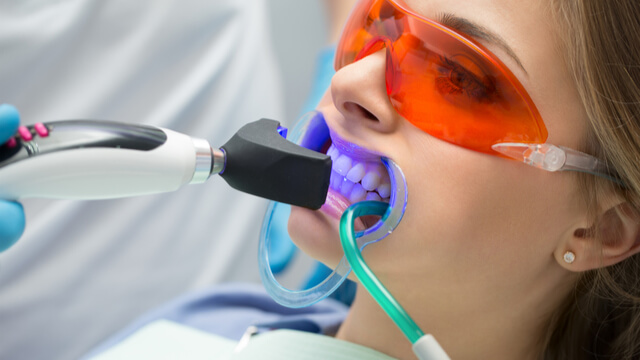 When it comes to the options usually offered by dentists, there are two main methods: in-chair and tray (take home) whitening.
In-chair treatment typically involves a bleach solution being applied to the teeth. The solution is usually then activated by heat, light or laser.

More than one visit to your dentist may be necessary, depending on what your dentist recommends. Some laser-based treatments may be completed in a single session, but there are typically more expensive, healthdirect says.

Tray whitening is a product that's typically customised to your needs by your dentist, but that you apply yourself at home. Containing a lower percentage of chemicals, the whitening kit includes a custom-fitted tray which allows the solution to be focused on your teeth, avoiding the gum area. This can be worn at whatever time suits you and results are estimated to appear in seven to 14 days.
---
Compare Health Insurance with Canstar
The table below displays some of our referral partners' extras policies for a 30-year-old single female seeking cover in NSW without pregnancy cover. The table is sorted by Star Rating (highest to lowest) followed by provider name (alphabetical). Use Canstar's health insurance comparison selector to view a wider range of products. Canstar may earn a fee for referrals.
---
How much does teeth whitening cost?
The cost of professional teeth whitening can vary a lot and may depend on your dentist, your location and the condition of your teeth. A take-home whitening tray is estimated to cost anywhere between $350 and $500, whilst in-chair treatment is estimated to have a price tag of usually $800+, according to Smile Pro Worldwide. Each of these options represents quite a leap in price compared to over-the-counter whitening products you can buy from your local supermarket or chemist that can range in price from around $5-$60.
Though Medicare does not cover teeth whitening, your private health insurance might, as Shore Dental states each insurance provider offers its own unique health cover which may or may not cover your treatment.
Is taking a 'dental holiday' to whiten your teeth a good idea?
According to research project 'Sun, Sea, Sand and Silicone', an estimated 15,000 of us seek dental treatment outside of Australia each year, either as an add-on to an already planned holiday or as a trip based entirely around a procedure. Though an $800+ price tag for in-chair professional whitening here in Australia may sound steep, experts warn that cheaper overseas options may not always be up to scratch, in terms of results.
"Teeth whitening is promoted as a simple and harmless procedure, but there have been well-publicised cases of injuries, poor results and inappropriate treatment," Australian Dental Association President, Dr Carmelo Bonanno, told Canstar.
"For these reasons, we recommend obtaining treatment at home in Australia, and under dentist supervision," he said.
Dental Lounge principal dentist, Dr Gamer Verdian, says Australian dentists are often called on to repair work that was carried out overseas to get short-term results.
"The volume of patients we see for correction dentistry after returning from a dental holiday is staggering," Dr Verdian told Canstar.
"It is very easy to make teeth look good for six months but much harder to do it for 15-20 years," he said.
"One of the key points for dentists in Australia is that once the treatment is completed, we are responsible for its longevity. So if something goes wrong, your patient will [only have to] drive 10 minutes to see you for correction," Dr Verdian added.
What's the difference
between professional and over-the-counter whitening?
In addition to the varying costs, the main differences between professional and over-the-counter teeth whitening are the chemicals used and how they are applied to your teeth, according to Dr Verdian.
"Professional whitening systems have a much stronger concentration of the whitening agent. Professionals also have the light system that allows for greater activation of the whitening agent," he said.
"The key to whitening is contact time on your teeth. It is hard for the over-the-counter products to have a long period of time on your teeth for the whitening agent to work."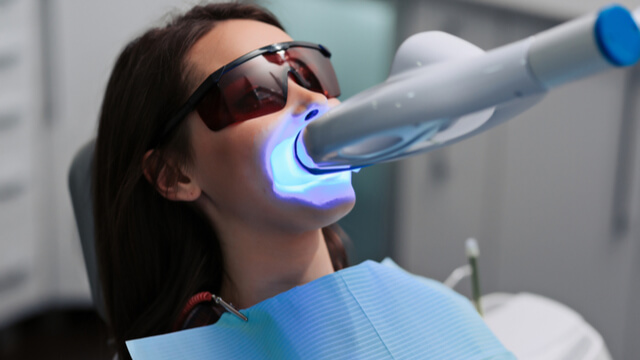 However, Dr Verdian added that over-the-counter whiteners can be a suitable starting point in some cases, with costs often being significantly lower than professional treatments.
"Stick with a known brand like Colgate or Oral-B, as their research in the product will typically be at a high level and the quality of the whitening agent will be one that may give you a good chance of success."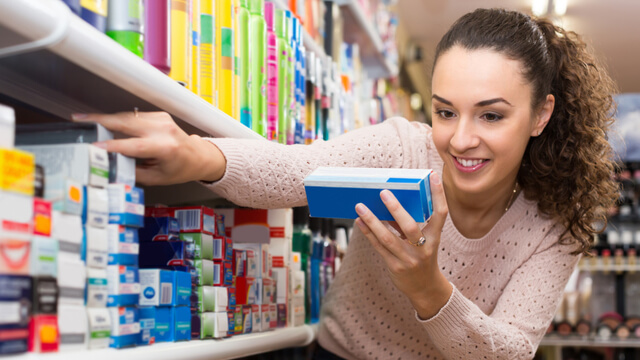 Source: Iakov Filimonov (Shutterstock)
How long does professional teeth whitening last?
Professional whitening is not a permanent fix and will need to be maintained, but may still last monger than a DIY solution. Over-the-counter teeth whiteners may only last up to a few weeks, according to Aperture Dental, whereas the results of professional teeth whitening are estimated to last anywhere between six months and several years, Platinum Dental says.
The length of time a whitening treatment lasts may be affected by the same factors that caused the discoloration in the first place, including:
Smoking
Drinking alcohol, soft drinks, coffee, tea and other dark liquids
Not taking general care of your teeth
Dr Verdian said his patients typically need to professionally whiten their teeth every two to five years on average, but the length of time depends on their diet.
"It is imperative that you stick to a 'white' diet and avoid colourful foods and drinks over this time," he said. "This is especially true in the two to seven days following on from the treatment."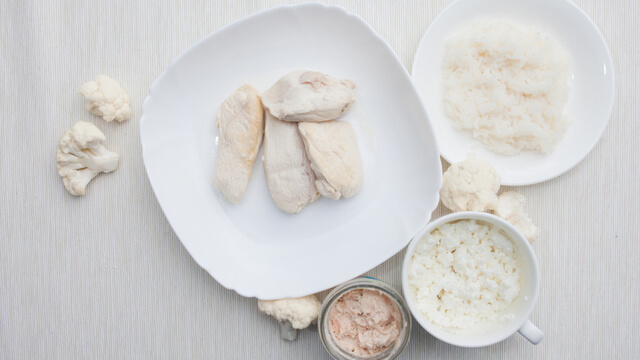 He recommends drinking a lot of water during that time to wash away any stains left by foods or drinks, as well as using a home bleaching kit to do 'top ups' when the whiteness of the teeth starts to drop off.
Are there any risks involved in teeth whitening?
Like with any medical or dental procedure, big or small, healthdirect explains that there can be side effects of teeth whitening, such as sensitivity and mild gum irritation. In addition, it is also not recommended if you are pregnant or breastfeeding, have sensitive teeth, gum disease, cracks or exposed dentine.
Dr Bonnano recommends discussing any worries or concerns with a professional.
"Like any procedure, patients should discuss treatment processes and risks prior to commencing treatment and have all of their questions and concerns addressed," he said.
"If there remains any uncertainty, then you should seek a second opinion."
Main image source: Aaron Amat (Shuttershock)