A peak legal group is concerned domestic violence perpetrators could access the whereabouts of their children through the My Health Record system.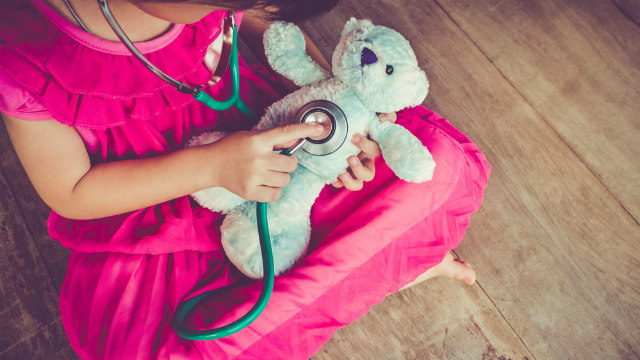 The Law Council of Australia has warned that the Australian Government's My Health Record system may allow parents with Apprehended Domestic Violence Orders access to their children's medical information and address.
The body of legal professionals' warning follows news that nearly one million people have opted out of the system ahead of the 15 November deadline.
Under the system, Australians with a Medicare card will automatically have an online medical record created for them unless they opt out.
The Law Council of Australia's President Morry Bailes said the current definition of parental responsibility under the My Health Records Act exposes the health records of children to "misuse".
He said a parent with a state-based Apprehended Domestic Violence Order still holds parental responsibility for a child under the Family Law Act and would therefore be considered an authorised representative under the current My Health Record system.
"This means that they may be able to ascertain the residential address of the child and the other parent," Mr Bailes said.
"This creates serious issues for children and parents who may be at risk of harm if their location was to be disclosed through My Health Record to the perpetrator of violence."
He said the legislation should be amended to ensure that a parent with a restraining order or personal protection order against them cannot access the child's health records and address.
Mr Bailes and two other law practitioners who are part of the Law Council appeared before a Senate inquiry into the My Health Records system on Monday night to express their concerns.
A spokesperson from the Australian Digital Health Agency, the government body responsible for My Health Record, said there were already strong systems in place to protect victims of family and domestic violence, including a number of options for "authorised representatives" to manage sensitive information in their child's record.
The spokesperson said a parent who's concerned that a non-custodial parent might access their child's My Health Record can suspend the record by calling 1800 723 471.
"When the record is suspended no representatives can access the child's health information in their My Health Record," the spokesperson said.
"The record cannot be re-activated until the legal authority of the parent or guardian is verified."
Other options include opting their child out of having a record, asking a health care provider to not upload information, cancelling their child's record at any time or cancelling their child's My Health Record registration, which means all documents in the record are kept in the system but no one can view the information, except in an emergency.
The agency's chief executive Tim Kelsey also told the Senate inquiry on Monday that about 900,000 people have chosen to opt out of the My Health Record system via online or over the phone so far, with paper forms yet to be counted.
This system has attracted a number of privacy concerns, including fears from unions that employers and insurers could use the information to discriminate against people.
However, supporters of the system have argued that it could save lives because people can give doctors access to critical information such as what medication they are taking and their allergies.
In a recent statement, My Health Record Steering Committee Deputy Chairman Dr Steve Hambleton said about 230,000 people end up in hospital each year due to medical misadventures that could have been avoided if doctors had access to patients' medical history.
"Australia's doctors are currently hampered by a lack of patient information, especially at the time when they need it most," Dr Hambleton said.
"That's where having a My Health Record can make such a difference because it can alert them to any medicine and allergy dangers which could save your life in an emergency."