A million-dollar movie star smile is something many of us desire – and thanks to new technology, achieving those straight pearly whites doesn't need to involve traditional metal braces. Another treatment option now available is Invisalign, although there are considerations around both treatment options to be aware of.
Practising orthodontist and Orthodontics Australia spokesperson Theresia Sudjalim, told Canstar that Invisalign is now the most common brand of a doctor-directed clear aligner product on the Australian market
So what exactly is Invisalign, how long does it take to work, and how much does it cost?
What is Invisalign?
Invisalign is an orthodontic treatment used to straighten and re-align teeth. Online dentist network smile.com.au explains that Invisalign uses hi-tech software to map the path of your teeth, along with clear "aligners" to slowly move them into place. Instead of metal braces, patients wear clear aligners for most of the day, only taking them out to eat, drink (anything but cool water) and brush their teeth.
At Emergency Dentist Sydney, we also do general and cosmetic dentistry. Check out our patient's Invisalign results! Her teeth were crowded, crooked and slightly discoloured. If you have any concerns with your teeth, please call us today for your Smile Makeover – (02) 8354 1160 pic.twitter.com/IS2792FVK5

— The E-Dentist Syd (@TheEDentistSYD) November 20, 2018
How is Invisalign different to braces?
Unlike braces, which can be visible against teeth, Invisalign aligners are clear. And while patients with braces may be advised to avoid certain foods or sports, Invisalign patients generally don't have the same restrictions.
Aligners aren't permanently attached to your teeth, so you can take them out to eat, brush your teeth or participate in sports, as long as you wear them for at least 20 to 22 hours per day.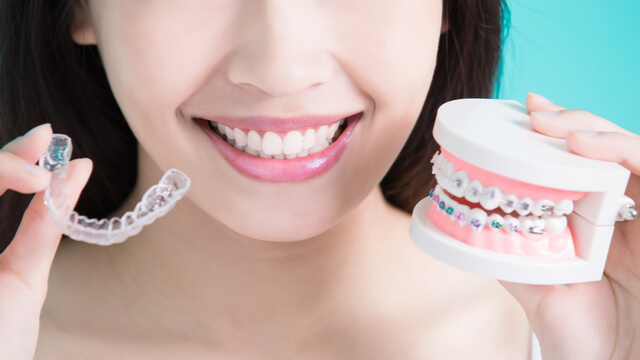 Dr Sudjalim told Canstar one potential downside to Invisalign and similar products is that if aligners are not worn in line with the recommendations or are removed from the mouth too often the treatment will not work as intended.
"Fixed braces, on the other hand, cannot be removed," she said.
How much does Invisalign cost?
The cost of Invisalign treatment will depend on several factors, such as the complexity of your treatment plan, how long the treatment takes, and your choice of orthodontist. Smile.com.au states that for minor treatments, the cost of Invisalign is generally priced from $4,500 for one row of teeth, with a full treatment across two rows of teeth usually around $6,000 to $9,000.
In comparison, Smile.com.au estimates ceramic braces to cost between $5,000 and $8,500, and metal braces to be about $4,500 to $8,000.
Some orthodontic practices may offer payment plans, so you can spread the cost of your Invisalign treatment over several months or years if this suits you. It may be a good idea to check directly with your practice as to whether they provide these plans before beginning treatment and whether they will incur any additional costs.
Braces vs Invisalign – key differences
| Braces | Invisalign |
| --- | --- |
| Permanently attached to your teeth | Removable |
| Work 24/7 to straighten teeth | Work to straighten teeth whilst worn (recommended at least 20 hours per day) |
| Can interfere with eating and drinking certain foods | Don't interfere with eating or drinking, as they can be removed |
| Are generally visible | Are clear and almost invisible |
| Average treatment period of 18-24 months | Average treatment period of 12-18 months |
| Costs $4,500 – $8,500 | Costs $4,500 – $9,000 |
What age group can wear Invisalign?
Invisalign is suitable for teenagers and adults, Dr Sudjalim says, adding it may be "a good alternative to fixed braces, especially for less severe orthodontic problems.
"But in most cases, they are not suitable for young children."
Dr Sudjalim said children's teeth development and arrangement changes too rapidly for Invisalign to be effective.
What does the process of getting Invisalign involve?
According to Invisalign.com.au, the first step in the process is a visit to the dentist or orthodontist, who will capture a 3D image of your teeth using a scanner. These images are then used to make your aligners and map the movement of your teeth over the course of your treatment. Your doctor should be able to show you what your teeth will look like when the treatment is finished.
When the aligners themselves are ready to be worn, they are trimmed to suit your gumline and your orthodontist will check that they fit well and are comfortable. You'll typically wear this set of aligners for one or two weeks, then move on to the next set, which will be slightly different, to slowly move your teeth into place.
The manufacturers of Invisalign state that your dentist or orthodontist should give you enough sets of aligners to last you until your next appointment, and explain how long you should wear each set for. You then need to wear the aligners for 20 to 22 hours each day; the teenage versions optionally come with a blue compliance indicator so parents can monitor whether their kids are following these recommendations.
At the end of each day, Invisalign recommends patients rinse their aligners out and give them a gentle brush with a toothbrush, before wearing them again to bed.
How long does Invisalign treatment take?
Invisalign.com.au states that the average length of time for treatment with these aligners is 12 to 18 months depending on the patient, similar to braces. You'll typically be advised to see your dentist or orthodontist every six to eight weeks to ensure your treatment is progressing well.
Does Invisalign hurt?
There may be some discomfort when you wear a new set of aligners, which patients often describe as a feeling of pressure rather than pain. Manufacturers suggest that pain generally only lasts a few days, then as your teeth start to shift, the aligners typically become more comfortable. If discomfort lasts or becomes painful, you should consult your dental practitioner.
Is Invisalign covered by health insurance?
If you have private health insurance with extras cover, you may be able to claim back a rebate towards the cost of your Invisalign treatment. Invisalign generally falls under orthodontics, a sub-section of your dental cover which is usually subject to a per-person lifetime limit.
You may also need to serve a waiting period of up to 12 months before you can claim for this service. A waiting period is a length of time you need to serve with your health insurer, before they will pay a claim on a particular service, such as orthodontics.
Health Insurance Policies that Cover Dental Procedures
Total Extras Policies
172
Policies that cover…
General Dental
170
Major Dental
139
Orthodontic
98
Average Lifetime Limit for Orthodontic Treatment
$2,155
Source: www.canstar.com.au – 4/11/2019. Based on Health Insurance Extras policies available to Australian residents in Canstar's database, excluding Ambulance Only policies. Average Orthodontic Lifetime Limit based on policies that cover Orthodontia, assuming only one course of treatment is required; if a policy offers increasing Orthodontic lifetime limits, the maximum limit was taken.
A "lifetime limit" is the maximum amount you can claim, for life, for orthodontic treatment. Even if you switch funds down the track, you won't be able to claim for orthodontics if you've already used your lifetime limit. This is especially relevant with a product such as Invisalign, which requires your commitment to using the aligners correctly and regularly, in order for the treatment to work effectively. If you're unhappy with the result, you could end up having to self-fund the entire amount for any future orthodontic treatment.
Lifetime limits for orthodontics can vary widely depending on your fund and level of cover.
Of the 172 extras policies assessed on Canstar's database, for example, limits ranged from $1,000 to $4,000, and four policies had no lifetime limit at all. While you won't be subject to a lifetime limit within these policies, you can only claim for one course of treatment, according to Canstar's research team.
Where can you get Invisalign?
The Invisalign website has a search function that allows you to find an Invisalign-trained dentist or orthodontist in your area. You can also call or email individual practices to ask if they offer Invisalign.
Before you consult with your dentist or orthodontist about a potential treatment plan, it could be a good idea to check your level of orthodontic cover through your health insurer and to consider all of the costs involved, as well as whether the treatment process will suit your needs.
---
Compare Health Insurance with Canstar
The table below displays some of our referral partners' extras policies for a 30-year-old single female seeking cover in NSW without pregnancy cover. The table is sorted by Star Rating (highest to lowest) followed by provider name (alphabetical). Use Canstar's Health Insurance comparison selector to view a wider range of products. Canstar may earn a fee for referrals.
---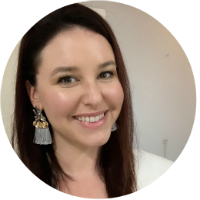 About Sarah Megginson
Sarah Megginson has been a finance and real estate journalist for more than a decade, having written for; She Knows Australia, Your Investment Property, Mamamia, Marie Claire, and travel features for Tourism Australia, BUPA, Jetstar and more. Sarah has also been the editor of Your Investment Property magazine since 2016, while being an opinion columnist, a freelance writer, and an editor who has penned 20+ books. She has three young children and is an ambassador for Act for Kids. Sarah holds a Bachelor of Communications from Griffith University.
Keep up to date with Sarah through her site.
Main image source: 1989studio (Shutterstock)