When an out-of-the-blue problem with your teeth pops up, thinking about the cost can be almost as painful. The amount you end up spending can come down to factors such as the severity of the situation and whether or not you have
private health insurance
that covers the treatment you need.
Dental implants are no exception and, depending on the situation, could have you biting into your savings in order to pay for them. We've compiled some information that may be useful before booking your appointment.
What is a dental implant?
A dental implant is a permanent tooth replacement that usually consists of a titanium screw inserted into the jaw bone with a crown or bridge (prosthetic tooth) placed on top, according to Bupa Dental. The implant is fused with the mouth's natural bone structure and is designed to create a seamless finish to not only look like but to also act like a regular tooth.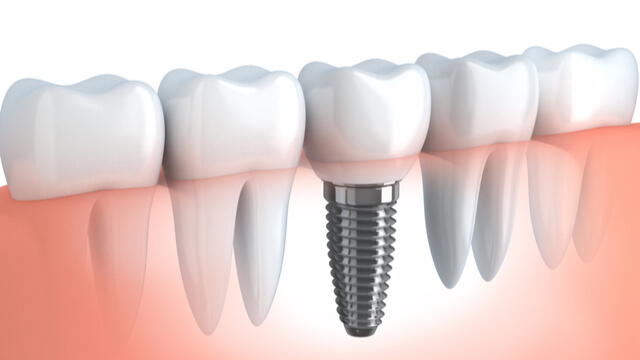 According to dental services provider, National Dental Care, once the metal screw (sometimes known as the 'root') is inserted into the jawbone, it can take three months of healing before the abutment (the connecting element that links the screw to the prosthetic crown) can be fitted. The prosthetic crown is placed on last. Each procedure can last from 30 minutes to a few hours.
Rather than replacing just a single tooth, there is another option called 'all-on-4'. This method uses four dental implants to anchor either a partial or full set of dentures, according to Smile.com.au. This 'all-on-4' solution is usually more common for patients whose teeth are majorly decayed or damaged and who need multiple teeth replaced.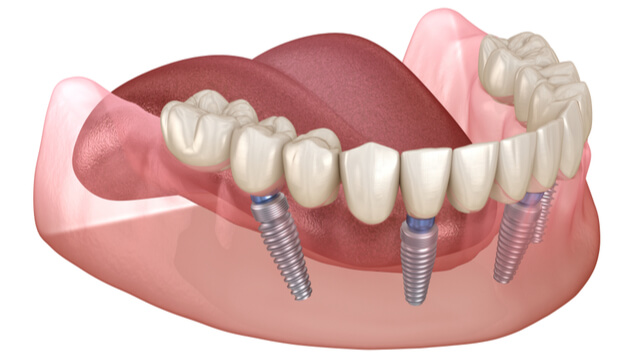 Because a general anesthetic is required during either implant option, you will not be able to drive for a time following each procedure. Pain and swelling may occur after surgery but, according to National Dental Care, this should settle within a week.
How much will a dental implant cost?
The price can vary due to many changeable factors, such as the materials used and the severity of your case, but the average is between $2,850 to $6,000 for a single implant, according to DentalCost. The cost is likely to increase for complicated cases or if more implants are required. 'All-on-4' implants can cost up to $30,000, for example.
Will my private health insurance cover a dental implant?
You may be covered if you have an extras policy in place and 'major dental' is included, as dental implants can sometimes be classified under periodontics (dental specialty dealing with gums and teeth structure).
However, dental clinic Digital Dental Surgery Sydney (DDSS) said that due to the potential cost of the procedure, some policies exclude implants. That said, if your insurance mentions cover for gums, but does not specifically list implants as an exclusion, you may be able to make a claim. It is a good idea to check with your insurer before committing to any treatment to find out what is covered as well as what you can expect to pay out-of-pocket.
Bear in mind that even if your policy does cover dental implants, there is usually a 12-month waiting period before you would be able to claim, although some insurers offer dental with no waiting period. Again, be sure to check with your insurer what waiting periods might apply to you.
Does Medicare cover the cost of dental implants
Generally speaking, Medicare does not cover dental examinations and treatments such as implants, but in some cases it can contribute to the cost of procedures that are deemed clinically necessary. Speak to your dentist about your situation but be prepared to have to fund the cost of your implants either out of your own pocket, or with the help of private health insurance or the public health system (if eligible).
Dental implants through the public health system
Each state and territory has its own specific public health system that may allow you to qualify for free dental work. To be eligible, The Department of Health states you must meet at least one of the following criteria;
Other requirements may apply depending on where you live and can be found through the Department of Health website. If you are eligible, you will be placed on a waiting list and the wait times can vary depending on which health system you're part of.
Other payment options for dental implants
If you need to fund the procedure yourself, rather than asking patients to fork out thousands of dollars immediately, many dentists offer alternative ways to pay off treatments, such as a payment plan organised by the dental office or by using an external 'buy-now-pay-later' service.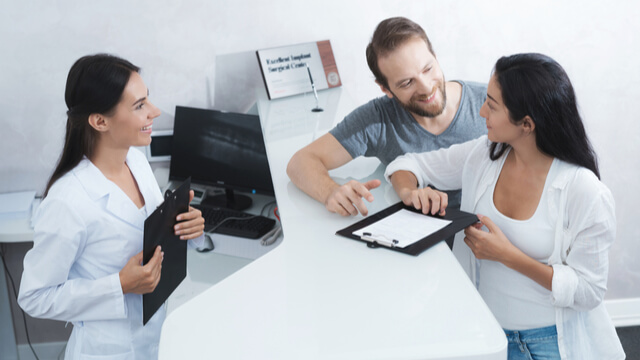 If your dentist practice offers an in-house plan, they should explain the terms and conditions to you, as each practice will differ. Once a payment plan is organised and the treatment is carried out, you would make repayments directly to the practice.
If you choose to use a third-party payment plan (Afterpay, Zippay etc.), your treatment cost would be paid in full to your dentist, and you would in turn make repayments to the credit provider in installments. Terms and conditions are set by the provider, including the credit limit and interest rate (if applicable) you can access.
With any payment plan, consider the repayments and whether you will be able to budget to meet them. Speak with your dentist office about the options available and whether there will be any additional fees.
ASIC's MoneySmart website suggests that before signing up with any financing service, consumers should investigate the plan thoroughly and look out for costs such as late payment, monthly-account keeping and payment-processing fees. It explains that unlike loans taken out from a financial institution like a bank, 'buy-now-pay-later' providers generally do not check your ability to make repayments or investigate your credit history. This can sometimes cause consumers to take on more credit than they can afford to repay.
'Holiday dental' as an option for dental implants?
Travelling overseas for cosmetic procedures, including dental, has become more popular with Australians, with an estimated 15,000 of us seeking treatment outside of the country each year. Though the cheaper cost and speedy treatment time may be quite tempting, the end result might not be worth the risks that come with it.
According to a study conducted by the Australian Dental Journal, problems with dental implants do occur overseas. And although treatment issues can occur anywhere, if a situation were to happen in Australia, there could well be more options available to patients for dealing with the complications, as well as regulations in place through organisations such as the Australian Dental Association (ADA).
The ADA warns Australians about the risks that may occur with overseas dental and mixing a holiday with a dental treatment.
"Our preference is for Australians to obtain their treatment at home, where there is a high standard of treatment services, and mechanisms for redress should problems arise," ADA President Dr Carmelo Bonnano told Canstar.
How long do dental implants last?
Smile.com.au states that though the implant should last a lifetime, the artificial tooth replacement (dental crown, bridge or denture) generally will last around five to 10 years depending on a variety of factors including how well the patient takes care of the implant, their overall oral health, lifestyle and how well the implants were installed in the first place.
Are there any risks with dental implants?
According to dental centre Dental 266, a dental implant is a complex surgical procedure that involves multiple stages for the implant to be successfully integrated into the mouth. As with most types of surgery, complications can occur, such as;
An infection developing

Nerve damage

Corrosion to the screw
To avoid such occurrences, preventative measures can be taken. Your dentist will usually discuss the do's and don'ts prior to your surgery to help you understand your new implant completely.
If you have any prior health conditions, such as diabetes or bone degradation, your dentist may not recommend dental implants, out of concern for your health and safety, Dental 266 says.
Main image source: Talaj (Shutterstock)