Experts have warned Australia's retirees are stuck between a "rock and a hard place" after this week's sizable falls in the stock market.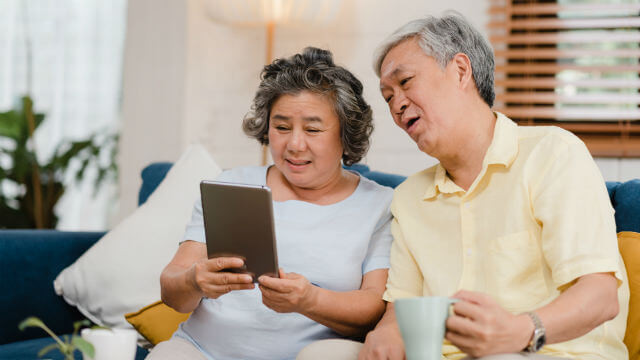 News of continued strife between China and the US about trade tariffs sparked a sharp reaction from investors on Monday and Tuesday, when $90 billion was wiped off the value of ASX stocks.
While the market partially recovered ground yesterday and today, at the time of writing it was still not back to the record-breaking highs it had recently been recording.
Canstar finance expert Steve Mickenbecker said while the market's dip wasn't good news for most investors, the hardest hit would have been retirees who relied on investment returns for their income. The blow would have further amplified retirees' income shortfall from their cash reserves held in banks. Two reductions in the cash rate by the RBA had translated to many banks choosing to slash the interest they paid on savings accounts and term deposits.
"Retirees are in an uncomfortable position – between a rock and a hard place – right now," Mr Mickenbecker said.
"The best savings rates you can get now hardly cover inflation, so even if they only are just drawing income from interest on their savings, it's setting them back in real terms."
Why the stock market dip could hurt retirees' hip pockets
Mr Mickenbecker said lower returns from stocks and savings meant that retirees might have to use their capital to cover living costs, further lowering their capacity to generate income into the future.
"If you are 30, you can afford to go through stock market cycles like this," he said. "But if a retiree is drawing down on their capital, they can't recover it. They may run out of recovery time (before they need to spend their nest egg).
"It's not a nice place to be for retirees at the moment."
However, Association of Independent Retirees (AIR) acting president Wayne Strandquist said many retirees were battle-hardened after weathering the GFC storm and were watching the market carefully, "waiting to see what eventuates in the coming weeks and months".
"Our members certainly aren't panicking and selling into those (stock market) losses at the moment," he said. "They are concerned more about the longer-term implications."
Some retirees have moved to protect themselves
Mr Strandquist said talk at AIR meetings last week, before the market slump, had celebrated the strong performance of the market. However, he said "a few longer-term shareholders had said that the market was getting to potentially risky levels", and that a number of attendees had moved to insulate themselves against a sharp correction by diversifying their portfolios.
He said that had included, in some cases, choosing lower-risk alternatives such as fixed interest investments and bonds.
"That has provided some protection to a portfolio, because when interest rates go down, bonds typically go up," he said.
Savings interest rate cuts had hurt some members who "had modest amount of savings to cover living expenses", but the biggest burden for self-funded retirees continued to be the deeming rates, Mr Strandquist added. The deeming rates are part of the calculation the Federal Government uses to work out how much of a pension some retirees will receive. These rates were recently lowered, delivering a boost to some people's pensions.
"The deeming rate is what was really hurting them and still is – the threshold continues to be too high above (the real rate of return), and it's something that needs to be looked at again, depending on what interest rates do in the future," he said.
China-US trade war stirs talk of Australian recession
Mr Mickenbecker said he had hoped "sanity would have prevailed" months ago, and the US and China would have worked out their trade differences by now. US president Donald Trump and the Chinese government have been squabbling for months over perceived trade inequity, culminating this week in Trump vowing to slap an extra 10% tax on certain goods imported from China, on top of the 25% he had already pushed onto other Chinese products. That spooked global stock markets, causing sharp falls in many countries, including Australia.
"What we are seeing (in the stock market) is a lot of fear about a future trade war between China and the US," Mr Mickenbecker said. "People are very concerned that it could really damage world growth, and if it plays out as it is threatening to at the moment, we could end up with a recession on our hands."
A recession is when an economy contracts for two or more consecutive quarters, according to the Parliament of Australia's Parliamentary Library.
"I am still personally very optimistic that the two countries will be able to fix the problem."
If we do fall into recession, he said, "it will hurt us all".
"There will be higher unemployment and lower wage growth, and there's no room left for the Reserve Bank to move now the cash rate is at 1%."
He said Australia had weathered the Global Financial Crisis and had avoided a recession largely because the RBA was able to "immediately knock the cash rate back 4%", which insulated the economy from the ravages felt in other countries. The last recession in Australia was in the 1990s.
He said if there was a recession, retirees could bear the brunt of the pain.
"In terms of the stock market, in a recession it would fall because business profits would fall, leaving retirees vulnerable."
Recession: Retirees are worried about their children
However, Mr Strandquist said he believed it would actually be the younger generations that would feel the brunt more.
"It's interesting, our members don't talk about recession so much, because the majority of them went through the recession in 1991, in some form or another," he said. "They saw the issues around employment and business failures then first-hand.
"But the younger generations have never seen a recession."
He said recessions impacted employment and that this could have a bigger effect on younger people, given that retirees were no longer dependant on an employer's wage.
"Discussion about recession in our investment groups turns to younger people, who have higher levels of household debt and are potentially working in industries that might suffer in a recession, and so they might be affected by unemployment. That would put them in difficulty in terms of paying those mortgages on a monthly basis," he said.
"The retirees are worried about what impact a recession would have on their kids."