When you work for yourself or own your own business, you are the one steering the ship. While this can bring additional freedoms, it also comes with responsibilities in planning for your retirement. There are a range of options to consider in deciding what best suits you and your retirement plans.
According to the Australian Taxation Office (ATO), there is no legal requirement for self-employed people who are sole traders or in a partnership to put money into a superannuation account for their own retirement. Depending on your situation, that means you may be able to choose to invest your money outside of super, if you wish. Some business owners may even choose to take the money they would otherwise invest in their super and spend it on their business, but there are risks to consider.
Some business owners may also put off decisions about their super while they focus on day-to-day business operations. Or perhaps the impacts of COVID-19 have resulted in a decrease in revenue, leading them to put off saving for retirement. If, on reflection, you find you're in this boat, it might be time to take action. The choices you make now can have a big impact on your later years.
How to pay yourself super
As a self-employed person, there are a few ways you can pay your super. You may choose to pay yourself a wage and make a regular super contribution – just as is the case for employees – or you may prefer to make lump sum payments when your business revenue allows. Consider talking to your accountant before deciding which route to take.
You can also decide whether you would like to invest with a super fund or manage your super yourself. For some, leaving super management in the hands of fund managers may be the most appropriate option. Others may benefit from choosing a self-managed super fund (SMSF).
Choosing a super fund
If you decide to make payments into a super fund, there are a number of factors to consider when choosing a fund to make sure you find one that provides value for you. When assessing a super fund, it is a good idea to ask questions like:
There are many superannuation funds and investment options to choose from. A proactive choice could significantly enhance your retirement nest egg, helping you meet your goals.
If you're comparing Superannuation funds, the comparison table below displays some of the products currently available on Canstar's database for Australians aged 30-39 with a balance of up to $55,000, sorted by Star Rating (highest to lowest), followed by company name (alphabetical). Use Canstar's superannuation comparison selector to view a wider range of super funds.
Self-managed super fund
An SMSF is a fund designed for members to have direct control over their retirement savings and investments. All members are considered to be 'trustees', which means they have the authority to make day-to-day decisions about how the fund operates and how to invest, provided they abide by the superannuation laws. Having an SMSF can give you more control over your investment and, according to the ATO, there can be tax benefits. On the other hand, it requires time to set up and administer, and you are legally responsible for ensuring the fund complies with the rules. Because of this, it is often a good idea to work with an accountant when operating an SMSF.
Investing in super vs investing in the business
Another option some business owners choose is to reinvest in their business rather than putting money into their own super.
This could involve planning to sell the business before retirement and living off the proceeds.
Canstar finance expert Steve Mickenbecker said relying entirely on the business as a super plan carried some risks.
"This may work well in some cases, but as a retirement strategy it puts all your eggs in one basket. If something goes wrong with the business, it will likely impact your retirement plans as well," he said.
Investing outside your business, such as in super, can be a way of diversifying your investments. On the other hand, once your money is invested in super, it's generally locked away until you reach the preservation age – currently 60 for anyone born in July 1964 or later – and/or are able to meet a condition of release. This could be a factor if you're self-employed and want to maximise the flexibility of your investments.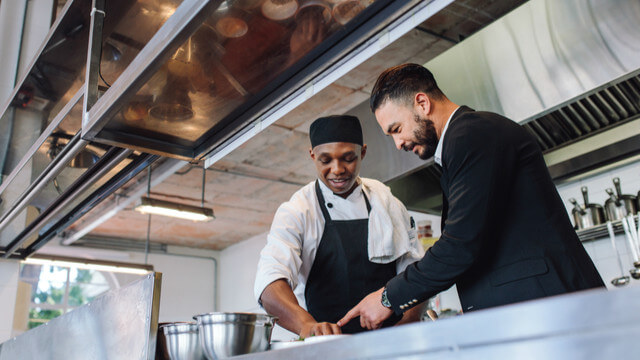 Tax considerations
ASIC's MoneySmart suggests there are some potential tax benefits to investing in your super. It recommends you should always talk to your accountant or tax agent before making any decisions. Here are some general points from the ATO to keep in mind:
Concessional (pre-tax) superannuation contributions from your earnings are taxed at 15%, rather than at higher marginal tax rates
Non-concessional (after tax) contributions are not taxed when going into your super fund
Concessional super contributions are tax deductible up to $25,000
Super fund earnings are usually tax-free after you've turned 60
How much super will you need?
When planning how you intend to save for when you can hang up the work hat, it can help to understand approximately how much you may need to achieve a comfortable retirement. The Association of Superannuation Funds of Australia publishes a Retirement Standard that benchmarks the annual budget for Australians to live modestly or comfortably after work. It recently estimated that a couple would need $62,269 a year (tax free) to be comfortable in retirement, while a single person would need $44,146. Assuming a partial age pension, it estimates that amounts to $640,000 in savings (or $545,000 for a single person). Another method, cited by ASIC's MoneySmart website, suggests a person earning an above-average salary would need about two-thirds of their present annual income to maintain the same standard of living in retirement. Of course, these are only general estimates and your own retirement needs will depend on your personal circumstances and expectations.
In any case, it can be handy to have a healthy nest egg in place to fund your retirement, which means it could be prudent to plan ahead, even if you aren't legally obliged to do so.
Whichever retirement plan you choose, remember to think about that horizon. Planning now can help you to achieve a more comfortable retirement.
Cover image source: SeventyFour (Shutterstock)