Are you satisfied with your super fund? Canstar can reveal which super fund has the most satisfied customers in Australia in 2020 and what it is that consumers really want from their super fund.
Your super fund may well have been on your mind more than usual in the last few months and some of us might have even contacted our provider for the first time ever recently. For example, some Aussies were keen to check about their investment options following news that super balances took a hit due to coronavirus-related market fluctuations. Others have been in contact with their fund to ask about accessing some of the super early due to financial hardship under new rules brought in by the Australian Taxation Office (ATO) as a result of the coronavirus crisis.
But it's not just at times of crisis that people rely on their super fund for support. Canstar surveyed 5,016 consumers to find out which super fund is keeping its members happiest, and what factors drive consumer satisfaction when it comes to their provider.
ING is the super fund with the most satisfied customers in 2020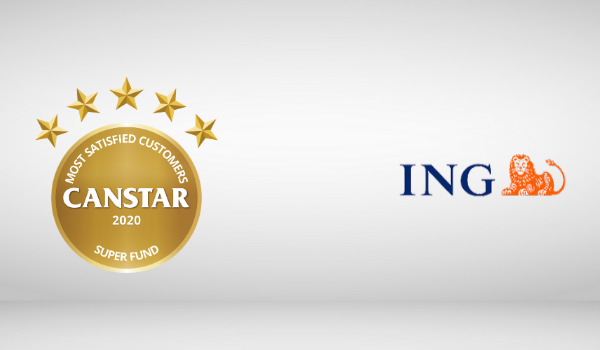 ING has won Canstar's Most Satisfied Customers – Super Fund Award for 2020, following a particularly strong performance in several key areas.
ING was the highest-performing super fund when it came to communication, customer service and fees. It also performed well among its customers for value for money, which had the greatest influence on a customer's overall satisfaction with their super fund, according to the survey findings.
"Consumers have rated ING very highly on fees, as well as customer service and communication, so it's clear ING is doing something very right when it comes to how they're interacting with customers and the products they're offering," Canstar Finance Expert Steve Mickenbecker said.
Looking at some of the features ING offers to members, its Living Super fund comes with a range of pre-selected investment options and a choose-your-own investment option. Members also have the ability to directly invest in shares and exchange-traded funds (ETFs), and get their first piece of single-issue superannuation advice paid for by ING. Members can join the fund or consolidate their super online using ING's platforms.
How satisfied are consumers with their super fund?
Canstar's survey found that Australians appeared to be more content with their super funds overall in 2020 than they were last year, with satisfaction rising when it came to customer service, value for money, fees, investment returns and communication. Value for money in particular seems to have grown in importance as a driver of overall satisfaction for consumers, with its influence on overall satisfaction increasing from 27% in 2019 to 34% in 2020.
On the other hand, the survey showed that fees were less important as a driver of satisfaction for consumers this year.
When asked why they chose their super fund, over half (56%) of consumers said it was because it was the default provider offered by their employer, 18% said their decision came down to fees, while a further 17% of consumers chose their super provider based on brand reputation.
Mr Mickenbecker said the results reflected a concerning attitude among some consumers when it comes to their super.
"The majority of consumers have simply gone with the default fund offered by their employer, which is worrying because it indicates consumers aren't making decisions in their own best interest," he said.
"Fees were a distant number two when it came to reasons for choosing a super fund, but it's encouraging that some consumers are becoming aware that fees can erode their retirement savings."
"Canstar encourages people to research superannuation options that reflect their needs and life stage, and consider aspects like investment performance, fees, and insurance offerings, among other service aspects."
How much attention do we pay to our super?
Canstar's survey found that around a quarter of consumers check their super balance at least once a month, including over a third of those approaching retirement age (aged 60 and over).
When it came to the most common ways consumers checked their super balance, 42% said they used their provider's website, and 18% checked through their provider's app.
To read more about how our Customer Satisfaction Awards work, you can read the methodology.