Is your business happy with its current merchant services provider?
The coronavirus pandemic has accelerated the trend away from consumers using cash for payments, with more people opting to pay by card or shopping online instead.
In this climate, merchant services, such as EFTPOS machines, Point of Sale (POS) terminals and online payment systems have become perhaps more important than ever for Australian businesses when processing payments.
As part of our 2020 Most Satisfied Customers – Merchant Services Award, Canstar surveyed 651 Australian businesses to find out which provider on our database has the most satisfied customers.
Businesses were asked to rate their overall satisfaction with their merchant services provider, as well as their satisfaction with specific aspects of the service they receive, such as reliability and speed of services and transactions.
The businesses surveyed ranged from sole traders to those with up to 200 employees, and included those who traded in standalone stores, shopping centres, home offices and online.
NAB wins Award for Most Satisfied Customers – Merchant Services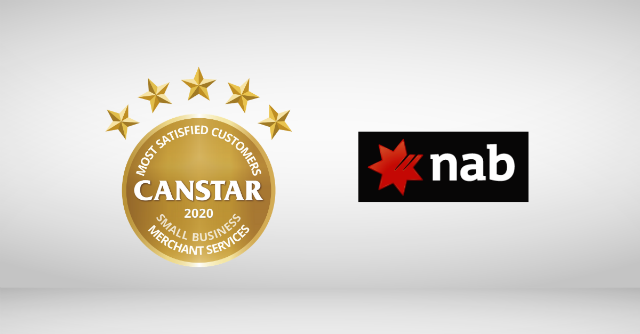 National Australia Bank (NAB) has won Canstar's 2020 Most Satisfied Customers – Merchant Services Award. NAB offers a range of merchant products and services to Australian businesses, including EFTPOS mobile machines, BPAY and other online payment services.
NAB received high overall satisfaction scores from its customers, and also outperformed the average of other merchant services providers examined in all categories. NAB performed particularly well among its customers for device functionality, speed of services and transactions, and reliability.
What drives customer satisfaction for merchant services providers?
In addition to rating their overall satisfaction, businesses were asked to score their merchant services provider against the following criteria:
Customer service
Online reporting
Device functionality
Reliability
Fees and charges
Speed of services and transactions
This year, reliability and customer service had the greatest influence on overall satisfaction for the businesses surveyed. These factors accounted for 30% and 23% of overall customer satisfaction, respectively.
For more information on how Canstar's Customer Satisfaction Awards are determined, view the Award methodology.
Main image source: GaudiLab (Shutterstock).
---
Thanks for visiting Canstar, Australia's biggest financial comparison site*