Canstar congratulates nabtrade on their online share trading platform, which received our 5-star rating for outstanding value in 2016.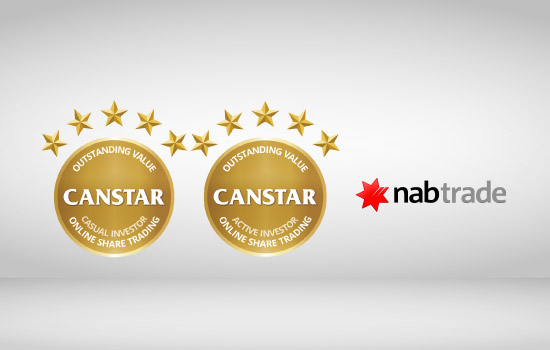 In 2016, the nabtrade online share trading platform has received Canstar's 5-star rating for outstanding value in two of our three investor profiles:
Casual Investor: nabtrade Silver Account
Active Investor: nabtrade Silver Account
The inclusions below represent a selection of what is covered. Additional conditions may apply to different features. Canstar is not making any suggestion or recommendation to you about this product. Please ensure that you read the product disclosure statement to determine all the current policy options and inclusions for the product you are considering.
Resources on offer for sharemarket investors
nabtrade's Insights and Ideas blog is a goldmine filled with nuggets such as this one, which can help new investors avoid the usual mistakes when they're starting out.
Features on offer for Casual Investors
In terms of cost, nabtrade charges no ongoing fee for their Silver product. With their fairly low online brokerage fee – roughly $20 per trade compared with the lowest fee which is currently offered at $14 – they thus received the highest score for pricing.
nabtrade offers a comprehensive range of features compared to other products. Key features of the nabtrade Silver Account online share trading platform are:
Accessibility: Traders can access their account via the internet, an Android app, iPad app, iPhone app, tablet app, other mobile device, or over the phone. They can view their portfolio balance and their settlement account balance online. Traders can view and trade on live prices, and view and edit their watch list.
Market Information: Daily market reports, live quotes, buy/sell signals, company financial reports, company news and announcements, economic research and forecasts, and technical analyst reports are available.
Advice: Broker recommendations are available.
Application: Traders can sign up to this platform in an online application that requires no documentation. Trading is possible immediately upon opening an account.
Education: A dedicated education page, chat room forums, FAQs, searchable help page, and online seminars and video tutorials are available. Educational workshops are offered in various cities.
Support: Email support is available. Their call centre is available for 12 hours, 5 days a week. Phone training is available for customers.
Margin Loans: Margin loans are allowed.
Reporting: Past statements available online. Year-to-date and historical reports on interest and settlement of account. Equity gains/losses are reported for individual stocks and overall portfolio.
Alerts: Email and SMS alerts available.
Markets: International markets, derivatives, managed funds, shares, ETFs, foreign currency, Mfunds, options, unlisted managed funds, warrants.
About nabtrade
nabtrade is the investment arm of NAB (National Australia Bank). NAB was founded in 1981 and is one of the big four banks in Australia, serving over 12.7 million customers worldwide.
NAB offers mobile apps for internet banking on your Apple, Android, and Windows smart devices.
NAB supports the Australian community in many different ways. Since 2003, NAB has supported Good Shepherd Microfinance, the Federal Government, and over 400 community organisations to help provide Aussies with financial resources, education, and microfinance products. They also research and work to improve financial access for the 3 million Aussies (1 in 6) who are living on a low income.
To protect our kids, they have been sponsoring the Alannah and Madeline Foundation since 2003, focussing on the Better Buddies Framework to prevent bullying. They also invest in young people through the $20 Boss project, which empowers young-uns to try out their big entrepreneurial idea. Another project, Work Inspiration and High Resolves, aim to prepare teenagers for the workforce and increase their confidence in their skills.
NAB also works hard to support the 1 in 5 Aussies with a disability, to improve their customer experience, recruit people with a disability, and support community initiatives that promote a full life. NAB gives more than $2 million a year in community grants to charities to make a difference in local communities.
NAB can also lay claim to being Australia's first carbon neutral bank, and to financing renewable energy and natural resources, having invested $1.8 billion over the last 8 years in renewable energy. You can assess NAB's performance against their goals by reading their 2015 Dig Deeper report.
Please note that Canstar is an information provider and in giving you product information Canstar is not making any suggestion or recommendation about a particular product. If you decided to apply for a product, you will deal directly with a financial institution, and not with Canstar. Costs and product information should be confirmed with the relevant financial institution. For more information, read our detailed disclosure, important notes and additional information.