Investment manager Dr Don Hamson shares his thoughts on the top 20 dividend payers. Plus he gives five pointers on investing in shares for income.
Remember those days when you could generate strong income from interest on cash investments? Well now, in what might seem like a blink of an eye, it is almost implausible to make ends meet from those 'safe' cash investments as interest rates have been slashed and slashed… and slashed again.
We often hear of the delight from homeowners when rates are cut, but investors, particularly retirees who rely on yield to pay the bills, are forgotten about. In the wake of COVID-19 we expect the cash rate to remain at current historical lows for even longer. So where too for income investors?
Being an equities fund manager specialising in income generation, it might not be a surprise that I think dividends from shares remain a good option. So, here are five considerations for anyone who may be considering looking to dividends for additional income.
1. It's not all doom and gloom
While many companies have reduced or completely cut their dividend payouts, others have maintained dividends or even increased them and are still generating yield well above what you would receive from many other asset classes.
Iron ore miners are one such example of a sector producing strong income for investors. This is in part due to a strong outlook for iron ore demand as economies embark on infrastructure stimulus in the wake of COVID-19. Infrastructure requires steel, steel requires iron ore which is largely produced by ASX-listed companies.
Another strong area for dividend income is consumer staples and some consumer discretionary businesses. Wesfarmers is a prime example. During the recent ASX reporting season it actually produced a better than expected dividend result thanks to the strong performance of its Bunnings and Officeworks stores.
2. Look beyond 'traditional' dividend stocks
I liken this to reminiscing on the time when interest from cash in the bank helped pay the bills. Well, there was also a time when investors relied on Australia's 'traditional' dividend stocks to pay the bills – the Big 4 banks and Telstra. Australian investment portfolios have been highly concentrated to the Big 4 and Telstra but this paradigm has now shifted. In the wake of COVID-19 bank dividends have been hit hard and we don't expect a comeback any time soon.
While Telstra's performance during COVID-19 has actually been reasonably strong, over the past few years Telstra investors would have seen their dividends fall by nearly a half together with a falling share price.
I touched on a few above, but there are many more examples of sustainable income generating stocks in the Australian market outside of the traditional dividend payers. You just need to be looking in the right places.
I shared the image below in a recent investor webinar, highlighting some of the stocks we've categorised as the 'good, bad and ugly' for dividends over the coming 12 months. The good being businesses that have weathered the COVID-19 storm and are likely to be able to maintain a healthy dividend in the coming year. The bad, businesses likely to see some level of dividend reduction, and the ugly – businesses that will pay significantly reduced dividends or none at all.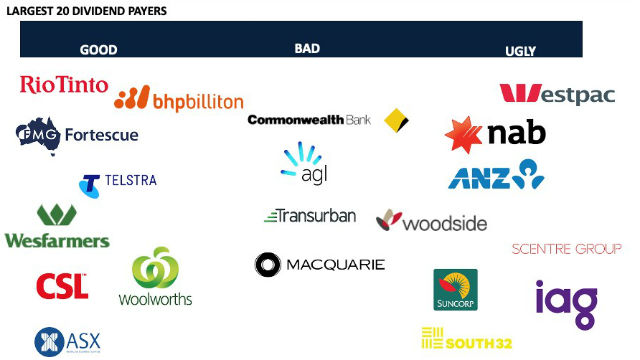 3. Watch out for dividend traps
What is a dividend trap? It's when you look up a company (on google or your share trading platform) and see a big historical dividend yield that won't ever come to fruition because the company is likely to reduce or completely cut its dividend in the months ahead.
The listed historical dividend yield is just that – historical. AMP has been a classic example of a dividend trap in recent years. As its share price fell, its dividend yield incrementally rose. At times it appeared AMP was trading on a juicy yield but dividend cuts followed, and the share price kept falling. Professional investors spend a significant amount of time fundamentally analysing companies to avoid dividend traps, investors considering going it alone should too.
4. There is a case for active management
Many investors may be attracted to products that simply buy an index, but right now an index such as the ASX 200 is full of dividend traps (such as the banks) and within the index there are companies that have been hit hard by COVID-19 and others that have thrived. Active investors are able to rotate their investments into the sustainable dividend payers of today while index funds take a piece of them all.
5. Effective tax management is critical
Our taxation system is a compelling reason for many Australian investors, particularly retirees, to consider investing in stocks for income with a significant proportion of additional income able to be generated from franking credits.
Franking credits are taxation credits that often accompany dividend payouts. They represent a tax credit for the Australian company tax that's already been paid by the company. For large companies, this franking credit is normally based on a 30% company tax rate. A $7 fully franked dividend, therefore, carries a $3 franking credit, being 30% of the pre-tax $10 profit from which the dividend is paid.
These franking credits can be valuable for Australian investors, as the credit can be used to offset against personal or superannuation tax payable, and for low-income earners, is refundable. For a superannuation investor in pension phase who is subject to a zero tax rate, the government will actually fully refund franking credits. Over the past 15 years we estimate franking credits have added an extra 1.4%pa to the sharemarket returns of the ASX 300 for Australian tax-exempt investors.
Finally, I must add these are general in nature. I don't know everyone's personal financial situation and you should always seek professional advice before making investment decisions.
---
About Dr Don Hamson
Dr Don Hamson is Managing Director of Plato Investment Management, a Sydney-based fund manager specialising in income generation for retirees and other low-tax investors. Dr Hamson has around 30 experience in the finance industry and has a PhD in Finance and a Bachelor of Commerce with First Class Honours from UQ, and a University Medal.
Main image source: iQoncept (Shutterstock)
---
Thanks for visiting Canstar, Australia's biggest financial comparison site*