Give back to support our community and our environment with CANSTAR's list of heart-warming bank accounts from customer-owned banking institutions.
"Warm ya heart" accounts
For a while now, banks have been helping customers to make regular monthly donations to community organisations using some of the interest earned or spare coins sitting in their account. Banks have long been involved in directing some of their profits to charity, but now they are personalising the process and allowing customers to donate to the causes they care about.
The main thing is that you can have a huge impact without deliberately changing where or how you spend your money. And it's easy, since you don't have to sign up as a regular donor to an organisation and your bank does the hard work of processing the monthly donations for you.
All interest rates listed below are current at the time of writing only. The inclusions mentioned represent a selection of what is covered, and additional conditions may apply. Please read the product disclosure statement for any product you are considering before making a decision.
Please note that CANSTAR is an information provider and in giving you product information CANSTAR is not making any suggestion or recommendation about a particular product. If you decided to apply for a product, you will deal directly with a financial institution, and not with CANSTAR. Rates and product information should be confirmed with the relevant financial institution. For more information, read our detailed disclosure, important notes, and additional information.
Australian Military Bank – Military Rewards Account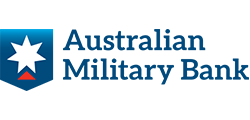 We discovered the Military Rewards Account when researching for the CANSTAR Innovation Excellence Awards this year. It is an everyday transaction account available to any Australian resident that both rewards members with cash back and also supports the community.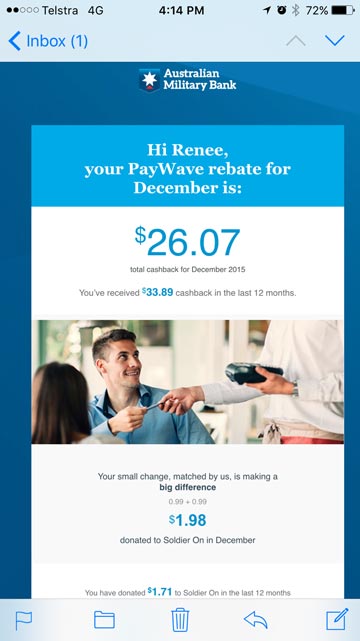 It uses "cents rounding" to gather the spare change less than $1.00 in the account at the end of each month and setting it aside to donate to the Defence charity of the member's choice. Before it is donated, the Donation is matched cent for cent by the Australian Military Bank.
The member is rewarded for their kind-heartedness with 2% cash back on all Visa payWave transactions made for amounts less than $100 using the account. The account has no fee on the Visa debit card, and rediATM and NAB ATM withdrawals are fee-free.
All members have to do is deposit $1,500 or more each month into the account in order to receive the benefit. They receive a monthly email or SMS containing the details of their total charity contributions for the month and YTD and how much they earned in cash back from payWave transactions.
There are four Defence charities to choose from, or members can decide to spread their monthly donation across all four:
Source: Australian Military Bank
Bendigo Bank – CommunitySaver Account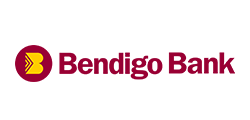 The Bendigo CommunitySaver Account was another treasure we stumbled upon during this year's CANSTAR Innovation Excellence Awards deliberations. It is a savings account designed to help customers reach their savings goals while letting them donate a portion of the interest they earn monthly on the account (from 10% up to 100%) to one of the eligible community organisations on Bendigo Bank's list.
The account earns an interest rate of 1.50% p.a., with no monthly account-keeping fee, free e-banking transactions, and 2 free branch withdrawals per month. Card access is not available on the account because it is a savings account, not a transaction account designed for your everyday spending.
The system is very simple. Customers don't need to do anything special or keep their balance above a certain amount in order to donate a set percentage of their interest per month. Charities on Bendigo Bank's approved list include the following:
Bendigo Bank Community Enterprise Foundation
St John Ambulance – South Australia
Emergency Services:

Country Fire Authority Victoria
State Emergency Services Victoria
Tasmania Fire Services
P&N Bank – Donation Saver Account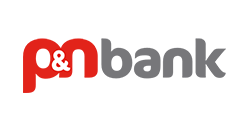 The P&N Donation Saver Account is a savings account that proudly supports Heart Kids and WA Police Legacy. Customers receive 0.25% in interest (variable interest rate at time of writing), and P&N Bank makes an annual donation to one of these WA-based charities calculated on 1.25% p.a. of the account's average monthly balance.
The account has no monthly account-keeping fees, free unlimited electronic transactions, and customers do not have to make any regular deposits to the account. Customers can access their funds through online and mobile banking, telephone banking, and branch transactions.
Heritage Bank – Community Saver Account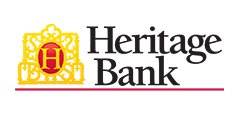 Heritage Bank's Community Saver Account is an online savings account that pays a community grant of 0.50% p.a. interest on the customer's balance to the customer's community group of choice every three months.
Heritage Bank has a wide range of registered community groups for customers to choose between. In fact, there's no need to lock yourself down to just one – customers can nominate different community groups once per month.
The account has no account-keeping fee and is accessible through online banking. The interest rates vary based on the balance of the account, and while the community group receives their interest earning quarterly, customers receive interest earnings monthly:
$1 – $249,999: 1.50%
$250,000 – $749,999: 1.65%
$750,000 and over: 1.80%
Working Rate: 0.10%*
*working rate will be applied if no community group is nominated.
Beyond Bank – Community Reward Account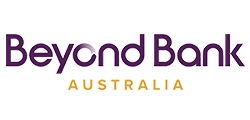 Beyond Bank's Community Reward Account is a savings account that makes an annual EOFY donation to the registered charity or community organisation of their choice. The donation is calculated on a percentage of the average annual balance in all Community Reward Accounts that link to a particular organisation.
This account has no monthly account-keeping fee, and most transactions are free, apart from over-the-counter withdrawals – and even then, customers get four free over-the-counter withdrawals per month. The account is accessible through online and mobile banking, SMS banking, telephone banking, Beyond Bank branches, and Bank@Post.
The account earns an interest rate of:
$1 – $4,999: 1.10%
$5,000 – $199,999: 1.50%
$200,000 and over: 1.60%
If your favourite charity or community organisation is not already on Beyond Bank's list, you can have them register for inclusion. Any not-for-profit organisation, big or small, is eligible to participate in the program.
Source: Beyond Bank
What's not to love?
Consider your options when it comes to the banks that really do give back to support our community and protect our environment.
Compare Mutual Banks with CANSTAR's Customer Owned Banking Award