After comparing more than 60 mutual banks, credit unions and building societies, Canstar has revealed the Customer Owned Institution Award Winner for 2019.
Canstar's researchers assessed and rated 65 customer owned institutions across Australia, to find the provider that excels in its everyday banking products and other services it offers to customers.
Canstar compared the price and features of each provider's banking products such as home loans, personal loans, credit cards, savings accounts and transaction accounts. Extra factors such as the institutions' online banking services, branch and ATM access, and the number of additional financial products on offer were also considered.
Customer Owned Institution of the Year – Bank Australia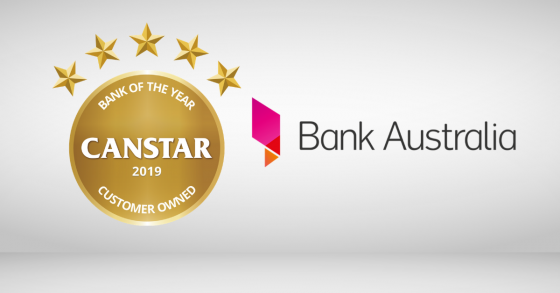 Bank Australia has won the Customer Owned Institution Award for the fourth year in a row.
The Canstar Research team found that Bank Australia maintained a consistently strong performance across all categories considered, and was the standout provider in the lending and deposits spaces.
For lending, Canstar Research noted that Bank Australia consistently outperformed the market average in this category when it came to home loan interest rates. It performed strongly for both fixed and variable rate home loans, for investors and owner occupiers alike.
The interest rate for Bank Australia's top-rated product in each profile was on average 25 basis points cheaper than the market average for other customer-owned institutions over the six-month period analysed as part of Canstar's most recent Star Ratings. In areas where Bank Australia performed especially well, such as residential variable lending, Canstar Research said its rates were up to 79 basis points cheaper than the market average.
The results showed that Bank Australia also leads in the credit cards category, offering particularly strong low fee and rewards credit cards. Canstar Research noted that Bank Australia's low fee credit card features no annual fee and a purchase rate of 12.39% p.a at the time the ratings were conducted. In comparison, other customer owned institutions' low fee credit cards had an average annual fee of $56.27, with a purchase rate averaging 12.99% p.a.
Looking to deposits, Bank Australia rated highly in both the savings and transactions categories. Canstar Research highlighted Bank Australia's well-rounded product suite and above-average term deposit rates.