The COVID-19 pandemic has prompted many people around the globe to reassess their circumstances, including their insurance needs.
In countries like the US and Thailand, for example, it is reported to have brought about a rush of 'panic buying' of life insurance. Even here in Australia, we have seen an increased interest in risk and protection products as consumers seek to understand how they can financially protect themselves and their families. But is life insurance worth buying at the moment, and what are some of the essential things to know if you're considering it?
Firstly, take your time before committing
Given the financial and personal implications that a rushed decision can have, life insurance is not something you should buy on a whim. It's a purchase that often involves a lot of heavy conversations with partners, loved ones, and even sometimes those outside the family.
Life insurance involves making decisions about what would happen at a very difficult and emotional time, and these are generally not the kinds of decisions you want to rush through. Plus, there are a number of ways you can buy it that you may want to weigh up, whether through a comparison site, direct from an insurer, via a financial adviser, or through your superannuation fund. It all comes down to your needs and personal situation.
Myth-busting the application process
There are several common misconceptions about the application process, with probably the biggest one being that it's complex, time-consuming and invasive. It doesn't have to be. The tips below could help you approach the application process with confidence.
1. Most working people already have some form of life insurance
2. Life insurance doesn't just cover death
Many people equate 'life insurance' with 'death insurance' but the reality is life insurance products can also be designed to protect you if you were injured or ill and couldn't work, or were permanently disabled.
3. You may not need a medical exam
Depending on the type of cover and your personal circumstances, many life insurance applications do not involve any medical examinations or 'physicals' – in fact, it's as few as 5% of cases we see at Integrity. In many cases where providers do need medical data, looking at existing medical records, prescriptions and other data points may instead be an option.
4. You won't need to answer 1,000 questions
Perhaps some people's impression is that you will need to answer questions about everything from your entire life history to what you had for Christmas lunch. The truth is, the cost of most life insurance premiums will be based on your age, gender, occupation and whether you're a smoker. Many digital life insurance companies now also have 'smart forms' that change the question set based on your previous answers. For example, if you're a 'male' they won't ask you about ovarian cancer.
5. In fact, you may not need to fill in any paperwork
Even before COVID-19, many insurers were transforming into end-to-end digital operations, allowing customers to avoid time-consuming paperwork, printing, and posting forms.
6. But you may be asked new questions
In light of COVID-19, you may now be asked if you have recently been on a cruise, been in contact with anyone who has contracted COVID-19, or been tested for (or had) COVID-19 yourself. Don't worry, this typically won't exclude you from insurance but may just change the cost or type of cover available to you.
How to buy life insurance
Life insurance is now firmly on many people's radars, where previously it was the kind of thing that some may have put off until 'later'. If you're exploring your options, here are some steps you may wish to consider as part of the process of purchasing a policy.
Life insurance products can vary considerably in terms of what they provide, so it's worth doing research on both price and inclusions. It is also very important to understand the definitions within a policy as these can have a significant impact on your ability to claim. Unfortunately, definitions are not always consistent across the industry.
Depending on the type of cover you're looking at, it may help to go into the process understanding your financial position and how much money you or your family would need in the event of a claim being made.
There are also a number of different ways to buy life insurance including going direct to the insurer, through your superannuation, through an employer, or by going to a financial adviser. Consider which avenue may be best suited to your situation.
Life insurance often starts with a conversation about what is important to you. These can be really challenging and emotional discussions with loved ones, but can help you identify the types of products you may need as well as the level of cover.
---
Compare Life Insurance with Canstar
If you're comparing life insurance policies, the comparison table below displays some of the policies currently available on Canstar's database for a 30-39-year-old non-smoking male working in a professional occupation. Please note the table is sorted by Star Rating (highest to lowest) followed by provider name (alphabetical) and features links direct to the providers' websites. Consider the Product Disclosure Statement (PDS) and Target Market Determination (TMD), before making a purchase decision. Contact the product issuer directly for a copy of the PDS and TMD. Use Canstar's life insurance comparison selector to view a wider range of policies. Canstar may earn a fee for referrals.
---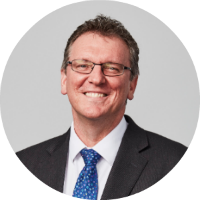 With over three decades' experience in life insurance, Scott has broad experience in underwriting, reinsurance, sales and marketing, product development and adviser management. He has worked at ClearView, TAL, PrefSure, AMP, Lumley Life, Tyndall Life and Mercantile and General. Scott is currently the Chief Underwriter for tech-led Life Insurer, Integrity Life.
Main image source: Odua Images (Shutterstock)
---
Thanks for visiting Canstar, Australia's biggest financial comparison site*