Find out which providers have come out on top in this year's life insurance Star Ratings and Award results.
Whether you already have a life insurance policy or have been thinking of taking one out, the coronavirus outbreak may be bringing the importance of planning for the future into stark relief. For some, this includes taking another look at their policy to ensure it still provides enough cover for their needs, or looking around to see what cover could be available with a new policy.
At a time when household budgets are being squeezed, some consumers may also be considering whether their policy is offering value for money or if they could save by shopping around.
For its part, the life insurance industry has responded to the coronavirus crisis by committing to support new and existing policyholders, including by working flexibly with customers experiencing financial hardship.
If you are considering your life insurance needs at the moment, Canstar Research has assessed and rated 23 products from 23 providers on our database and has identified the ones offering outstanding value to consumers.
How are products and providers assessed?
For Canstar's Life Insurance Star Ratings, products on our database are assessed on both price – monthly premiums – and a range of features such as ease of application, payment options and comprehensiveness of cover. Each product is rated against 20 different consumer profiles based on age, gender and smoking status. Products are assigned a total score in each profile, 70% of which is composed of its price score and 30% of which is made up of its feature score. Products found to offer outstanding value to consumers in individual profiles are given a 5-Star Rating.
Our overall Outstanding Value Award is given to providers with the highest cumulative scores across all 20 consumer profiles considered.
How much could a 5-Star Rated life insurance policy save you?
The table below displays the price difference between the average monthly premium of a 5-Star Rated life insurance policy and the average monthly premium of a non-5-Star Rated policy, for each combination of age, gender, and smoking status.
Average Monthly Direct Life Insurance Premiums
Age
Gender
Smoking Status
5-Star Rated
Rest of Market
Possible saving
20s
Female
Non-Smoker
$19.93
$34.62
$14.69
Smoker
$25.99
$54.90
$28.92
Male
Non-Smoker
$33.89
$50.72
$16.83
Smoker
$52.25
$81.50
$29.26
30s
Female
Non-Smoker
$22.76
$37.41
$14.65
Smoker
$39.32
$62.06
$22.73
Male
Non-Smoker
$29.02
$48.00
$18.98
Smoker
$57.75
$88.29
$30.54
40s
Female
Non-Smoker
$38.22
$66.69
$28.47
Smoker
$74.57
$122.22
$47.65
Male
Non-Smoker
$49.86
$82.78
$32.92
Smoker
$116.97
$173.34
$56.37
Early 50s
Female
Non-Smoker
$83.24
$129.08
$45.84
Smoker
$162.59
$233.67
$71.08
Male
Non-Smoker
$102.65
$170.76
$68.11
Smoker
$213.51
$341.99
$128.48
Late 50s
Female
Non-Smoker
$135.34
$210.88
$75.54
Smoker
$264.92
$369.17
$104.25
Male
Non-Smoker
$191.36
$313.03
$121.67
Smoker
$404.12
$596.15
$192.03
Source: www.canstar.com.au. Table prepared 27/05/2020. Data from the Canstar 2020 Direct Life Insurance Star Rating (May 2020). Monthly premiums based on $500,000 of cover. "Rest of Market" figures reflect the average premiums of all products considered in Canstar's research that did not receive a 5-Star Rating in 2020.
2020's Outstanding Value Award-winning life insurance providers
All three winners of this year's Outstanding Value Award for life insurance also won the Award last year and in 2018, while this is NobleOak's fifth consecutive win, having won the Award every year since 2016.
Allianz Australia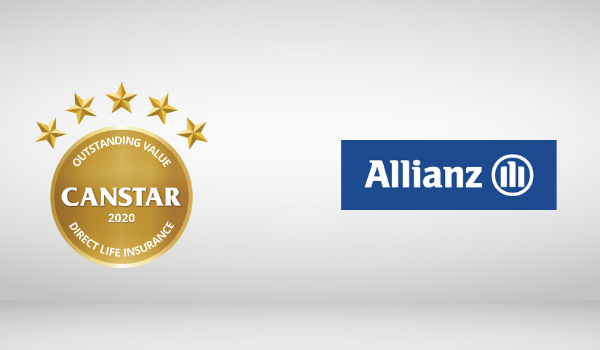 Allianz has won another Outstanding Value Award for life insurance, based on its strong performance across a number of consumer profiles. Canstar Research said Allianz performed well overall, and scored highly on price by maintaining all premiums at 2019 levels. On the features side, the team said Allianz performed particularly strongly for cover, as its Life Plan product ensures customers can get cover under a broad set of circumstances.
Insure Me Now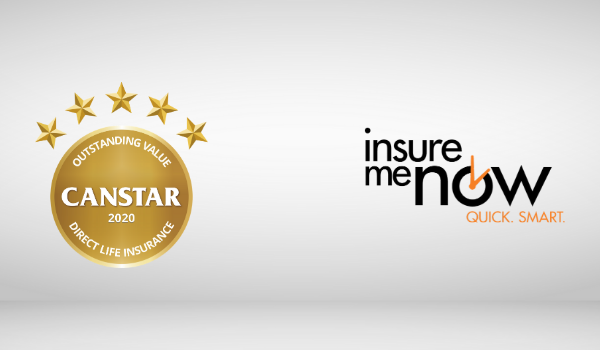 Insure Me Now once again received an Outstanding Value Award for its life insurance offerings, based on its strong value proposition to customers. According to Canstar Research, Insure Me Now maintained its premiums at 2019 level across all profiles, meaning it continued to offer competitive pricing across the board to a diverse set of customers. Canstar Research also noted that Insure Me Now's Superior Life Insurance Cover policy allows customers to make a claim for a wide range of events.
NobleOak Life Ltd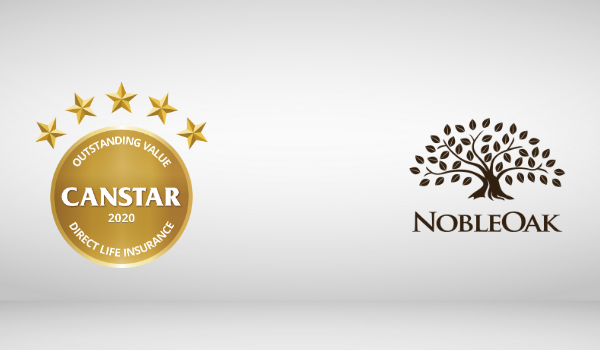 NobleOak has successfully held onto the life insurance Award that it has won every year since 2016. It won this year due to its competitive premiums, and received a 5-Star Rating in every consumer profile assessed. According to Canstar Research, NobleOak's Premium Life Direct policy continues to provide a high level of value to consumers, providing cover for terminal illness and funeral benefits among other policy features.
The life insurance products that won a 5-Star Rating this year
Below is a full list of the life insurance policies that received a 5-Star Rating in each consumer profile, sorted alphabetically by provider name.
Female non-smoker in her twenties
| | |
| --- | --- |
| Insure Me Now | Superior Life Insurance Cover |
| NobleOak Life Ltd | Premium Life Direct |
| TAL | Lifetime Protection |
Female smoker in her twenties
| | |
| --- | --- |
| Allianz Australia | Life Plan |
| NobleOak Life Ltd | Premium Life Direct |
Male non-smoker in his twenties
| | |
| --- | --- |
| Allianz Australia | Life Plan |
| Insure Me Now | Superior Life Insurance Cover |
| NobleOak Life Ltd | Premium Life Direct |
Male smoker in his twenties
| | |
| --- | --- |
| Allianz Australia | Life Plan |
| Insure Me Now | Superior Life Insurance Cover |
| NobleOak Life Ltd | Premium Life Direct |
Female non-smoker in his thirties
| | |
| --- | --- |
| Insure Me Now | Superior Life Insurance Cover |
| NobleOak Life Ltd | Premium Life Direct |
| TAL | Lifetime Protection |
Female smoker in her thirties
| | |
| --- | --- |
| Allianz Australia | Life Plan |
| Insure Me Now | Superior Life Insurance Cover |
| NobleOak Life Ltd | Premium Life Direct |
Male non-smoker in his thirties
| | |
| --- | --- |
| NobleOak Life Ltd | Premium Life Direct |
| TAL | Lifetime Protection |
Male smoker in his thirties
| | |
| --- | --- |
| HBF Financial Services | Ezicover Life Insurance |
| NobleOak Life Ltd | Premium Life Direct |
| Zurich Australia | Ezicover Life Insurance |
Female non-smoker in her forties
| | |
| --- | --- |
| Allianz Australia | Life Plan |
| NobleOak Life Ltd | Premium Life Direct |
Female smoker in her forties
| | |
| --- | --- |
| ANZ | Life Insurance |
| NobleOak Life Ltd | Premium Life Direct |
Male non-smoker in his forties
| | |
| --- | --- |
| Allianz Australia | Life Plan |
| NobleOak Life Ltd | Premium Life Direct |
Male smoker in his forties
| | |
| --- | --- |
| HBF Financial Services | Ezicover Life Insurance |
| Insure Me Now | Superior Life Insurance Cover |
| NobleOak Life Ltd | Premium Life Direct |
| Zurich Australia | Ezicover Life Insurance |
Female non-smoker in her early fifties (50-54)
| | |
| --- | --- |
| Allianz Australia | Life Plan |
| Insure Me Now | Superior Life Insurance Cover |
| NobleOak Life Ltd | Premium Life Direct |
Female smoker in her early fifties
| | |
| --- | --- |
| ahm Health Insurance | life insurance |
| Allianz Australia | Life Plan |
| NobleOak Life Ltd | Premium Life Direct |
Male non-smoker in his early fifties
| | |
| --- | --- |
| Insure Me Now | Superior Life Insurance Cover |
| NobleOak Life Ltd | Premium Life Direct |
Male smoker in his early fifties
| | |
| --- | --- |
| Insure Me Now | Superior Life Insurance Cover |
| NobleOak Life Ltd | Premium Life Direct |
Female non-smoker in her late fifties (55-59)
| | |
| --- | --- |
| Insure Me Now | Superior Life Insurance Cover |
| NobleOak Life Ltd | Premium Life Direct |
Female smoker in her late fifties
| | |
| --- | --- |
| ahm Health Insurance | life insurance |
| Allianz Australia | Life Plan |
| NobleOak Life Ltd | Premium Life Direct |
Male non-smoker in his late fifties
| | |
| --- | --- |
| Insure Me Now | Superior Life Insurance Cover |
| NobleOak Life Ltd | Premium Life Direct |
Male smoker in his late fifties
| | |
| --- | --- |
| Insure Me Now | Superior Life Insurance Cover |
| NobleOak Life Ltd | Premium Life Direct |
---
Thanks for visiting Canstar, Australia's biggest financial comparison site*