Investing in financial markets now is one of the best gifts you can provide your future self.
Investing in financial markets now is one of the best gifts you can provide your future self.
Many people think of investing as the domain of the rich, or at best something they would like to do "one day", when they are wealthier or earning a higher income. However, even a modest sum invested now can grow into a significant nest egg later in life, thanks to the power of compound interest. Investing a little amount early and often can leave you better off than patiently saving until you have enough to purchase a bigger portfolio.
While saving is important, the current record low-interest rates mean that most savings accounts will barely beat keep up with rising prices (known as inflation) which is at 0.7%. So, if you are wanting to make your money work smarter for you, investing is the way to go.
If you are just beginning your investing journey, starting with a smaller sum can be a great way to begin before investing with larger amounts. The minimum amount required for a first trade on the Australian Securities Exchange (ASX) is $500, so let's look at some of the options for where to invest that amount.
Equities
Equities (or shares) give you partial ownership of a company that is listed on a stock exchange such as the ASX. Shares are growth investments, which means they carry higher risk, but offer higher potential returns compared to more conservative options, like cash, term deposits and fixed income. The average return of the Australian share market over the past 10 years is 6.5% a year, according to the Australian Securities and Investments Commission's Money Smart website.
While returns on shares tend to be higher than defensive assets over five or more years, they can be volatile in the shorter term, and potentially be negative in some years. This is why it's best to approach share investing with a long-term view.
Given $500 is the minimum amount required for a first trade on the ASX, people usually invest in just one stock or company, so choose carefully. When investing in individual companies, it's important to do your research and understand how well the business is performing and what factors could affect the business, for better or for worse.
A good place to start is with the brands you interact with daily, or those you have an affinity with.
Indicators of the performance of a company include looking at whether or not it has a steady cash flow and growing earnings, keeping the external economic cycle in mind. In the current environment, you might want to look at businesses with the potential to benefit from government stimulus. You might look to cyclical sectors that will outperform as the economy recovers (as restrictions ease and as we get closer to a COVID-19 vaccine) such as banks, insurers, materials and industrials, and those sectors that are benefiting from behavioural shifts and the impact of COVID-19, such as online retail and healthcare.
Alternatively, instead of buying just one stock on the ASX, you can invest in a basket of stocks with just one trade by buying an exchange traded fund (ETF). ETFs are like managed funds, but can be traded on a stock exchange like a share. An ETF typically mimics an index, such as the S&P/ASX200, which represents the 200 largest listed companies on the ASX.
The advantages of an ETF is that you don't need to pick the individual stocks, and that some ETFs are already diversified for you. For example, an ASX200 ETF is spread across different industries and sectors such as financials/banks, mining companies, healthcare, etc. So let's say on a given day, the tech sector is performing badly, while the mining and financial sectors are performing better, you'd likely to see less volatility overall.
Property
Property is another growth asset to invest in with average returns over the last 10 years of 6.3% per year. While you can't purchase a property directly with just $500, you can invest in property indirectly via Real Estate Investment Trusts (REITs), which are listed on the stock exchange and traded like shares on a stock exchange.
In the Australian market, investors have the option to invest in either residential and/or commercial property. The commercial property sector includes industrial real estate, offices, retail centres and shopping centres. Throughout the COVID-19 pandemic, returns across these sectors have been mixed as there have been fewer people out and about due to social distancing. However, the industrial sector has been outperforming other property sectors as online retail soared, with the logistics firms that serve them demanding more warehouse space.
Goodman Group (GMG), which owns logistics properties around the world, has seen its shares rise 41% over the year, whereas the overall Australian property index has fallen 6.6%. REITs that own shopping centres, on the other hand, continue to face challenges, as consumer preferences continue to shift away from in-store shopping and toward online purchases.
For example, French shopping mall giant Unibail-Rodamco-Westfield (URW) is down 56% this year. However, it's critical to point out, Unibail-Rodamco-Westfield (URW) shares gained 73% in November, benefiting from the hope that a vaccine will see people return to shopping centres.
Fixed income
Fixed-income assets include investments in cash, bonds and term deposits. They typically provide lower returns as they carry less risk, however holding fixed income in your portfolio will likely smoothen out your overall portfolio volatility, and can perform well when growth assets (like shares and property markets) are falling. Over the last 10 years, the average return of a fixed income investment has been 3-4% a year,
Fixed interest investments are normally used to provide a steady rate of income, often by people near to or in retirement, and to diversify a portfolio. While the Australian share market dropped 24% over the first quarter of this year, following the outbreak of the COVID-19 pandemic, well-diversified portfolios fell much less – a common growth portfolio made of income-generating assets (30%) and growth assets (70%) fell just 10.62%
Fixed-income ETFs can mimic a basket of bonds issued by governments, banks or corporates, and can be invested into with as little $500. Some examples of Fixed income ETFs include AGVT, CRED, RCB, and GOVT.
In summary, regardless of what you invest in, it's never too early or too late to start. The younger you are, the greater the opportunity you have to grow your nest egg. Beginning with a smaller amount is also a great way to start a new and positive habit. You can always add to your investment at regular intervals over time or with larger investments down the track.
Remember, smarter investors often begin their investing journey with an end goal in mind. If you start today, you're likely to thank yourself in years to come. Happy investing!
Main Image Source: Krakenimages.com (Shutterstock).
---
If you're comparing Online Share Trading companies, the comparison table below displays some of the companies available on Canstar's database with links to the company's website. The information displayed is based on an average of 6 trades per month. Please note the table is sorted by Star Rating (highest to lowest) followed by provider name (alphabetical). Use Canstar's Online Share Trading comparison selector to view a wider range of Online Share Trading companies.
---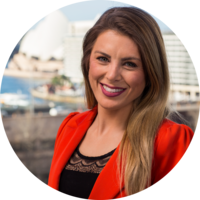 Jessica Amir is a Market Analyst at Bell Direct. Bell Direct is Australia's leading online stockbroker, aiming to bring real value and innovation to traders and investors with uncomplicated pricing plans, speed, and value for money.
Bell Direct is a fully-owned subsidiary of Bell Financial Group (ASX: BFG), a full-service broking and financial advisory firm with a strong track record of providing high quality, professional advice to private, institutional and corporate investors.
---
Thanks for visiting Canstar, Australia's biggest financial comparison site*