Exchange Traded Funds (ETFs): The Ultimate Guide
The popularity of Exchange Traded Funds (ETFs) has significantly grown in the past few years and they can form an important part of many investors' portfolios.
But what are ETFs and how, when and why should they be considered as a part of your own investment strategy?
What are ETFs?
ETFs are a security that typically tracks a stock index or sector. You can also get ETFs that track a commodity, bond or a range of assets. ETFs are traded on the stock market, and when you buy an ETF you are buying shares of a portfolio that tracks the yield and return of its corresponding index or asset.
How does an ETF work?
When you buy into an ETF, you are effectively purchasing and getting exposure to a range of shares included in that fund, instead of one share. For example, think about the ASX 200. If you had to buy all 200 shares one by one, you would pay brokerage fees for each investment you make and you would need a huge portfolio to be able to pay for them. An ETF allows you to buy a little piece of each of the top 200 companies traded on the Australian Securities Exchange as a bundle.
If you're new to investing, check out this Glossary of all the terms you'll need to know when getting started with ETFs.
How can I buy ETFs?
When you want diversification in one trade and comparatively lower fees than actively managed funds, ETFs may be an investment worth thinking about. Investors can buy shares through any share brokerage account, most commonly online. So, which providers offer ETFs in Australia? Here's a rundown of the main providers listed on the ASX.
Another important consideration is knowing when it's right for you to purchase, when to keep (or hold) ETFs in your portfolio, and when you may need to sell ETFs. You can learn more about different strategies when it comes to buying, selling and holding ETFs.
What's the difference between Active and Passive ETFs?
As their name would imply, active ETFs are actively managed. A fund manager or team oversees the ETF. Actively managed ETFs offer similar benefits in terms of liquidity and tax efficiency to passive ETFs and have a benchmark index, but the managers of these funds may deviate from the index in response to market changes or where they see fit. Essentially, the portfolio construction is at the discretion of the fund manager.
Though it is their goal, it's important to remember there is no guarantee an Active ETF will outperform a passive equivalent. As active managers have the freedom to trade outside the index, shareholders may not always know their portfolio construction. ASIC's regulatory measures aim to protect traders and investors alike. ETF investors typically have a transparent view of their fund's holdings and investment value.
What are the best performing ETFs?
ETFs cover a wide range of asset classes and individual assets. This includes Australian shares, international shares, commodities and currencies. Canstar classifies ETFs into the following types:
Australian Broad Based ETFs

Australian Sector ETFs

Australian Strategy Based ETFs

International Broad Based ETFs

International Sector ETFs

Commodity ETFs

Currency ETFs
This article displays one-year returns for different types of ETFs in Canstar's database. Bear in mind that past performance is not a reliable indicator of future performance. When comparing ETFs, it can also be helpful to consider factors such as fees, tracking error (where an ETF deviates from the value of the index or asset it is tracking) and the price of the ETF compared to the net asset value (NAV).
To compare the performance of more ETFs over your preferred length of time, visit Canstar's ETF comparison page.

What's your investor persona?
Disclaimers and important information
This advice is general and has not taken into account your objectives, financial situation, or needs. It is not personal advice. Consider whether this advice is right for you, having regard to your own objectives, financial situation and needs. You may need financial advice from a suitably qualified adviser. Consider the product disclosure statement (PDS) before making any financial decision. For more information, read Canstar's Financial Services and Credit Guide (FSCG), and read our detailed disclosure, important notes and liability disclaimer.
The views, opinions, and positions expressed in the articles are the views of the author(s) or interviewee(s) alone, and do not necessarily reflect the views of Canstar.
ETFs are considered by ASIC to be complex financial products. Some are more complex and risky than others. For more information on ETFs and risks associated with them, see ASIC's Moneysmart website at https://moneysmart.gov.au/managed-funds-and-etfs/exchange-traded-funds-etfs.
All information about performance returns is historical. Past performance should not be relied upon as an indicator of future performance; unit prices and the value of your investment may fall or rise.
Canstar may earn a fee for referrals from its website tables, and from sponsorship of certain products. Fees payable by product providers for referrals and sponsorship may vary between providers, website position, and revenue model. Sponsorship fees may be higher than referral fees. Sponsored products are clearly disclosed as such on website pages. They may appear in a number of areas of the website such as in comparison tables, on hub pages and in articles. Sponsored products may be displayed in a fixed position in a table, regardless of the product's rating, price or other attributes. The table position of a Sponsored product does not indicate any ranking or rating by Canstar. For more information please see How We Get Paid.
---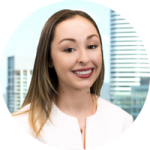 As a content producer in the Commercial team at Canstar, Isabella spends her time preparing engaging content for Investor Hub. Her role involves delivering the latest investment news, strategies and how-to guides on everything investment-related from Exchange Traded Funds to cryptocurrency. Working closely with contributors to produce trending content in the investment space, Isabella loves creating pieces that offer diverging perspectives and make the audience think differently. Holding a Bachelors of Communication and Public Relations, Isabella has a drive to deliver content that is based around connection. She has a passion for simplifying complex problems into easy to understand actions which is ideal for an audience of avid investors. Her previous experience has seen her create campaigns for a wide range of industries including startups, retail, real estate, non-for-profit, government and legal sectors. When she's not checking the ASX or planning stories, Isabella enjoys running and trying out local cafés. Follow Isabella on LinkedIn, and Canstar on Facebook.
---