With over 60% of all fintech start-ups in Australia based in Sydney, a new report will recommend that the New South Wales government lift its efforts to support the local financial services industry, in the face of increasing competition from global tech giants.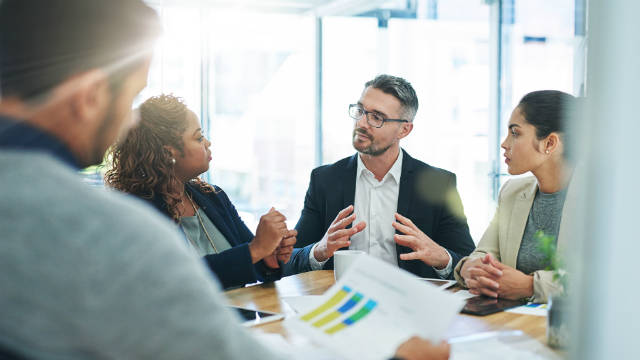 Tonight NSW Minister for Trade and Industry Niall Blair will launch the Scaling the Fintech Opportunity: For Sydney and Australia report by the Committee for Sydney and KPMG.
This report found that Australian fintech start-ups have increased from less than 100 in 2014 to 579 companies today.
It also highlights how Sydney has driven "unprecedented growth" in the fintech sector, with the city bringing $US171 million of venture capital investment between 2014 and 2016.
"NSW has led the way on growth with 66% of all Australian fintech companies now based here, including 57% in Sydney, demonstrating our impressive strength in the sector," said Mr Blair.
But despite this outstanding growth, the report warns that the Australian sector faces threats from international tech giants (such as Google, Apple and Amazon) and disruptive start-ups (such as Uber and Airbnb).
With competition in financial services increasingly coming from global companies and technology giants, the report strongly recommends the NSW government supports fintech, as well as develops the regulatory environment, skills and talent attraction.
The report says that if the large offshore fintech companies begin to dominate the market, the result would be a "significant impact" on the industry and potential economic loss to Australia.
"These companies have lower barriers to entry and infrastructure costs and they are less concerned with different elements of the value chain," the report said.
"Their repositories of consumer and retailer data are deep and they have strong and exportable technological capabilities."
In terms of the regulatory environment in Australia, the report highlighted that regulatory challenges "stifle innovation" and create "uneven playing fields".
London is leading the way in fintech, Australia needs to step up
According to the report, London, New York, Hong Kong and Singapore are all world leaders in fintech, but Australia needs to step up.
In May 2016, London was ranked the largest fintech hub in the world, employing 61,000 people, generating £6.6 billion in revenue, and benefiting from government sector support.
By comparison, Australia's fintech sector is only employing around 10,000 people, with $US675 million invested in 2016.
Although London is seen as the global leader, the Committee for Sydney and KPMG say there is an opportunity for Sydney to lead in Asia where we are viewed "more credibly".
Among other things, this would involve the creation of a "clear business brand" for fintech in Sydney, and Australia more broadly, to make clear incentives for international talent to come to Sydney to start a business.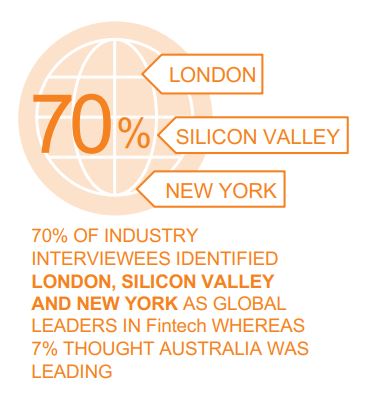 Source: Committee for Sydney and KPMG
Australia has potential to expand its fintech industry
The two largest fintech groups in Australia come from payments (128 companies) and lending (80 companies), but the report identified more opportunities for expansion.
It is advised that to leverage Australia's world-leading financial infrastructure, we should be looking at the three key fintech areas – payments, regtech (regulatory technology) and blockchain.
According to the report, regtech and blockchain have emerged with more than 90 fintech companies in these sub-sectors since 2014.
In particular, the regtech sector has been growing rapidly over the past 12 months.
The report says this is "a reflection of the substantial regulatory and cost burden for financial institutions, as well as policy makers and regulators who are supportive of the industry finding more effective means to better manage risk, compliance and transparency for stakeholders".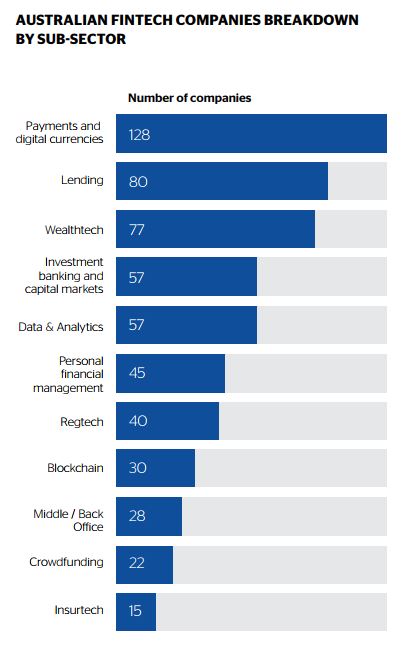 Source: Committee for Sydney and KPMG