NSW is undisputedly Australia's hub for fintech according to a prestigious list of the world's leading 100 fintechs announced in the Las Vegas overnight.
Fintech – financial technology – is fundamentally changing the way that consumers and businesses interact with both each other and with financial institutions. H2 Ventures and KPMG have released their 2016 Fintech100 report, highlighting the 50 leading established fintech businesses creating disruption within financial services, as well as 50 of the emerging fintech stars of tomorrow. So which Australian fintechs made the list?
Leading fintechs of the Asia Pacific Region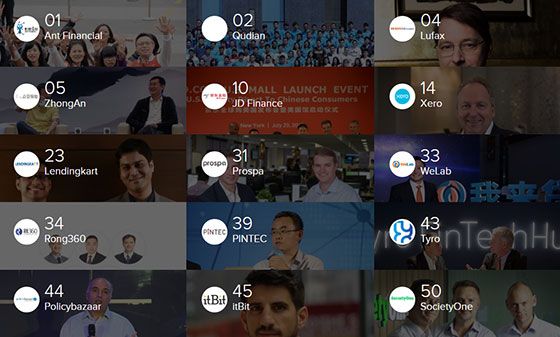 Within the Asia Pacific region, three Australian fintechs have made the top 50.
Prospa
The online lending space for small business is booming, and one of the new services available is Prospa, which aims to provide an easy application process for small business to access funds to grow their businesses. Prospa is aimed at small businesses looking to for loans between $5,000 to $250,000 for a period anywhere between three and twelve months. It may be useful for fledgling business that might not otherwise be offered loans through traditional banks. In effect, Prospa offers an unsecured business loan that is priced according to various factors including how long the customer has been in business, the cash flow health of the company and other factors. Find out more about Prospa here.
Tyro
Tyro is an integrated EFTPOS solution that provides credit, debit, eftpos card acquiring, Medicare and private health fund claiming and rebating services as well as a transaction and deposit account integrated with Xero cloud accounting. Tyro takes money on deposit from and offers unsecured cash-flow based lending to Australian EFTPOS merchants. It can accept Apply Pay. It is taking the competition to Australia's big banks. Find out more about Tyro here.
Society One
Society One is Australia's first and largest marketplace lender. While peer to peer lending has become far more common in Australia in recent times, Society One was undoubtedly the trailblazer in this regard.
It is a privately owned company registered in Australia that connects individual and institutional investors with people who want a personal loan of up to $35,000. For investors, loans are diversified across many different individual loans in order to reduce the risk of capital loss. Find out more about Society One here.
Emerging fintechs of the Asia Pacific Region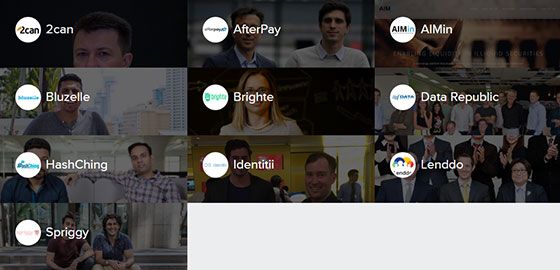 An outstanding six Australian fintechs made the Top 50 emerging list.
Spriggy
Plenty of Australian kids earn weekly pocket money, and plenty of Australian kids are highly tech-savvy, so it makes sense to combine those two things. Spriggy is a prepaid card and mobile app for 8-18 year olds that helps parents and young people manage money together. The Spriggy app will allow parents to easily allocate money to their kids, add money to their child's prepaid card and encourage saving through savings goals.
Young people can use their prepaid card to make purchases online or in-store, wherever Visa is accepted, while for parents, Spriggy enables them to follow transactions via the app. Find out more about Spriggy here.
Hashching
Hashching is an online portal that connects home loan brokers with potential borrowers. It enables brokers to reach a wider audience, but also build trust with consumers as well as developing their own brand. Consumers can post reviews of brokers and loan providers on HashChing's website. Find out more about Hashching here.
Brighte
Brighte is a point of sale credit and payments provider that offers an end-to-end automated digital platform with real-time credit assessment of a customer application and quick settlement when you confirm the job is done. Brighte's focus is on providing households with affordable payment solutions. Find out more about Brighte here.
Data Republic
Data Republic provides a 'Trust Framework' enabling companies to exchange data in a secure, private and well-governed manner. The Trust Framework comprises two elements: the legal framework to enable multi-lateral data exchange under a single agreement, and the 'private by design' cloud based software platform that enables governance of data exchange and creation of data products.
Their mission is to make it faster, cheaper and safer to exchange data so customers can focus on driving personalisation and getting maximum value from their data. Find out more about Data Republic here.
Afterpay
AfterPay offers simple instalment plans for online shoppers, allowing a purchase to be paid for in four equal instalments, due every fortnight. Customers can shop with stores found in the Shop Directory and choose Afterpay as their payment method at checkout. First-time customers provide payment details as usual, returning customers simply log in to make their purchase. After you check out, the goods will be shipped to you by the merchant. At any time, you can log in to your Afterpay account to see your payment schedule and make a payment before the due date. Otherwise payments are automatically deducted the instalments from your debit or credit card every fortnight. Find out more about Afterpay here.
Identitii
Identitii turns traditional payments into enriched payments, including purchase orders, invoices, quotes and more. Identitii is re-inventing the way that information is exchanged in correspondent banking using tokens and Distributed Ledger Technology. identitii's patented tokenisation technology allows both parties of a payment transaction to be verified in real-time. Tokenised blockchain is the tamperproof, trusted future of KYC / AML / CTF.
They have built a blockchain solution that works alongside existing central banking systems. They provide a tag which can then be used (by authorised users) to access any information that is attached to a banking transaction. Find out more about Identii here.
Sydney is the fintech hub
According to NSW Minister for Trade, Tourism and Major Events Stuart Ayres, the Fintech100 results show that NSW is indisputably the Australian hub of fintech, with eight of the nine Australia startups on the list being NSW-based.
"This sort of global recognition of Sydney's booming fintech scene highlights our city is the best launching pad into Asia," Mr Ayres said.
"In recent times we've had fintechs such as Transferwise, Tilt, OnDeck, Acorns and Ripple Labs choose Sydney as their Australian and often their Asian headquarters."
My Ayres said the NSW Government had made it its mission to attract foreign fintechs to expand to Australia.
"In the last twelve months we have funded Chinese fintechs to operate out of Sydney fintech hub Stone & Chalk, we were the first State to send startups to Austrade's landing pad in Tel Aviv, and brought out a delegation from the US who are considering expansion in the Asia Pacific," Mr Ayres said.
"Sydney fintechs including the ones recognised today are doing the hard yards and demonstrating what a world-class fintech ecosystem we have here in Sydney."