Low wage growth and increasing pressure by regulatory authorities to curb household debt, is likely to see banks tighten their lending capacity to consumers in order to remain profitable.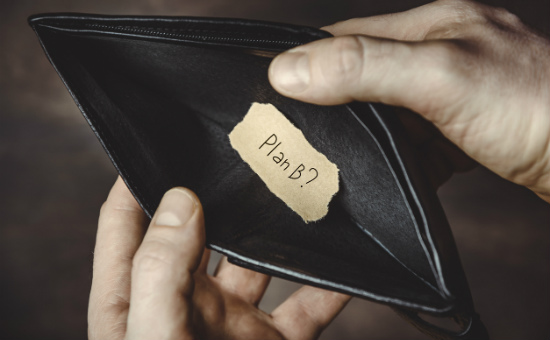 Following ANZ's disappointing interim profit result for investors, ANZ Chief Executive Shayne Elliot has warned that Australia's low wage growth – currently only 1.9% (ABS) – is an obstacle to the bank handing out loans.
Mr Elliot says the bank will be "working with a smaller workforce".
As pay-slips grow slower than the current inflation rate of 2.1%, home owners are at risk of facing stress over the status of their mortgage.
"When many people buy a house, they assume that they will be getting some sort of wage growth over time, and they bake that into their own personal assessment of their ability to borrow," Mr Elliot said.
"If they're disappointed on that front, that potentially can cause them some stress, particularly when you're looking at cost of living increases," said Mr Elliot.
Why is Australia's wage growth so low these days?
Since figures were first released by the Australian Bureau of Statistics (ABS) in 1998, wage growth has hovered around 3% to 4%.
But since 2012, this growth rate has dramatically slowed to record low levels.
A March 2017 bulletin released by the Reserve Bank of Australia (RBA) suggested this is mostly explained by "weak output prices" and "spare capacity in the labour market" (companies downsizing) following the global financial crisis (GFC) and the end of Australia's mining boom.
"There has been more slack in the labour market since 2008, and employees may be more willing to accept lower wage growth given concerns about future employment," the RBA reported.
"During the run-up in the terms of trade, many firms' output prices rose sharply, meaning they could afford to pay higher wages while profits also increased.
"Mining and mining-exposed firms needed to pay higher wages to attract labour to increase output.
"Since the peak in the terms of trade in 2011, firms' output prices have not grown as quickly and wage growth has subsequently slowed."
Before the GFC, annual pay rises of above 4% accounted for the largest share of wage rises, but now rises of 2%-3% are the most common.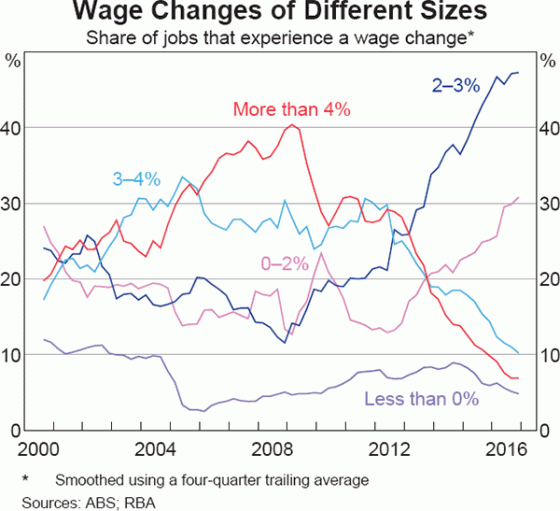 Source: RBA Insights into Low Wage Growth in Australia, originally sourced from ABS