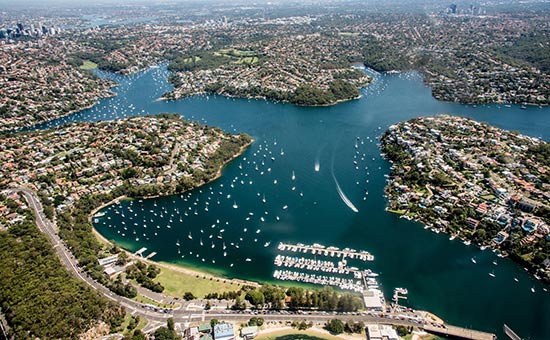 Speaking to ABC Radio this morning, Treasurer Scott Morrison said that "sledgehammer policies" such as abolishing negative gearing could produce a housing shock in Australia.
"I'm pleased with the actions that the regulators have taken," Mr Morrison said.
"They need to keep watching it closely because using a scalpel to deal with these sorts of issues is much more preferable than using a sledgehammer."
When asked whether the government would consider tinkering with the capital gains tax (CGT) discount to help cool the property market, Mr Morrison said the key is to do no harm.
Mr Morrison pointed out the differences in housing markets around the country, with prices in Perth going down despite negative gearing and capital gains tax concessions.
"Even on the east coast, you've got a different market in Queensland than you do to Sydney and Melbourne," he said.
"So the idea that you should be focusing solely on these broad tax policies that have impacted every market and will impact it differently, you've got to be very careful about this."
When it comes to the issue of housing lending and investment, Mr Morrison said that that the government instead would prefer to work with regulators to cool investor demand.
He also urged property buyers in hotter housing markets like Sydney and Melbourne to take greater care.
"Just because a bank says you can borrow doesn't mean that you should," Mr Morrison said.
"Individuals always have to make the ultimate choice about these things."
RBA concerned about rising levels of household debt
Reserve Bank Governor Philip Lowe suggested that "taxation arrangements" are partly to blame for the skyrocketing house prices in Sydney and Melbourne.
In the wake of the RBA's decision to hold interest rates at 1.50%, Dr Lowe reiterated his concerns regarding the rising levels of household debt, which is leaving many borrowers on the brink.
"The level of household debt in Australia is high and it is rising," he said at the Reserve Bank Board dinner last night.
"Over the past year, the value of housing-related debt outstanding increased by 6.5%. This compares with growth of around 3% in aggregate household income.
"The result has been a further rise in the ratio of household debt to income, from an already high level."
Despite high debt, Australian investors are continuing to buy houses in hot markets in the hopes of reaping ongoing capital gains, and continual low interest rates have only made the problem worse.
Dr Lowe blames lenders for irresponsibly encouraging this behaviour.
"Too many loans are still made where the borrower has the skinniest of income buffers after interest payments. In some cases, lenders are assuming that people can live more frugally than they can, leaving little buffer if things go wrong," he said.
ASIC and APRA take steps to promote responsible lending
Over the past week or so, both APRA (Australian Prudential Regulation Authority) and ASIC – (Australian Securities and Investments Commission) have taken several measures to help limit investment lending in the housing market.
The key restrictions include:
Limiting the flow of interest-only lending to 30% of total new residential mortgage lending
Continuing to restrain lending growth in higher risk segments of the portfolio
Reviewing serviceability metrics and ensuring that they are set at appropriate levels for current conditions
Managing lending to investors so it comfortably remains below the previously advised benchmark of 10% growth
ASIC also announced new measures of its own this week.
In an official press release, ASIC revealed its plans to promote responsible lending in the home loan sector by conducting targeted industry surveillance to examine whether lenders are recommending inappropriately expensive interest-only loans.
ASIC Deputy Chairman Peter Kell said lenders and mortgage brokers should ensure that consumers are provided with home loans that meet their needs.
"Lenders and mortgage brokers need to think twice before recommending that a consumer obtain a more expensive interest only loan," Mr Kell said.
Analysts believe these measures won't cool the housing market
These attempts by the two banking regulators to slow the rate of investment lending in the housing market are unlikely to work, according to numerous experts such as Morgan Stanley.
Morgan Stanley told Fairfax Media it was not convinced these changes will slow growth in investment property.
"There is still incentive for banks to lend to investors, as return on equities on investment property loans are now 14% higher than on owner-occupier loans," it said.
Morgan Stanley also stated that these changes could potentially lead to future interest rate rises, as well as up to $16 billion in added capital requirements for banks. It also predicted house price growth would slow as a result.
"It would be naive of us to claim a material house price correction is inevitable and imminent," Morgan Stanley analysts said. "However, slower loan growth and house price weakness look increasingly likely."
Other financial experts are of the opinion that increased regulation on investment lending will not curb the ever-increasing level of foreign investor demand in Australian property.
A recent study showed that 11% of all residential properties bought in 2016 were bought by foreign investors, the majority of which are Chinese.
Australian properties are attractive to Chinese investors because they are considerably cheaper than similar properties in China, even after you take into account all of the obstacles placed on foreign buyers such as increased local taxes.
Credit Suisse Analyst Hasan Tevfik told Fairfax that interest from foreign buyers is "fairly inelastic", and that it is clear that foreign buyers are here to stay.
"Regulators can squeeze local buyers but it's up to the state governments and Treasury to squeeze foreign buyers," said Mr Tevfik.
Foreign lenders or syndicated high net-worth individuals are not regulated by APRA, meaning that foreign investors are still able to buy up Aussie properties in spite of the numerous new restrictions.