What are the pros and cons of building vs buying a home? Canstar explains the costs of building a house vs buying. 
Here at Canstar, we've never hesitated to tackle the hard questions:
And today is no different, as we dive into the question of whether you should build a home from scratch or buy an existing home.
Pros and cons of buying an existing house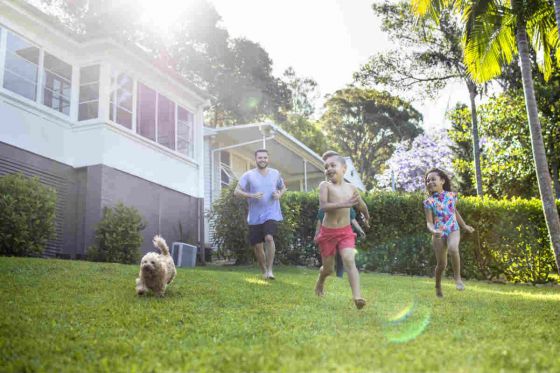 Pros: You know what you're getting
Buying an established home means you know what you're getting in three keys ways.
First, the potential defects of an established home are often visible, or show up in the pre-purchase building inspection to give you a warning about what you'll face once you move in. You can't do a pre-purchase building inspection if you build, so you don't know what problems might be caused down the track a few months by your builder taking a few shortcuts to get the project done on time.
Secondly, buying an established home usually means buying into an established neighbourhood. If you need to know that public transport, good schools, or essentials like cafes are nearby, it can be difficult to find such an area that still has vacant land on which to build.
Finally, established homes are said to have character, whereas new homes can have the "cookie cutter" feel, especially in new estates.
Pros: A smaller deposit may be required
You may need a higher deposit to get a Construction Loan to build a home scratch, than you may need to buy an existing home. We've written all about how your deposit can affect your interest rates and the overall cost of your loan here.
Pros: It may be closer to the city centre
In general, you can't find vacant land close to the city to buy, as all the land is already occupied. So if living close to the CBD is important to you, an established home is more likely to be available as an option.
Being closer to the city centre will also mean that an established home is more likely to provide facilities and infrastructure such as public transport, schools, and job opportunities. Thinking about your commute time to get to and from work and school may be an important consideration if you haven't lived in the outer 'burbs with a long commute before.
Established homes often come on a larger parcel of land than what is offered by developers for new builds. This can mean that if used as an investment, the value of the property grows faster than a new build, in spite of the fact that the home itself is older. However, it should be noted that a new build as an investment can offer larger tax deductions, because you can claim large amounts for depreciation over the first few years of owning the property.
On the other hand, building a home in an outlying suburb doesn't mean it has no investment value. As the area grows, more homes and infrastructure go up around them (things like public transport, shopping, schools, and parks), meaning house values will rise.
Pros: It's usually a faster process
It is much faster to settle and move into an established home than to build a house from scratch. Buying an established home can take as little as 30 days from signing the conditional contract to the date of settlement, meaning you could move into your new home just a month after finding it.
Meanwhile, building a house can take many months – about 7.5 months on average, according to the Australian Housing and Urban Research Institute (AHURI).
Cons: It may be more expensive
Depending on where you live, data from CoreLogic RP Data, Domain Group, and BMT Quantity Surveyors shows that it may be cheaper to build a house from scratch than to buy an existing home:
Sydney: Cheaper to build
Melbourne: Cheaper to build
Brisbane: Cheaper to buy an existing home
Adelaide: Cheaper to build
Perth: Cheaper to buy an existing home
Hobart: Cheaper to buy an existing home
Pros and cons of building a house from scratch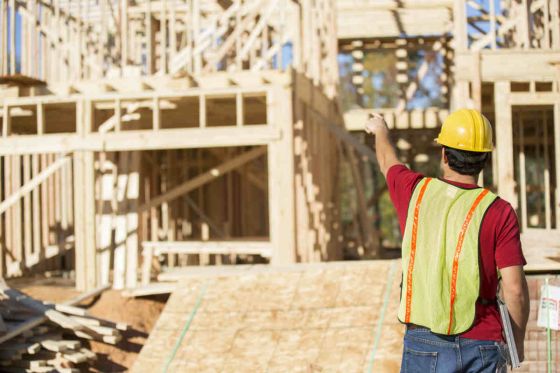 Of the 98 home loan lenders on the Canstar database in 2016, 86 offer construction loans. More information about building a house from scratch using a Construction Home Loan:
These days, there are two main ways to build a house: buying off the plan, where everything is mostly designed already and you simply have to choose your inclusions; or having an architect design your own home from scratch.
Pros: First Home Owners Grant
Buying a freshly-constructed home off the plan or otherwise may appeal to first home buyers because the First Home Owners Grant is available if you buy a home that no one has lived in before. You may or may not still be eligible for the First Home Owners Grant if you build, depending on which state or territory you are buying in. Check out the First Home Owners Grant available in your state or territory here.
Pros: You only pay stamp duty on the land when you build
When you build a home from scratch, you do not pay stamp duty on the house – only on the land. This is also true if you move into a newly-built home that has never been lived in before.
On the other hand, there are other extras you pay for when you build that you don't face when you buy an existing home, such as fences, driveways, and a garden.
Pros: Time it right and it might be cheaper
Developers have a quota of properties they need to sell off the plan in order to meet their finance and begin construction. This means you may be able to find lower prices on offer if you get in early in the first stage of sales. Of course, buying off the plan has many risks and you should be aware of those risks before making any decisions.
Pros: You can build it how you like (reality permitting)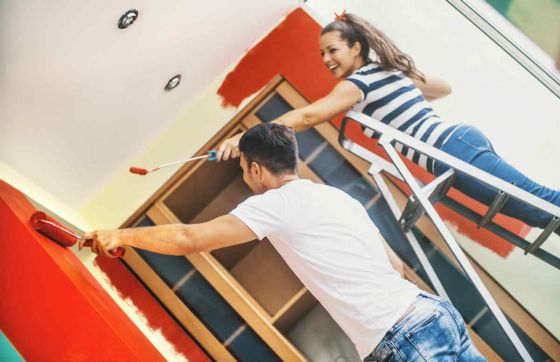 A large number of potential buyers end up building instead because they do not find anything currently on the market that suits what they want or need. Even if it looks like it may be cheaper to buy an existing property, potential buyers or builders must consider how much money they would need to spend on renovations to make it "just right" for their household.
Remember to check the asbestos register and be on the lookout for asbestos if you are making any modifications to an existing building.
Pros: Typically more energy-efficient and environmentally-friendly
The average Australian household produces tonnes of greenhouse gas emissions every year – between 5 tonnes (Energy Australia) to 10.5 tonnes per year (Brisbane City Council) depending on where they live.
New homes are made from brand new materials and come fitted out with new appliances, and so they tend to be more energy-efficient, saving you money and saving the planet in the long run. The cost of electricity bills was the average Australian's number 1 stress when it comes to the cost of living in 2016.
Building your house right can make it cooler in summer (and warmer in winter) without spending more on your energy bill "passive design" techniques that take advantage of the sun, shade from trees, cooling breezes, insulation, and energy-efficient glazing.
Cons: Building takes time, and lenders don't like that
When you build it takes time, and a certain number of delays due to bad weather are practically guaranteed. As we mentioned above, the Australian Housing and Urban Research Institute (AHURI) says it can take up to 7.5 months on average to construct a new home from scratch. The time it takes to build a house has nearly doubled since 2000, as house designs are typically larger and more complex these days.
Many home loan lenders restrict borrowers by requiring that the house must be completed or at least begun within a certain timeframe of settlement. If a borrower is unable to meet time restrictions, they should contact their lender for an extension. Required timeframes for completion can range from 6 months to 24 months.
Cons: You can't usually move in right away
Borrowers need to factor in how much it will cost them to live somewhere else while they build. Even if you can move in straight away during construction, you are guaranteed to be surrounded by the chaos of construction until it is completed. When moving into a new estate, home builders may find that if their home is completed early and the other homes around them are still going up, they can expect ongoing construction noise and dust in the air.
Cons: Land costs money
In most capital cities around Australia, land costs a fine premium. Even if the actual house build is not terribly expensive, you may have to pick your area carefully when choosing a block of land.
Cons: The cost is not fixed
When building, costs can spiral out of control if you aren't carefully monitoring what is being spent and where. With some builders, the fee does not include everything you thought it would – driveways or light fittings might cost extra, for example. Check your builder's contract carefully for all the inclusions you need.
When buying off the plan, buyers should be careful to ask a lot of questions about the display home shown to them. You don't want to find out that the expensive tiles and light fittings used in the display are not included as standard, but rather cheaper versions that aren't as good.
Any modifications to the plan made mid-way are likewise usually expensive. Changes made midway through construction can incur additional costs such as:
Drafting fees from the architect, builder, or engineer
Penalty fees from the builder
Legal fees to alter the contract
Extra materials
Extra labour
Read this article for more information on the hidden costs of building your own home.
Cons: Progress fees on construction loans
Construction loans involve progressive payments as you build, so be sure to check the fee structure of the payment schedule for any loan before signing up. Some lenders charge a fee to process each payment, while other lenders only charge a one-off fee.
Cons: More paperwork is required for a construction loan
When you apply for a home loan to buy an established home, the paperwork required is mainly just your income payslips and your latest statements for savings in bank accounts and debt on credit cards. Construction loans require more than this; you also need to provide copies of construction-related things including building permits, building contracts, building plans, and building insurance. Your lender also needs to know along the way about any changes to the building plans, costs, or contracts.
Is it cheaper to build or buy?
It depends what type of home you want. As you can see from the table we've constructed below using average housing prices and building costs, building can be a cheaper option for almost all property types. If you can find a developer selling such a property off the plan, or if you can find some land to build on, that is. Meanwhile, buying an existing home can be cheaper if you are specifically looking for a prestige detached house or terrace house.
Price to Buy vs Build:

Median Prices for Sydney, NSW

Housing Type
Buy
Build
Detached or terrace style house
(Medium Standard)
$605,000
$500,000 for 250 square metres
($2,000/m2)
Detached or terrace style house
(Prestige)
$1,300,000
($1.3m)
$1,750,000 ($1.75m) for 500 square metres
($3,500/m2)
Townhouse
(Medium Standard)
$826,000
$300,000 for 150 square metres
($2,000/m2)
Apartment Low Rise
(Medium Standard)
$677,000
$220,000 for 100 square metres
($2,200/m2)
Apartment High Rise
$852,000
$285,000 for 100 square metres
($2,850/m2)
Aged Care Unit / Affordable Unit
$530,000
$265,000 for 100 square metres
($2,650/m2)
Source: Housing NSW Sales Tables March 2016 Quarter;
Turner & Townsend 2016 International Construction Market Survey.
As we know, however, it's all about location, location, location – and the Sydney market varies widely from suburb to suburb. Be sure to do as much research as you can about housing prices to buy and build before making any decisions about your own situation.
Compare Home Loans to buy an existing home
Compare Construction Loans to build a new home
Learn more about Home Loans