Whether it's an investment or for you to live in, buying a unit requires more than checking out the location and price. Check out this apartment checklist courtesy of Canstar.
Apartment living has a lot going for it – check out some pros and cons of living in an apartment – and with such a wide range of apartments springing up, you're spoiled for choice. But before you jump in, think carefully about our apartment checklist here. It's essential reading, particularly for first apartment buyers.
Apartment Checklist
Here are a few apartment or unit-specific things to be mindful of before putting in an offer: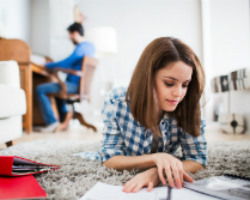 Ownership costs
Parking arrangements
Noise level
Waste disposal
Structure
Does your home loan comparison rate start with a 2?
Take a look at what 100+ lenders are currently offering.
1. Apartment ownership costs
If the unit you're buying is strata title, what will the annual owners' corporation fees and other costs be? You should be advised of all costs, but can also request to see the financials and minutes of the last few corporation meetings.
By the way, in case you're not aware, strata title is a form of ownership that allows individual ownership of part of a property – so individual ownership of the unit you buy, even though that unit is part of a much bigger building. But having that little bit of ownership means that you also have shared ownership of the facilities such as lifts, passageways and paths. These things all need to be maintained – hence you will need to pay annual fees to help ensure there's money available for this upkeep.
As well as the annual fees, you should also ask whether there are any upcoming capital works? If so you may be required to contribute to them! This is something that the management and owners' corporation will be able to inform you of.
If you're currently considering a home loan, the comparison table below displays some of the variable rate home loans on our database with links to lenders' websites that are available for first home buyers. This table is sorted by Star Rating (highest to lowest), followed by comparison rate (lowest-highest). Products shown are principal and interest home loans available for a loan amount of $350K in NSW with an LVR of 80% of the property value.
Before committing to a particular home loan product, check upfront with your lender and read the applicable loan documentation to confirm whether the terms of the loan meet your needs and repayment capacity. Use Canstar's home loan selector to view a wider range of home loan products.
2. Car parking
What are the parking arrangements at the apartment block you're looking at? Do you have a designated car park? Is it part of your title? Is there sufficient visitors' parking? Keep in mind that there is unlikely to be much on-street parking around a unit development.
3. Noise level
What is the noise level of the unit development like? It's worth visiting the apartment at all times of day (and evening) to assess what the noise levels are like in both the building itself and the apartment you are considering. Remember – there will be plenty of neighbours coming and going and potentially throwing all-night parties. Looking carefully at the neighbours should be high on your checklist for buying an apartment.
4. Rubbish
It sounds like a boring thing to have on your buying a unit checklist, but it's important to ask what the waste disposal arrangements are like. Trudging down several flights of stairs to put rubbish in the bin can quickly become a chore. If there is a waste disposal chute, though, you want to ensure that it doesn't cause any nasty smells within the building.
5. Structure
Definitely on your apartment checklist should be checking the structural soundness of the apartment. Is the building structurally sound? (You will need to obtain an independent building inspection to be certain). Also check minor building issues such as the quality of noise insulation, the number and placement of power points and television points and the quality of overall building workmanship.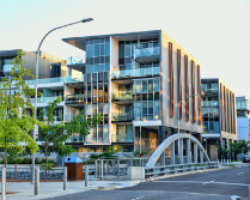 Vacancy Rates
% of rentals
Facilities close by
Number of rooms
Planned developments
6. Vacancy rates
7. Renters or owners?
If buying to live in, what proportion of the building is rental accommodation? While this won't make or break your purchase decision, it's useful to know. To begin with, if you're buying the apartment as an investment then a high proportion of renters indicates that it's popular. On the other hand, if you're buying as an owner-occupier, a high level of rentals means probably a high level of changeover.
8. Facilities
Facilities should be on your apartment checklist! Is the unit in close proximity to facilities that are important to you? Some examples may be schools, shops, parks, public transport or sporting facilities. You will know what facilities your family needs.
9. Space
Does the unit have the right number and configuration of rooms to suit your needs? The correct number of bedrooms and bathrooms is obvious. You might also ideally need more than one living space if you have children, or a study if you do some work at home.
10. Planned developments
Are there any planned developments nearby that could affect the value of the unit? A drive around the neighbouring streets will give you an initial ideal of any work currently happening, but you should also check with council as to whether there are any approvals in place or applications in the pipeline. Also consider some tips if you're buying off the plan yourself.
As with any property purchase, ensure that you put together a really detailed apartment checklist, do your homework and get independent advice before putting in an offer. You should also be armed with your range of financial options – compare home loans here.
Learn more about Home Loans