We can sometimes take our eyesight for granted, until we notice that something's changed. For those looking to maintain their eye health, or who have experienced some issues with their eyesight, visiting the optometrist for an eye test may be a good idea. But how often should you be getting your eyes checked and are you going to be out of pocket if you schedule an appointment?
Why do you need your eyes tested?
Having regular eye tests can be an effective way to detect and diagnose eye problems promptly and gauge whether your eyesight has changed.
To give you an idea of how common certain eye problems are becoming, it's estimated that myopia (also known as short sightedness) will affect more than 50% of the world's population by 2050, according to industry peak body Optometry Australia. However, there are ways to slow progression of the condition, which is why awareness and regular check-ups are crucial.
CEO of Optometry Australia, Lyn Brodie, points to research released in the 2020 Vision Index Report, which highlighted that the majority of Australians understand the benefits of a regular eye examination (57%). However, 35% of Australians don't schedule regular checks, and 12% have never seen an optometrist before.
Although the idea of losing vision is scary (90% of Australians say it is their most valued sense, according to the federal government Department of Health), the good news is that around 90% of all vision loss in Australia is preventable or treatable if detected early. It's why the Department of Health says it's important to get your eyes tested regularly.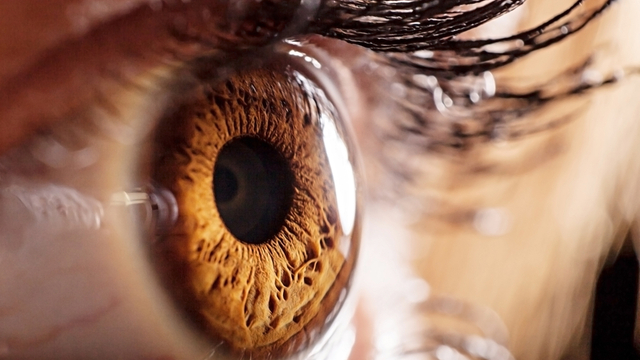 ---
Compare Health Insurance with Canstar
The table below displays some of our referral partners' hospital and extras policies for a 39-year-old single female seeking cover in NSW without pregnancy cover. The table is sorted by Star Rating (highest to lowest) followed by provider name (alphabetical). Use Canstar's health insurance comparison selector to view a wider range of policies. Canstar may earn a fee for referrals
---
Where can you get an eye test?
Your GP may be able to check your eyes in the first instance, however, optometrists specialise in performing more thorough eye tests. They have completed a university course in optometry, and are qualified to examine the eyes, assess eye heath and detect, diagnose and manage vision problems.
In addition to prescribing glasses or contact lenses, many optometrists are qualified to prescribe certain medications applied to the eye for common conditions, according to Victorian Government program, Vision Initiative.
Some optometrists run their own private practice, while others work as part of a larger optometry franchise, with branches often located in shopping centres.
How much does an eye test cost?
The Medicare rebate for a comprehensive initial eye consultation with a patient is $57.70, and many optometrists don't charge any further costs or fees above this amount.
Eligible Medicare card holders aged under 65 years of age can claim the cost of a standard eye test on Medicare once every three years, unless they experience new symptoms (such as blurriness or headaches) or have a pre-existing condition (such as glaucoma), in which case they may be able to claim a rebate more often as required for the condition. Those aged 65 and over can claim the cost of the test once a year.
Anyone with a current Medicare card is eligible for the Medicare subsidy for eye tests provided by optometrists. If your optometrist bulk bills the government directly on your behalf, and don't charge additional fees over the rebate amount (such as for more advanced testing), you won't have to pay anything.
If your optometrist doesn't bulk bill, you will have to pay a consultation fee and make a claim directly to Medicare, which may cover some or all of the charge. If you are unsure how your optometrist handles payment, it may be best to contact them before your appointment to confirm if there will be any costs payable on the day of your eye test.
Are follow-up treatments, including glasses and lenses, covered by Medicare?
For those on low incomes who do not have private health cover, Vision Initiative advises that there are low-cost spectacle schemes in each state and territory that can help eligible people access affordable, high-quality glasses and contact lenses.
For example, the Queensland Government offers the Spectacle Supply Scheme that provides a pair of basic prescription glasses every two years to residents who hold a pensioner concession card, health care card or Queensland Government Seniors Card. Check with your state authority for more information or ask your optometrist, who will be able to assist you in applying for the scheme.
If your optometrist believes you need further eye tests, treatment or surgery, they may refer you to an ophthalmologist – a medical doctor who has completed specialist training in eye medicine and surgery.
These doctors work in private practice, hospital eye clinics and public health clinics. A Medicare rebate is available to help with the cost of visiting an ophthalmologist, and you will need a valid referral in order to claim this rebate.
Your GP or optometrist can write this referral for you. It's a good idea to call ahead before your appointment, to confirm if there will be any additional out-of-pocket costs. If the out-of-pocket expenses are outside of your budget, Health Direct suggests asking the ophthalmologist if they can offer a price reduction, consider another ophthalmologist or talk to your GP or optometrist about other options.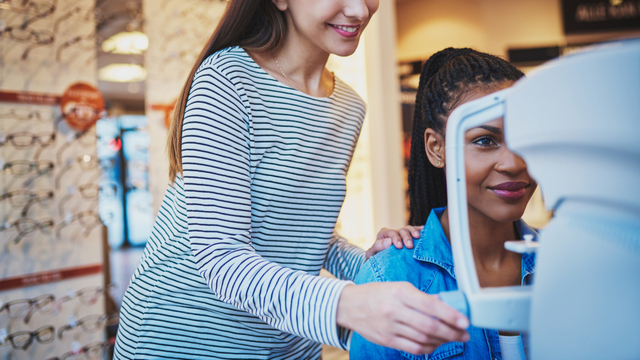 Are follow up treatments, including glasses and lenses, covered by health insurance?
According to the Australian Government's private health advice website PrivateHealth.gov.au, your prescription lenses, frames and contact lenses are covered under the "optical" category if you have an appropriate policy in place, while treatments of irregularities within your eyes, such as muscle problems, fall under the "orthoptics" category.
Of 168 health insurance extras policies on Canstar's database, 158 provided optical cover, while only 72 offered orthoptics, so check your policy or contact your insurer to find out what treatments may be covered.
What can an eye test diagnose?
According to Vision Initiative, eye tests performed by an optometrist can check the following:
The strength and control of the muscles in your eyes, to ensure your eyes are working together;

Your ability to read letters or identify symbols from close and far away, to determine whether you need glasses and if so, your prescription;

The health of the outside of the eye, and the reaction of your pupil to light;

The health of the inside of the eye, including the cornea, iris, lens and anterior chamber, to identify certain eye conditions;

The back of the eye, including the retina, retinal blood vessels, vitreous and optic nerve head, to identify certain eye conditions;

The pressure inside the eye, to help identify glaucoma;

Your field of vision, to identify any patches or areas of vision loss.
How often should you have your eyes tested?
Eye conditions can occur at any age, so Vision Australia recommends that all people should have eye tests with a registered eye care practitioner (such as an optometrist) every two to three years. However, if you notice any changes in your vision and/or are having frequent headaches, you may consider booking an eye test sooner. Keep in mind Medicare offers a rebate for the cost of an eye test every three years for people under 65 years old, or more often in some cases where it is deemed clinically necessary.
The risk of developing an eye condition increases as we age, reports Vision Initiative. As well as age, other factors that may increase your risk of developing eye diseases or ailments – such as cataracts, glaucoma and myopia – include smoking, having diabetes, a family history of eye disease, and being of Aboriginal or Torres Strait Islander descent. The initiative recommends that people with one or more of these risk factors should get their eyes checked more regularly, at least every two years or as advised by a health professional, to prevent avoidable vision loss.
Should children have their eyes tested?
Around 68% of Australian parents have taken their children to have their eyes examined by an optometrist, according to the 2020 Vision Index Report. Of those children who have visited an optometrist, 35% have required prescription glasses.
The Royal Australian and New Zealand College of Ophthalmologists recommends that formal vision testing for children can begin around the age of three and a half, and again in their preschool years. This is important so that those children who do have eyesight issues can be correctly identified and referred for treatment.
The Academy also advises that if parents notice any of the common signs of eye problems in their children, such as headaches, squinting, short attention span or losing their place when reading, they should take them for an eye test straight away.
Cover image source: skvalval (Shutterstock)
---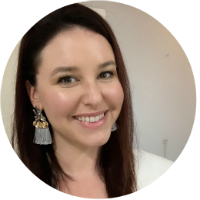 Sarah Megginson has been a finance and real estate journalist for more than a decade, having written for; She Knows Australia, Your Investment Property, Mamamia, Marie Claire, and travel features for Tourism Australia, BUPA, Jetstar and more. Sarah has also been the editor of Your Investment Property magazine since 2016, while being an opinion columnist, a freelance writer, and an editor who has penned 20+ books. She has three young children and is an ambassador for Act for Kids. Sarah holds a Bachelor of Communications from Griffith University.
Keep up to date with Sarah through her site.