Have you thought about your health insurance lately? Are you satisfied with your current provider? Read on for the results of our annual health insurance customer satisfaction survey.
To determine the winner of the Most Satisfied Customers – Health Insurer Award for 2020, Canstar surveyed nearly 5,000 health insurance policyholders to find out which fund is keeping its customers the happiest. The survey also revealed what Australians value most from their health insurer.
Respondents were asked to rate their overall satisfaction with their health insurer, as well as their satisfaction in specific areas, such as value for money and comprehensiveness of cover.
Health Partners wins the Award for a second year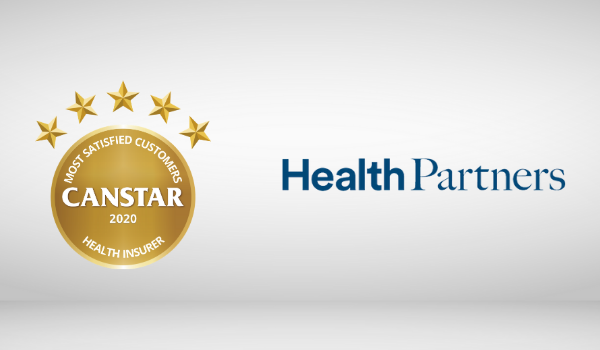 South Australia's largest not-for-profit health fund has won the Most Satisfied Customers – Health Insurer Award for the second year in a row, having won the inaugural Award last year.
Health Partners scored highly across all drivers of satisfaction, and performed especially strongly when it came to cost and customer service, which were two of the three biggest drivers of satisfaction for health insurance policyholders.
Canstar Finance Expert Steve Mickenbecker said "Health Partners are obviously doing a great job, and the fact that they have the most satisfied customers speaks to that."
What were the main drivers of health insurance satisfaction?
Canstar's research indicated that value for money had the greatest influence on a customer's overall satisfaction with their health insurer, accounting for 28% of their overall satisfaction. Meanwhile, comprehensiveness of cover saw an increase in its relative influence this year, up from 14% to 17%.
Customer service has declined in relative influence on overall satisfaction with those surveyed this year, down from 23% to 16%, while cost did have a slight uptick in its influence year-on-year (9% last year, compared to 13% in 2020). However, this year saw average overall satisfaction improve across all variables from last year when looking at the health insurance market as a whole.
Source: Canstar Research, 2020
"In this climate, it's not surprising that value for money remains the key driver of customer satisfaction when it comes to health insurance," Mr Mickenbecker said.
"People are looking for ways to stretch the household budget further, and making sure you're getting good value for money from your insurance can be one way to do just that."
Mr Mickenbecker said it makes sense that comprehensiveness of cover is the second-most important driver of satisfaction after value for money "because consumers want a good level of cover for the medical needs of themselves and their loved ones".