Your credit score is a reflection of how reliable you are as a borrower. To view your score, you can generate a report from a credit reporting agency such as Equifax.
What is Equifax?
Equifax is a global information solutions company operating in 24 countries worldwide. It specialises in using data, analytics and technology to 'power organisations and individuals around the world', according to a statement on its Australian website.
Equifax is one of three major credit score providers in Australia, along with:
Dun & Bradstreet
Experian
GetCreditScore.com.au is another provider that uses the Equifax credit score information.
Equifax credit reports and scores
If you're looking to apply for a credit product such as a credit card or a loan, Equifax provides one free credit report per year for each customer. The company also has paid plans available that can provide up to four credit reports a year.
An Equifax credit report is a dossier of sorts on you as a borrower. It contains information about you such as any applications you have made for credit cards or other credit products, credit accounts and loans you currently have and have had in the past, overdue accounts or late payments, bankruptcy and other credit-related information.
This information is summarised into a single credit score – a number between 0 and 1,200. Below is an example of what an Equifax credit score might look like, courtesy of PCMag Australia.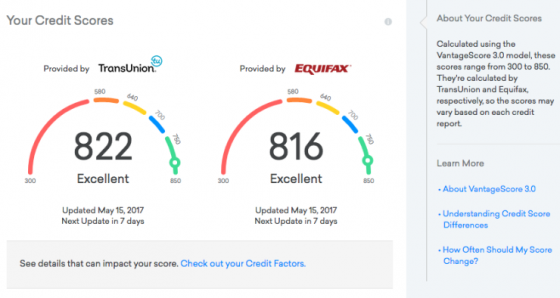 What is a good Equifax credit score?
Your credit score will be arranged into five different bands, with each band representing a level of credit-worthiness to the lender:
Credit-worthiness
Excellent
Very Good
Good
Average
Below Average
Score
833 – 1,200
726 – 832
622 – 725
510 – 621
0 – 509
Source: Equifax
Excellent (833-1,200) means that you are in the top 20% of the credit-active population using Equifax – you are seen as highly unlikely to experience a default or bankruptcy within 12 months. You have a five-times better than average chance of keeping a clean credit report and can be more likely to receive approval for credit products.
Very good (726-832) means you are seen as unlikely to experience a default or bankruptcy in the next 12 months, and you are among the top 21-40% of the Equifax population when it comes to credit trustworthiness.
Good (622-725) means you are seen as less likely than average to experience a default or bankruptcy and have a better than average chance of keeping a clean credit score, but it could do with improvement.
Average (510-621) – while not sounding like a worrying label, according to Equifax, being in this band means an adverse event such as a default is 'likely' in the next 12 months when compared to the other parts of the Australian population.
Below average (0-509) means you're in the bottom 20% of the credit-active population and are unlikely to be approved by reputable lenders.
Essentially, the higher your Equifax credit score, the less likely it is that lenders will think an adverse event (such as a missed payment) will happen within the next 12 months, and you could have a higher chance of being approved for loans and other credit-based products.
How does Equifax calculate your credit score?
Your Equifax credit score is calculated using the information presented in your report, which is updated each month. This information includes the elements mentioned in the 'Equifax credit reports and scores' section above, such as late payments and current outstanding loans. It also takes the following factors into account, according to Equifax:
The type of credit provider you have used in the past– non-traditional lenders can be seen as riskier than banks and credit unions;
The type and size of credit requested in your application (higher loan amounts can carry higher risks);
Your personal details, such as your age, length of employment etc;
The age of your credit report;
The number  and pattern of credit enquires made over time;
Information on any defaults or bankruptcies you've experienced lately.
Other important information about credit scores
If you're looking for more information on all things credit scores, the following articles might be of interest to you:
You can also compare loan and credit products with Canstar.
Compare Home Loans with Canstar