Australians have lost over $2.9 million to identity theft so far this year, figures from the Australian Competition and Consumer Commission (ACCC) reveal.
Over 17,000 identity theft reports have been made this year, according to the ACCC's Scamwatch data, with Australians aged between 25 and 34 years old reporting identity theft more than any other age group.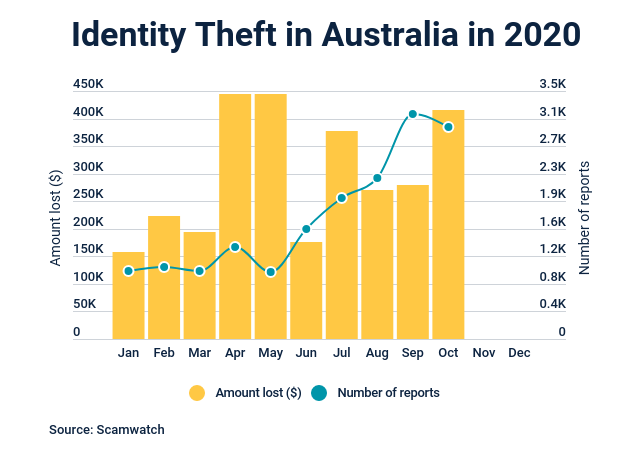 The ACCC has also reported a spike in scammers seeking personal information amidst the ongoing coronavirus pandemic. With more people working and socialising online, the consumer watchdog says there have been more opportunities for scammers to try to steal people's personal information. Once a scammer has your personal information, they can then use it to steal your identity or for further scams or fraud.
What is identity theft?
Identity theft is when someone uses your personal information (such as your name, date of birth, address or driver licence number) to steal money or for another purpose. For example, a scammer could try to access and drain your bank account, take out credit cards or loans in your name, try to steal your superannuation or apply for a passport in your name.
There are a number of methods scammers can use to contact you, including over the phone, internet, email and text message. According to Scamwatch data, over half of identity theft reports this year have occurred over the phone.
A common tactic used by scammers is phishing scams, the ACCC says. This is where a scammer contacts you pretending to be from the government (such as the ATO or myGov) or a legitimate business to 'phish' for your personal details. Other tactics include hacking, remote access scams (where a scammer accesses your device), malware and ransomware (software that can harm your device), and the use of fake online profiles.
Watch out for scam calls claiming to be from @ServicesGovAU. Calls can be from a person or a recorded message and threaten legal action or a debt if you don't give personal details. Think you've been scammed? Call our Scams and Identity Theft Helpdesk on 1800 941 126. pic.twitter.com/DSUnRVmVfl

— Services Australia (@ServicesGovAU) November 18, 2020
How can I protect my identity from being stolen?
Scamwatch recommends taking the following steps to help protect yourself from identity theft:
Don't open suspicious texts or emails – delete them.
Verify the identity of whoever is contacting you by calling the organisation directly.
Never send money or give your credit card details, online account details or copies of your personal documents to anyone you don't know or trust.
Never provide strangers with remote access to your computer.
Choose strong passwords that would be difficult for other people to guess. Avoid using the same password for your accounts and don't share them with other people.
Secure your networks and devices with anti-virus software and a firewall. Avoid using public computers or public Wi-Fi when you are accessing your personal information.
Be careful about what you share on social media.
Secure your mailbox and shred your documents before throwing them away.
Get a copy of your credit report.
Your credit report includes information about any credit or loans you have in your name and any applications you've made for credit. It's a good idea to check your credit report regularly for any unusual or incorrect debts. If there is a credit or loan listed that you don't recognise, this could be a sign that someone has stolen your identity and is using your name to borrow money. You can get a free copy of your credit report every year from each of the credit reporting bodies (Equifax, Experian and Illion).
You might also like to check your credit score regularly, which is a number based on the information contained in your credit report. If your credit score takes an unexpected dip, this could be a sign of fraud however, there are a number of other things that could be negatively affecting your credit score. You can check your credit score for free with Canstar.
What are the signs of identity theft?
Some warning signs to be aware of include:
Purchases or withdrawals appearing on your bank statement or credit card statement that you don't recognise
Having an application for credit or a loan refused, even though you have a good credit history
Receiving bills, invoices or receipts addressed to you for goods or services that you didn't purchase
Getting contacted by debt collectors for debts that aren't yours
What should I do if I think my identity has been stolen?
If you think your identity has been stolen, you can take the following steps:
Report it to your local police
Contact your bank or other financial institutions
Change the passwords on your accounts
Request a copy of your credit report to check that the information in it is correct. Contact any providers listed on your report that you do not recognise or have not applied for credit with. You can also request a ban on your credit report with the three credit reporting bodies.
It's also a good idea to keep records of the conversations you have, including with credit providers and credit reporting bodies.
Should I request a ban on my credit report?
It's possible to request a ban to put a freeze on your credit report. Equifax says this will prevent credit providers from accessing your credit report when doing a credit check. This can help stop a scammer from using your information to try and take out credit in your name. IDCARE, which is Australia's and New Zealand's national identity and cyber support service, says you will need to apply for bans with all three credit reporting bodies.
Cover image source: everything possible (Shutterstock).