Many people don't know that they have a credit rating, let alone how it's calculated. Canstar breaks it down for you…
A credit score or credit rating is a numerical score that represents how trustworthy your reputation is to lenders as a prospective borrower, summing up all the information on your credit report into one number. The higher the score, the more credit-worthy you are viewed by lenders – and vice versa.
Learn more about what your credit score is here, or read on to find out how credit reporting agencies determine your credit score.
How is a credit score calculated?
Credit reporting agencies collect a range of your financial and personal information in order to calculate your credit score. This information is documented on your credit report and can include:
Your personal details (e.g. age, address, and occupation)
The type of credit providers you have used in the past (e.g. a bank or financial institution)
The amount of credit you have borrowed previously
The number of "enquiries" you've made about credit applications or loan applications
Unpaid or overdue loans or credit
Any debt agreements or personal insolvency arguments relating to bankruptcy
Your credit score is usually on a scale between 0 and 1,200 or between 0 and 1,000 depending on the credit reporting agency you use to check your credit score.
Here's how Veda determines whether your credit score is great or not so hot:
Credit-worthiness
Score
Excellent
833 – 1,200
Very Good
726 – 832
Good
622 – 725
Average
510 – 621
Below Average
0 – 509
Source: Equifax.com.au (formerly Veda)
Don't have a great credit rating? Don't worry, it's possible to improve!
How to maintain a good credit score
Depending on the information contained in your credit report, your credit score can increase or decrease over time. It's imperative that measures are taken to ensure this score remains high:
Pay bills on time
Don't apply for new credit cards or loans if you can't afford it
Pay off outstanding loans and credit card debt
Make your monthly repayments on time each month
Lower your credit card limits
Keep track of your credit rating by checking it regularly
Many people don't realise there are free websites where you can check your credit rating, and it's an easy way to stay on top of your finances.
Case Study: Jessica gets her credit rating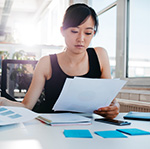 Jessica wanted to negotiate a better deal on her loans and credit card, so she decided to find out her credit score. She asked for a free credit rating from two providers online.
The first website placed Jessica in the Very Good category with a score of 726 out of 1,000. But the second website placed her in the Good category with a score of 699 out of 1,200.
Jessica found out that the two websites use data from different credit reporting agencies to calculate her credit score, so she requested a copy of her credit report from both agencies to see what the difference was.
When the reports arrived, Jessica could see that not all of her credit history was listed with the reporting agency used by the first website – that's why her score came out higher. The scoring system was also different across both sites.
Jessica put a reminder in her calendar to check her credit rating again in the near future, to ensure her credit rating stayed high.
Source: ASIC.
What to do with your new credit score knowledge
Now you know how your credit score is calculated and checked out what your credit score is, you're ready to apply for a credit card or loan. Fortunately for you, Canstar compare thousands of financial products for you, making the choice easier than ever!