Co-author: Regina Collins
If you're looking to buy a car, chances are, you've heard of a car loan. CANSTAR breaks down just exactly what car loans are, and how they work.
What is a car loan?
A car loan is a loan taken out for the purpose of buying a motor vehicle such as a Ute, car, 4WD, motorbike or other road vehicle. A car loan can also be known as a vehicle loan. If you don't have enough in savings to afford to buy a car but you can afford to repay a loan in monthly installments, you might consider taking out a car loan to finance your new wheels.
There are two main types of car loans:
New car loans
Used car loans
For more information about the different types of car loans available, click here
How do car loans work?
Car loans may be offered by financial institutions as a standalone car loan, or personal loan, or via the redraw facility or line of credit on a home loan. You can also get a car loan from peer-to-peer (P2P) lenders and car dealers. Where you choose to go could have a big effect on the interest rate you pay on your car loan.
John found it pays to shop around

John went into a car dealership to look at a red sports car. He went for a test drive and decided he just had to have the car. He got all the optional extras and then the car salesman arranged a loan for him. Richie drove away from the dealership with a loan for over $45,000 and an interest rate of 22% per year. When he got home he spoke to his dad and realised he had paid way too much for the car and the car loan was very uncompetitive.
Source: ASIC
When you enter a contract for a car loan it will typically be for a period of one to five years. This is the amount of time over which you agree to repay the loan, generally by monthly instalments. In addition to the amount you borrow, interest will also be charged on the balance owing. You can try our car loan calculator to see approximately how much your car might cost you over the term of your loan.
Here's an example: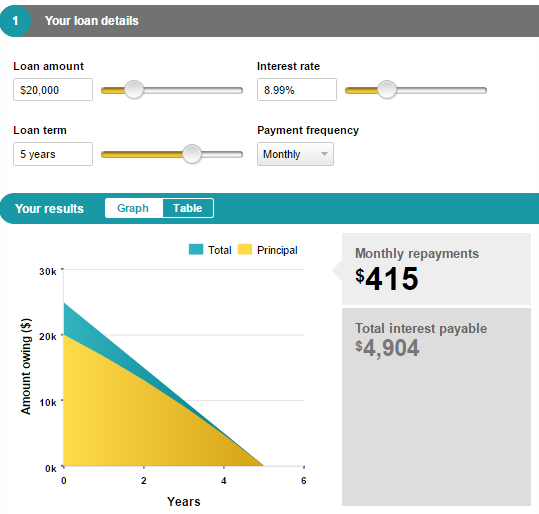 Note: The results from this calculator should be used as an indication only. Results do not represent either quotes or pre-qualifications for a loan. The specific details of your loan will be provided to you in your loan contract. It is advised that you consult your financial adviser before taking out a loan. Please Note: The calculations do not take into account all fees and charges. The results provided by this calculator are an estimate only, and should not be relied on for the purpose of making a decision in relation to a loan. Interest rates and other costs can change over time, affecting the total cost of the loan. Consider whether you need financial advice from a qualified adviser.
Financial institution car loans:
When you take out a car loan with a financial institution such as a bank or credit union, it's easy to compare what's available on the market, especially through our easy-to-use comparison table, and find the best option for you budget.
Part of the appeal of a car loan is that they can usually be approved by financial institutions quickly, so if you find a car that you like, you don't have to risk someone else driving away with it. Most financial institutions are able to approve or deny a car loan within 48hrs.
You can even get a Novated Lease, where you sacrifice salary to buy a car. There's a common myth that the car must be for work purposes but in fact you can salary sacrifice to buy a car entirely for personal use. Once your employer has filled in the paperwork, the monthly repayment is paid automatically by your employer from the salary sacrificing amounts that come out of your pay.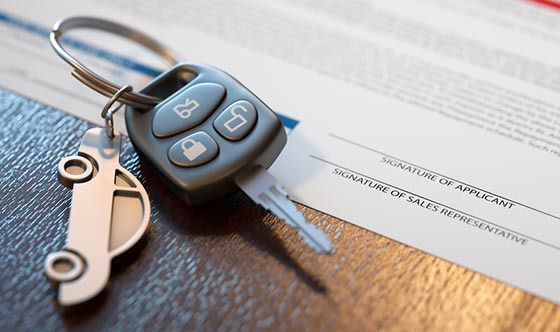 Redraw facility/line of credit
If you have a mortgage on your home, you might be able to dip into your mortgage via a redraw facility or a separate line of credit to borrow money to buy a car. This can have two benefits: home loan interest rates are often lower than car loan interest rates, and having both your home and car loans rolled into one monthly repayment is convenient and easier to budget for.
However, in saying this, a redraw or line of credit purchase could cost you more over time than an ordinary car loan would have, unless you make extra debt. This is because car loans typically have a 5 year loan term, so if you don't pay back the line of credit within that time, you end up paying more in interest over the long run.
Peer-to-peer car loans:
Peer-to-peer (P2P) lenders are amongst the biggest disrupters facing the banking sector. Essentially, the lenders are investors seeking a return on their cash. Major P2P lenders in Australia such as SocietyOne and Ratesetter currently offer personal loans which can be used for buying a car.
Car dealer financing
Most car dealerships will offer on-site financing for their cars. Sometimes these dealers will offer interest rates much lower than what the banks are offering. Also, it can seem quite convenient getting all of the paperwork done whilst you're there buying the car.
However, be wary many dealers mark up the price of the car to account for the lower interest rates they're offering. And you might have more bargaining power if you went to the car dealership with a pre-approved car loan from a bank, as opposed to seeking out the dealer's financing options straight away.
Compare car loans with Canstar
If you're considering taking out a car loan, it's always important to do your research before committing to the purchase. Canstar compares over 250 personal loans to find the right one to suit your needs, and budget. Start comparing with Canstar today!
Featured image: Ekaterina Minaeva | iStock