What is a car loan?
Types & Applying
Choosing & Costs
Saving on Car Loans & Credit Ratings
---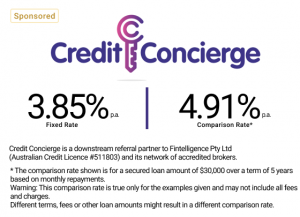 Car Finance – Special Car Loan Offer
Hand-picked network of finance experts
Car finance experts specialising in new, used and refinanced car loans
Access wholesale interest rates from over 30 lenders
Connect to experts with access to over 80 loan products
Brokerage/Application Fee $350.00 and Monthly Fee $8.50
Australian Credit Licence 511803
---
Helpful Car Loans Information
What is a car loan?
A car loan is a type of personal loan used for buying a motor vehicle such as a car, ute, 4WD, motorbike, or other road vehicle. A car loan is helpful when you don't have enough savings to afford the vehicle of your choice, but you can afford to repay a loan in monthly installments.
There are a few different types of car loans:
New car loan: Available for buying cars that are brand new, and some lenders will let you use a new car loan for a car that is 1, 2, or even 3 years old. A new car loan will usually be secured by the car, and the interest rate may be lower the more the car is worth.
Used car loan: Available for buying cars that are up to 5 or 6 years old and do not qualify for a new car loan. A used car loan is usually secured by the value of the car.
Unsecured car loan: Available for buying cars older than 5 or 6 years old that do not qualify for a used car loan. Unsecured car loans typically have higher interest rates than secured car loans.
Find out how car loans work and types of car loans, then compare
car loans
for your sweet ride using the comparison selector tool at the top of this page.
Canstar Research Library - Car Loans
Some of the pros and cons of car loans are worth thinking about before deciding whether or not a
car loan
is right for your circumstances:
Benefits of a car loan:
You can borrow an unlimited amount – as much as you need for the car, that is – with many lenders.
You have 5 to 10 years to repay that amount.
The amount of debt is fixed, so you can't add to it with impulse purchases like you could if you used a credit card or a line of credit on your home loan.
The average car loan interest rate is lower than the average rates for credit cards and personal loans (see our star ratings report for more detail).
If you choose a fixed rate loan, you can know and budget for exactly how much you need to repay every month.
By making your monthly repayments, your debt will eventually be fully paid off.
Disadvantages of a car loan:
You can't increase the amount of debt, so you have to make sure beforehand that you can afford to pay all other regular running costs of the car.
You must make every one of your monthly repayments or you could lose the car (with a secured loan) or face court action (with an unsecured loan).
How Canstar compares car loans
Canstar compares personal loans with our unique, sophisticated car loans star ratings methodology, which looks at both pricing and features. We present the results with our consumer-friendly star ratings, with a 5-star rating signifying that a car loan offers outstanding value to consumers.
Some of the features Canstar compares for car loans are:
Lending terms
Security and deposit requirements
Repayment options
Switching facilities
Applications process
You can read the full car loans star ratings report for more information.
Compare car loans products yourself, based on your own requirements, using the comparison selector tool at the top of the page.
Looking for the cheapest car loan?
If you're looking for finance to buy a car, you might think that signing up for the cheapest car loan you can find is the way to go. It's worth keeping in mind that going with the lowest interest rate won't necessarily mean you're getting the cheapest car loan deal overall.
Up-front and ongoing fees can eat into some of the money you'd save in interest, while the features you get with the loan may boost the value you're getting overall. For example, a car loan with a slightly higher interest rate but which allows you to make extra repayments and pay off the loan early without penalty, might better suit the needs of some borrowers and help them get ahead faster than the 'cheapest' car loan rate would.
It can also be a good idea to watch out for car loans that appear cheap but which require a balloon payment in order for you to own the car. This is a one-off lump sum payment at the end of the loan term that can add significantly to the cost.
Written by: TJ Ryan and Tim Smith
Car loan providers we research and rate
Below are some of the car loan providers we rate:
Compare car loans using the comparison selector tool at the top of this page.